Russia more dangerous than 'non-existential ISIS threat' – Polish FM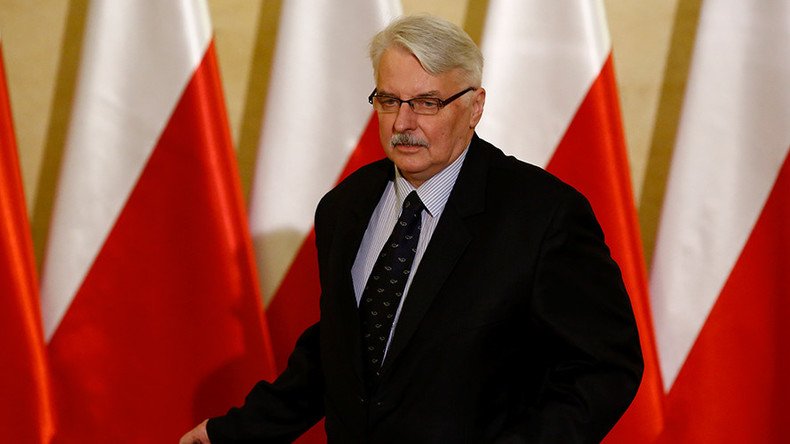 Islamic State and other terrorist groups do not represent an existential threat to Europe, unlike Moscow and perceived aggression on its part, claimed foreign minister Witold Waszczykowski in the latest round of anti-Russian "nonsense" coming from Polish politicians.
"By all evidence, Russia's activity is a sort of existential threat because this activity can destroy countries," said Witold Waszczykowski, while visiting annual Globsec security forum in Bratislava.
When asked specifically about the threat of Islamic State (IS, formerly ISIS/ISIL), when compared to Russia, the minister said that while being a very serious one, "this is not an existential threat for Europe."
"We also have non-existential threats like terrorism, like the great waves of migrants," he added.
Speaking on the future role of NATO in the global security context, Waszczykowski called for the resurrection of the alliance's old Cold War function as a bulwark against Moscow. During his speech at the debate titled, "Future of NATO – Will Warsaw deliver?" the Foreign Minister presented Polish expectations for the July NATO summit in Warsaw, as he called for more troops to defend NATO's eastern borders.
"The presence of troops from various NATO countries could be a symbol of determination to defend the eastern flank," he said, Polish news agency PAP quotes. "We can discuss the scale of this deployment."
The deployment of NATO forces in the region should not be considered as a provocation against Russia, Waszczykowski said but rather a decisive action so that Alliance would be able to deter potential aggressors: "Showing weakness is often seen as an incentive for aggression."
Polish politicians are no strangers to using provocative anti-Russian rhetoric to portray Moscow as a global threat. Just last month the country's defense minister Antoni Macierewicz accused Moscow of staging the Polish presidential plane crash over Smolensk in 2010, claiming his country had become the "first great victim of terrorism in the modern conflict."
Russia's 70th Victory Day parade in Moscow was dubbed by then-Polish President, Bronisław Komorowski, as a symbol of instability in Europe, despite the fact that it was the USSR that drove Nazism from Poland.
"Soon Red Square will turn into an armored square again. The divisions that recently attacked Ukraine in front of the whole world and in front of Poland will be demonstrating their strength," said Komorowski at the time.
Interestingly enough, no one at the Globsec forum challenged the Polish Foreign Minister's claim that Russia poses an "existential threat" while the Islamic State group does not, despite the fact that numerous ISIS attacks in Europe have petrified the entire continent.
Since proclaiming its so-called caliphate in June 2014, Islamic State jihadists, according to a CNN tally, have conducted at least 90 terrorist attacks in 21 countries other than Iraq and Syria. Those attacks have killed at least 1,390 people and injured more than 2,000 others. At least 14 attacks occurred in Europe alone, including Russia.
Yet most have decided to jump on the Russia-bashing bandwagon, with the Czech defence minister calling for the strengthening of the alliance's collective defense capability against Russia.
"Russia is testing our defense capabilities, attention and our commitment regarding the protection of air and sea space," said Martin Stropnicky. He also noted that "many of our allies in the Baltic region, including Finland and Sweden became the subject of intense propaganda developed by Russia."
The fact that NATO, despite promises not to expand, has long consolidated along Russia's borders following the collapse of the Warsaw Pact was largely ignored at the security forum. It began as a pledge by the first Bush Administration to Gorbachev that in return for German unification there would be "not an inch" of NATO expansion. However, NATO went on to draft nearly the entire former "Warsaw Pact" expanding its membership by 12 nations.
Poland, Hungary, and the Czech Republic joined the organization in 1999, followed by the accession of seven central and eastern states: Bulgaria, Estonia, Latvia, Lithuania, Romania, Slovakia and Slovenia in 2004. The most recent members include Albania and Croatia which joined in 2009.
NATO continued to grow. In 2011, NATO officially recognized four aspiring members: Bosnia and Herzegovina, Georgia, Macedonia, and Montenegro.
Yet speaking on Friday, minister Waszczykowski insisted that Russia is a threat and made it clear that NATO's ability to effectively deter it depends on the geographical distribution of "defense capabilities." Commenting on the Polish NATO summit, the FM said: "We expect a decision that will change the status of security in the region."
Даже Валенса признал чушью обвинения России в "теракте". Вывод один: от польских министров исходит экзистенциальная угроза здравому смыслу.

— Алексей Пушков (@Alexey_Pushkov) April 15, 2016
"There is only one conclusion: Polish Ministers exert an existential threat to common sense," Russian Foreign Affairs Committee head, Aleksey Pushkov, said of the Polish statement on Friday. Commenting on Macierewicz's statement last month, Pushkov recalled that even former president and solidarity leader Lech Wałęsa, "recognized" that terrorist allegations against Moscow are "nonsense".
Jan Oberg, director of the Transnational Foundation for Peace and Future Research told RT that he would be surprised if a NATO member said that Russia didn't pose a threat.
"If Poland, its foreign minister and others, feel that Russia is a threat, it's time to take the telephone, it's time to talk, it's time to meet and to do what we did in the first Cold War when we had confidence building measures where we learned what the other party was thinking, where we reduced the risk of war," he said.
He added that accusations of Moscow posing a threat to NATO are baseless, as the bloc "has military expenditure about 10 to 12 times higher than Russia does."
"Russia does not have an alliance, is not leading an alliance the same way as the US is leading NATO. So, if somebody is scared about somebody who has one tenth of what you have yourself, I think there is something else underneath," he added.
You can share this story on social media: