Europe gets burned playing with fire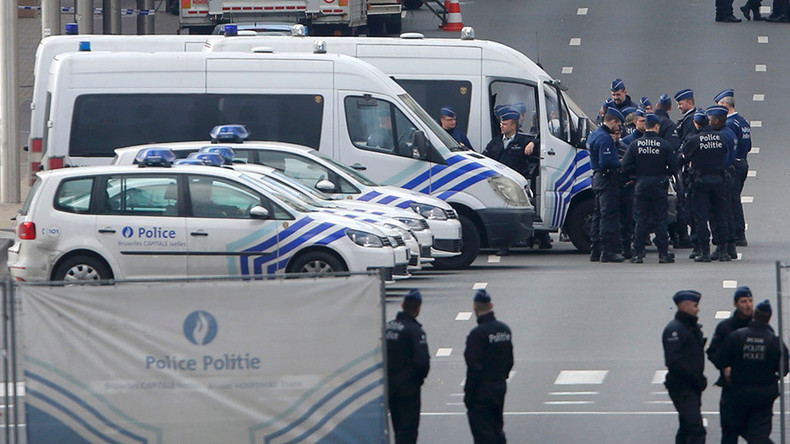 Brussels, the administrative capital of Europe, was turned into a war zone after a series of deadly bomb blasts caused the city to shut down all transport links to the outside world.
Zaventem International Airport was struck by two blasts during the early morning rush hour. An hour later, a metro station in downtown Brussels underneath the European Council headquarters was also hit by a third bomb.
The vicinity of the third blast is where key European Union buildings and related offices are located. Terrified administrative staff spoke of feeling shockwaves in the upper stories of buildings as chaos and bloodshed descended on the streets below.
The capital is also the headquarters of the US-led NATO military alliance, whose stated aim is to maintain security in Europe.
Belgian Prime Minister Charles Michel quickly declared the entire country on maximum security alert and relayed warnings from authorities for everyone including workers to "stay indoors or stay in place."
Across the Belgian capital, all public transport services, including metro, trains, trams and buses, were shut down. Eurostar and Thalys train services from London and Paris to Brussels were cancelled out of security concerns.
Already amid the mayhem questions were being asked of the Belgian authorities and their security planning. Many ordinary people were left wondering why the country was not put on its highest alert level following the dramatic shoot-out and capture of terrorist suspects over the past week in and around the capital.
Last Friday, Belgian-Moroccan man Salah Abdeslam, who was wanted for his alleged involvement in the Paris terror attacks in November, was captured by police during a raid on an apartment in the Brussels suburb of Molenbeek. Only days before, another terror suspect was reportedly shot dead in the Brussels district of Forest by undercover police, when it is thought Abdeslam managed to escape.
In the aftermath of those raids, Belgian authorities said they had recovered a significant haul of weapons and warned that other operatives belonging to the ISIS (Daesh) terror group were at large. At the weekend, Belgian Foreign Minister Didier Reynders warned terror attacks were imminent.
Only a few days ago, Turkish President Recep Tayyip Erdogan said terror bombings that have struck his country in recent weeks could be expected to likewise hit European cities. Erdogan mentioned Brussels in particular. "There is no reason why the bomb that exploded in Ankara cannot explode in Brussels, in any other European city," he said, although the Turkish leader was referring to Kurdish militants, not Islamist jihadists.
Following the November 13 Paris massacre, Belgian security services had been carrying out house raids in Molenbeek – the suburb from where an ISIS cell is believed to have planned the attack. But for four months, prime suspect Abdeslam – believed to be the sole survivor of the 11-man group who carried out the Paris atrocity – managed to evade arrest, until last Friday when he was eventually captured after a shootout.
The question is: why did the Belgian authorities not scale up the security alert level to maximum in the days before the latest attacks?
READ MORE: 'This is what happens when you get into bed with extremists'
Brussels and other European capitals are now on high alert. The fear is that if the EU's political center can be breached with apparent ease despite the heavy presence of troops and police then more such attacks are possible.
The political center of Europe is in shock. Mobile phone networks were reportedly overwhelmed, adding to public anxiety. More attacks were imminently feared elsewhere in Belgium as the authorities both in Brussels and other European capitals struggled to comprehend the scale of the assault.
In France, which is already in a state of emergency following the Paris attacks last November that killed 130, Interior Minister Bernard Cazeneuve announced that thousands more troops and police were being deployed around the capital. The British Prime Minister said he was shocked by the Brussels events and called an emergency security meeting with his cabinet in Downing Street.
European Council President Donald Tusk and the European Union's foreign policy chief Federica Mogherini issued statements deploring the carnage. Sweden's Prime Minister Stefan Lofven said it was "an attack on democratic Europe."
Adding to concerns is that several EU countries, including Britain, France, the Netherlands and Germany, are known to have hundreds of jihadist terrorists – private citizens – who travelled to Syria to wage war there. Many of these jihadists are believed to have returned to their home countries as the war in Syria subsides due to the ceasefire.
Grappling with a refugee crisis stemming from the Syrian conflict and with EU member states bickering over border controls, the EU is being assailed with mounting tensions. The latest attack in the administrative center, Brussels, will only heighten an already testing security challenge to the 28-member bloc.
State-of-emergency powers and the inevitable security clamp down on Arab communities like those in Molenbeek and in other European cities will compound the problem of how Europe deals with its terror concerns.
A deadly coordinated terror attack in Brussels, the hub of Europe, right under the noses of extensive security personnel underlines the vulnerability to more such breaches.
But a bigger question still: is this a case of chickens coming home to roost? The EU may officially deny any connection, but the fact is European countries have been complicit in fueling the conflict in Syria. Britain and France in particular have, along with the United States and regional allies like Turkey and Saudi Arabia, unleashed a covert war in Syria to topple the Assad government since March 2011.
Britain and France are known to have supplied weapons to so-called "moderate rebels" in Syria trying to overthrow Assad. Those weapons have inevitably found their way into the hands of al-Qaeda-linked terror brigades like ISIS, who claimed responsibility for the Paris attacks and who are no doubt involved in this week's atrocity in Brussels.
The covert war the EU, the US and their regional allies fomented in Syria, in turn, served to draw would-be jihadists from across Europe to go fight in Syria. A farewell to arms is not expected by these jihadists, even if they have returned to Europe.
The criminal covert policy of regime change in Syria the EU has in part been complicit in is now rebounding with horrific blowback terror on the streets of Europe, indeed in the very heart of Europe.
European politicians will no doubt call for more draconian emergency measures in the wake of the carnage. But, ultimately, it is the criminal policies of the EU that are coming back to haunt.
The statements, views and opinions expressed in this column are solely those of the author and do not necessarily represent those of RT.
You can share this story on social media: