'In Oklahoma they like to kill people' – death row inmate supporter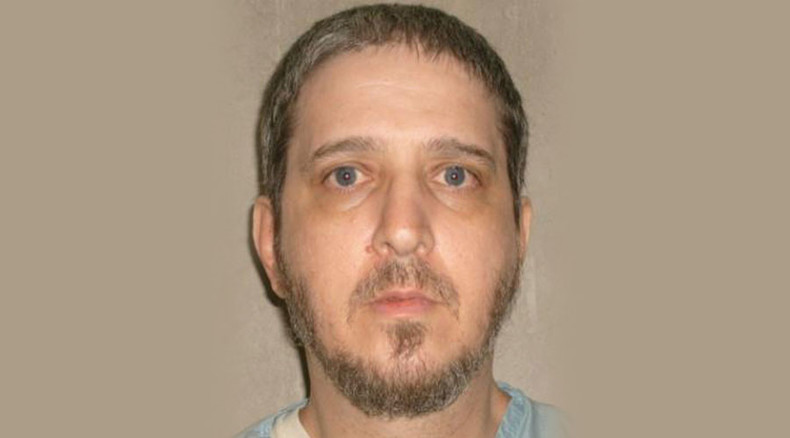 The US execution system is like death machinery; once you are on that conveyer belt, it's not going to stop for anything, says Kim Van Atta, friend and supporter of Richard Glossip, an inmate who has been on death row for a crime he may not have committed.
Glossip was convicted of arranging the 1997 killing of his boss, the owner of an Oklahoma City motel that Glossip was managing. Glossip's family, lawyers and supporters have maintained his innocence. Thanks to their efforts, the controversial case has drawn wide public attention.
On September 30, when Oklahoma Governor Mary Fallin issued a last-minute delay, Glossip's execution was stayed for the fourth time in his 11 years on death row.
READ MORE: Governor delays execution of Richard Glossip until November 6
Kim Van Atta, Glossip's close friend who created a website in support of the inmate, richardeglossip.com, told RT about the case.
RT: When was the last time you spoke to Richard, how is he holding up and what do you think he would have to say to viewers?
Kim Van Atta: He would have a lot and he is sorry he can't be here. I spoke with him last night…I became his friend 16 years ago - and frankly not because I was particularly concerned about his case because you have to remember it was so obvious to us that he was innocent, we had just assumed that this would be a slam dunk in these trials. So, I became friends with him because he needed a friend and we got along. And for the last 16 years - that's what it has been – and then when they started trying to actually execute him, everything changed. That's when I thought, "Alright, Richard wanted me to put up this website." But Richard was never a cause for me; he was never a case for me – he was just a friend…For him I think quite important is that…he really wants everyone to know that if it hadn't been for publicity, if it hadn't been for the people who have been supporting [him], if it hadn't been for [his] sister Helen, if it hadn't been for the press interested - he would be dead today. And it's absolutely clear because they would have killed him on [September] 30, if there hadn't been a lot of attention paid, because what they did, what they tried to use with him - that they were going to use with him - they had used before. So, the only reason they didn't use it this time was because somebody said, "Wait a minute! He's got some friends out there". So, he just wants to thank everybody who has basically saved his life, kept him alive.
RT: You mentioned Richard's innocence and how he might want viewers to know. Can you talk about the plea deal that he was actually offered during his second trial and why he refused to take it?
KVA: Richard has always maintained his innocence because he is innocent. It's pretty easy to tell the truth if in fact it is the truth. So, when he was offered the plea deal, he would have to admit to confess to a murder that he didn't do, so you know he just couldn't do that… If you were someone who's never been in trouble with the law… – just a normal hard-working guy – suddenly you're on death row. It's surreal, it's bizarre. And I think that anybody who had any kind of consciousness would say, "No, you're asking me to do something, say something I didn't do."
RT: Don Knight, attorney for Richard Glossip, said in an interview with RT that Glossip was innocent and they had proven it "before he was to be killed." Despite that "clear case of innocence, the government in Oklahoma decided to go forward with this state-sponsored homicide," he said. Even the Supreme Court refused to intervene in Glossip's case. How is that possible?
KVA: Welcome to the death penalty in the United States. It's because of [what Glossip's] sister Helen calls a 'machinery of death'. There is a machinery of death that once you're on that conveyor belt [it's] not going to stop for anything. They had the sense, that from Richard's point of view it's a slow motion freight train. You're on track, you can't get off… this freight train is coming in slow motion and there is nothing you can do to stop it. And that's basically we are at. People often got exonerated because of things like DNA. In Richard's case even the other side said he didn't kill anybody, so there's no way of having some kind of magic, you know, DNA come out and shows that he was innocent – so they would have to let him go. But in this case and in Oklahoma they like to kill people…
RT: What avenues are left now for Richard? What are his supporters like you and his legal team focused on now?
KVA: What I am focused on is helping Richard stay strong in this. Remember, I am his friend, I am his supporter, advocate, but I'm mostly his friend and this is taking extraordinary toll on him. He has suffered three attempts at execution, each getting closer and closer to actually executing him. The last one spending two hours without knowing what's going on, in boxer shorts in a frozen cell, pacing back and forth nobody telling you what's going on. It's cruel and unusual, it's Guantanamo-like, it's torture. But I leave it up to Don [Knight] what their next work is…
The statements, views and opinions expressed in this column are solely those of the author and do not necessarily represent those of RT.