Ukraine: One day cock of the walk, the next a feather duster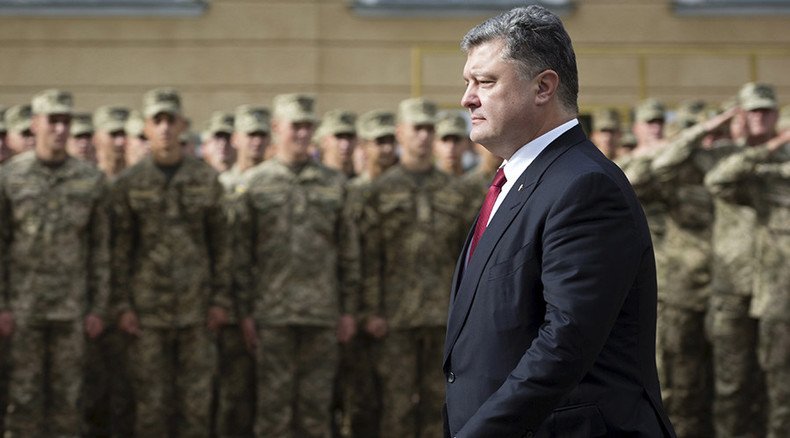 Ukraine's moment in the sun is over. Its European suitors have moved on. Were their hearts ever really in it anyway?
"Mad Max: Fury Road" was this summer's hottest cinema blockbuster. The unhinged protagonist, Max Rockatansky, wouldn't have been out of place in the Ukrainian civil war. Even stranger characters have popped up there than George Miller's fictional anti-hero.

Personally, I was underwhelmed by Fury Road. It wasn't a patch on its 30-year old predecessor, "Beyond Thunderdome." In a famous scene from the 1980's classic, Tina Turner and Mel Gibson, as Max, discuss the latter's origins.

Turner's Aunty Entity asks: "What did you do before all this?"
"I was a cop, a driver," Max responds.
"But how the world turns. One day, cock of the walk. Next, a feather duster," the 'Simply The Best' singer shoots back.
READ MORE: Tanks withdrawing from contact line in Lugansk People's Republic

Ukraine hasn't yet reached the depths of Miller's post-apocalyptic underworld. However, its no longer 'cock of the walk' when it comes to winning the attention of Western powers. The post-Maidan government has been lax with the reform duster too. Many Kiev observers now privately admit that corruption is now even worse than during the Viktor Yanukovich era. A smaller overall pot means the ruling classes need to, proportionally, steal more to fund their lifestyles.

On Friday, Ukrainian President Petro Poroshenko traveled to Paris where he met with the leaders of Europe's big three powers, Russia, Germany and France. Poroshenko has enjoyed unprecedented attention in Western countries since assuming office. That has all changed now.
What's love go to do with it?
Ukraine's descent down the slippery slope of irrelevance began about a year ago. Europe's leaders have tired of the failure to implement promised anti-graft measures. They are also exhausted from the sanctions war with Russia. Growing discontent amongst farmers is especially troublesome for Francois Hollande. In France, they are a powerful lobby group.

Last week in New York, a NATO media which once shamelessly promoted Poroshenko and hung on every word, pretty much ignored the president's United Nations' General Assembly speech. Even his walkout during Vladimir Putin's address was barely reported. The billionaire oligarch, Ukraine's answer to Willy Wonka, knows the game is up. However, the speed of it must be surprising to him.

On Friday, seasoned CIS-area correspondents knew that Ukraine was a sideshow at its own peace conference.
Some Russian sources claimed that Hollande and Putin didn't actually discuss Ukraine at all during their private talk. Only Syria.

Concurrently, Angela Merkel apparently conceded in Paris that Crimea will remain part of Russia, according to Alexei Pushkov, the head of the Foreign Affairs Committee of the Russian Duma. He tweeted: "Important: After a meeting in Paris, Merkel for the first time admitted that Crimea won't return to Ukraine. That means the crisis is only about the east of the country." If you were a pro-EU Ukrainian, the only possible feeling is one of massive betrayal.
It wasn't supposed to be like this. The huddled masses of November 2013 at Kiev's Maidan Square had other intentions. They believed they were protesting for Europe, even though an offer of EU membership for Ukraine was never on the table. The students who attended the first rallies were also tired of the state-sponsored theft machine, which had dominated Ukraine since independence.

Sadly, that noble movement was hijacked by extremists, cheered on by NATO leaders, who adroitly exploited the tension to create a wedge between Ukraine and Russia. One group of criminal oligarchs from the east was replaced with a US-backed collection from the west. Can anybody now, honestly, say that 'Euromaidan' has improved the lives of ordinary Ukrainians?
We don't need another hero
While the average Ukrainian citizen now makes $150 a month, some elements in the elite have luxuriated in the chaos. President Poroshenko's income skyrocketed sevenfold, from 52 million UAH ($2.4 million) to 369 million UAH ($17.4 million), from 2013 to 2014. Last year, his Roshen chocolate company's profits increased nine-fold.
Note that state officials are prohibited from owning a business under Ukraine's constitution. Poroshenko continues to ignore this rule. The billionaire president of Europe's poorest country (per capita) is its wealthiest head of state. This isn't a sick joke - it's a fact.

Merkel knows this. Hollande does too. It's clear that they've had enough. At the same time that Maidan's biggest European cheerleaders, Sweden's Carl Bildt and Poland's disgraced Radoslaw Sikorski, were rejected by their own countries, support for Kiev has declined. Only pressure from Washington has forced Eurocrats to, half-heartedly, continue the sanctions war with Moscow.

Ukraine is not an existential issue for Europe. The majority of EU states can take it or leave it. Some are strongly opposed to Ukraine joining the union, such as Hungary and others enthusiastic, like the Baltic States. Then we have the British paradox. London's government has backed Kiev's alleged European trajectory. Nevertheless, at the same time, the UK appears to be on the way out of the EU itself. The British media passionately railed against the accession of Romania and Bulgaria. Do you really believe that they would give an enthusiastic welcome to 40 million even poorer Ukrainians?

While Ukraine doesn't matter, Syria has become a life or death matter for Brussels. It also has the potential to break Angela Merkel. Many Germans are opposed to the liberal immigration policy she has espoused. Eurocrats are united in their belief that in order for the continent to stave off a calamitous refugee crisis in 2016, stability must be brought to Syria before next May. Some even admit that another summer of mass immigration could bring the curtain down on the EU as it's currently constituted. Schengen is already creaking and tolerance for open-borders is wearing thin.

Western policy in Syria has failed. It's clear that the US was so focused on removing Bashar Assad that it, at best, allowed Islamic State to run amok. At worst, Washington may even have been backing the jihadists, as local Syrians told the Guardian this weekend. Meanwhile, Europe, Turkey, Jordan and Lebanon are dealing with a huge refugee crisis while America remains out of harm's way.

In Ukraine, the story is much the same. The EU is paying the price for Washington's geopolitical ambitions. There are now signs that Brussels' two leading powers have woken up. Sorry Ukraine, Europe just isn't that into you anymore.
LISTEN MORE:
The statements, views and opinions expressed in this column are solely those of the author and do not necessarily represent those of RT.
You can share this story on social media: