Tanks withdrawing from contact line in Lugansk People's Republic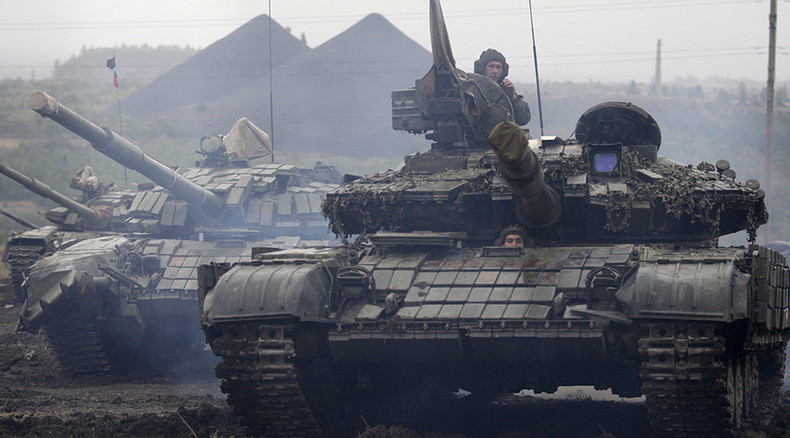 Armed forces of the self-proclaimed Lugansk People's Republic (LNR) have begun withdrawing weapons under 100mm caliber from the conflict zone with Ukrainian troops. A tank column has also started moving away to a new stationing area.
"Right now the tanks have begun movement to a new location, which is at least 15 kilometers away from the engagement line," the LNR statement says.
The move became possible after the LNR head Igor Plotnitsky signed an addendum to the Minsk agreements of February 12, 2015, on September 30. This stipulates withdrawal of tanks and artillery systems under 100mm caliber and mortars under 120mm caliber.
Ukraine Joint Staff has also announced the start of withdrawal of artillery in the region.
Lugansk Information Center reports around 50 tanks have already withdrawn from the line of contact.
The OSCE mission in Ukraine is monitoring the situation, TASS cited Deputy Chief Monitor of the OSCE Special Monitoring Mission (SMM) to Ukraine, Alexander Hug, who didn't confirm whether the Ukrainian side is also withdrawing its artillery.
The OSCE official said he plans to stay in touch with all parties involved in the demilitarization process.
According to the document initiated by the Trilateral Contact Group (Russia, Ukraine and the European security watchdog OSCE) in Minsk earlier this week, the weapons are to be withdrawn in two stages, to be completed in 15 and 24 days respectively.
The deal was agreed by the leaders of the Normandy Four, namely France, Germany, Ukraine and Russia, in February. The document requires a ceasefire, weapons' withdrawal, constitutional reform in Ukraine, legislative recognition of a special status of the unrecognized republics and release and exchange of prisoners on an all-for-all basis.
You can share this story on social media: