ISIS infiltrating Europe through refugees – 'rather doubtful'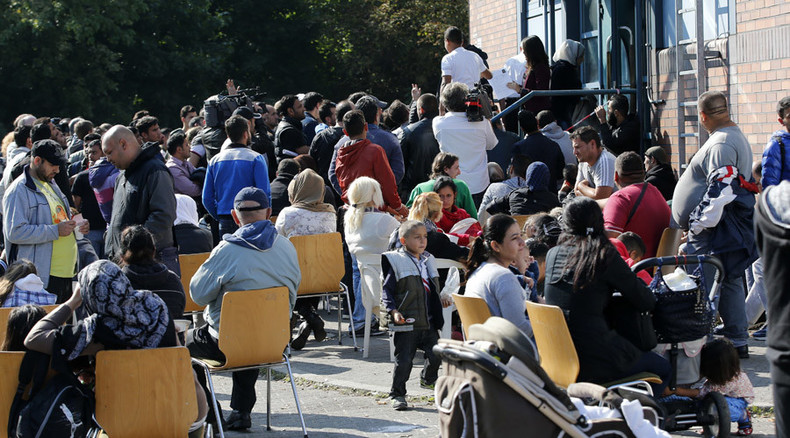 The migrant crisis has shown that it'd be easy to land a squad in Europe, so it's unlikely that ISIS are infiltrating the region through refugees - without their kit and in a disorganized way, says Robin Tilbrook, Chairman of the English Democrats.
European Commission President Jean-Claude Juncker has proposed a quota system for relocating 160,000 refugees to tackle the ever-growing refugee crisis swamping the continent. Speaking to the European Parliament on Wednesday he also blamed the EU for lacking unity.
READ MORE: 'EU lacks Europe & Union': Juncker announces plan to accept 160k refugees
RT: Do you think EU members will accept the Commission's refugee relocation plan?
Robin Tilbrook: I think it's extremely doubtful. You've heard that some of the voices, they're making it clear that they are not at all happy with it. In fact actually it may be another issue in which the whole of the EU project breaks down.
RT: Who may be on board and who won't?
Robin Tilbrook: Of course the Germans are particularly pushing it, aren't they? I suppose as the EU has been developing in the way that it has, the German voice tends to dominate.
RT: EC President Jean-Claude Juncker calls it a matter of dignity for asylum seekers to be allowed to work while they're processed. How do you expect the European public to react to that?
Robin Tilbrook: It's actually certain that there will be widespread opposition to it. It's already at least 60 percent in England that are opposed to much more mass immigration, so I'm sure the same will be true across Europe, and in many places it might be well lot more.
READ MORE: 'Prize operatives': ISIS smuggling fighters into Europe 'disguised as refugees'
RT: The UK Independence Party leader said that there is evidence that Islamic State (IS, formerly ISIS/ISIL) is now using these refugee routes to put their fighters on European soil. What do you make of the idea that IS terrorists are infiltrating Europe among the refugees?
Robin Tilbrook: They are infiltrating Europe, but I'm rather doubtful as to whether or not they are infiltrating Europe through refugees. I had some time in the army when I was a young man. And I think it would be quite unlikely that one would have wanted to insert a sort of squad into a territory without their kit and in a disorganized way. That wouldn't be the way to do it. The one thing that the refugee crisis is showing is that it would be quite easy to land such a squad in Europe. So why would it be necessary to use that particular method? I think it wouldn't be.
RT: Nigel Farage also criticized the EU's approach, saying that "It is a bit too late now to draw up a list of countries from which people can stay and can't stay. All they have to do, as they're doing, is to throw their passports in the Mediterranean and say they're coming from Syria." What do you make of the statement?
Robin Tilbrook: I do have quite a lot of sympathy with that because I do think that the EU itself has been part of the problem here. The fact of the matter is when you actually look at the crowds of people coming they are mostly young men, they are not families fleeing from Syria. That means there are very likely not really asylum seekers at all and the whole thing is a bit of a diversion from the fact that we had already got vast numbers of people coming. David Cameron after all has done a flip flop again on this. One moment he was saying that we were going to take 500 and now we are taking 20,000. This is a promise that he got him elected; that he was only going to take tens of thousands of immigrants overall and last year the official statistics, which are highly dubious and certainly less than the real number, said we'd had over 330,000 which is a small town or city.
LISTEN MORE:
The statements, views and opinions expressed in this column are solely those of the author and do not necessarily represent those of RT.