'Europe must support refugees & rescue them from Mediterranean'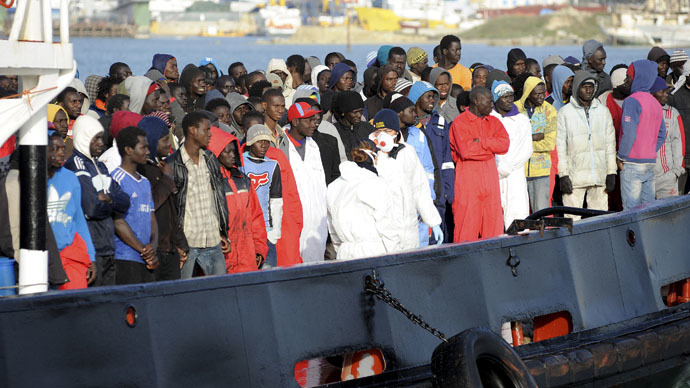 While officials are blaming criminal gangs for the Mediterranean migrant disaster, it is actually about desperate and vulnerable refugees fleeing war-ravaged countries, who must be helped and not rejected, Stephen Hale, CEO of Refugee Action, told RT.
READ MORE: Over 800 migrants dead in Libya shipwreck disaster – UN
The UN refugee agency has confirmed that more than 800 people are likely to have drowned following the disaster off the coast of Libya. People from Africa and the Middle East are believed to have made a desperate attempt to leave from the war-torn Libyan capital Tripoli with the help of smugglers operating a trawler. The ship capsized after a Portuguese merchant ship approached the vessel, causing a stampede.

The EU has come under mounting criticism for failing to tackle the worsening refugee crisis in the Mediterranean.

RT:First of all, how bad is the situation in the migrants' home countries that's driving them to do this? Is it really that desperate?

Stephen Hale: Well, as you can imagine nobody flees their home country and their possessions and their family and their friends unless they are truly desperate. And the vast majority of the people who are crossing right now in the Mediterranean are from Libya, they're from Syria, they're from Eritrea. Countries where there are very high levels of violence or conflict and also grave human rights abuses in the case of Eritrea. So these are desperate people with really no choice but to flee their countries, which they have been born and grown up in.

RT:There has been comment from the UN human rights chief saying that Europe is turning its back on some of the most vulnerable people in the world and risk turning the Mediterranean into a vast cemetery. Do you agree with that?

SH: I am very sorry to say that I do agree with that. In October last year, seven months ago, all European governments agreed to stop the search and rescue system, which was giving people the opportunity to be rescued in the Mediterranean and they did that because they said, "if we remove this service, this search and rescue, this humanitarian service… then [they] will stop making this journey," and that clearly has proven to be totally false and the tragic events of the last week show that unless we bring back that search and rescue scheme hundreds and thousands of people are going to die. It's like a death sentence, which Europe is imposing on these desperate people who are fleeing these countries in the Middle East.
READ MORE: EU under fire over migrant crisis after deadly boat capsize
RT:Seventy percent of migrants are still thought to be able to get across to Europe. What fate awaits them then? Do some of them get asylum or are they sent straight back again?

SH: Well every case should be considered on its merits. There is a UN human rights Convention and every person should be assessed and obviously if they are at real risk of persecution, they will receive asylum and they will receive support. So I can't vouch for that approach, it varies between different countries, but that is certainly what should be happening and we at Refugee Action are trying to ensure that all governments meet their responsibilities, and we get a system, which is shaped by compassion and give these people the support they deserve.

RT:It would be tough to blame Italy, because it is always in the news, and Italy has put a lot of money and a lot of effort into it up until last year. Surely it has to be a whole European effort trying to stem this tide. But how is that going to work for the British side, when UK Home Secretary Theresa May basically said that this crisis was down to human traffickers, not due to the instability brought in Libya in 2011?

SH: Well of course if you are in this situation, if you are having to flee persecution or conflict, if your life is in danger, then you are vulnerable and you have no choice but to go with these trafficking gangs. But the cause of this crisis from which people are fleeing and the solution clearly is not simply to look at the gangs but to find how we can give people the support and the safety they need. Because it is absolutely clear, since the search and rescue operations were stopped in October, people will continue to cross the Mediterranean Sea and they need a solution and we need to be trying to find solutions to these conflicts. We need to support people when they arrive, and we need to rescue them from the Mediterranean Sea.
MORE: