'Saudi production boost, Iran deal: How crude prices will change?'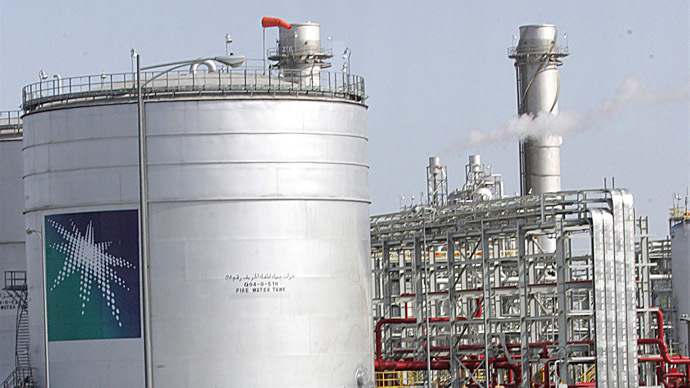 There are risks that oil price might go down, including if the Iran nuclear deal works out and sanctions are lifted, it will boost oil exports to beef up cash reserves, says Joerg Doerler, A.T. Kearney principal, oil and gas practice.
The global oil market's been significantly affected by the Saudi-led bombing campaign in Yemen. The bombing sparked panic among oil traders and the price of crude saw a sharp rise.
However, the conflict coincided with the positive talks on Iran's nuclear program, which helped bring prices back down. They briefly rose again amid doubts about whether the agreements with Iran will be implemented.
Last year, Saudi Arabia claimed it would never cut production, even if oil falls to €20 a barrel.
But now Riyadh says it's prepared to improve crude prices, if other OPEC members join in.
RT:What's this sudden change of tack from the Saudis is about?
READ MORE: Oil prices slide as Saudi production hits record in March
Joerg Doerler: I'm not sure that this is sudden change by Saudi Arabia. Obviously oil prices have come down a long way from their peaks in 2014. I think all market participants understand that they found now a more or less comfortable or less comfortable bottom for the players. It is very natural that any large oil producing nation is interested in increasing prices, including Saudi Arabia. They are trying to improve the market environment... in order to potentially get alignment within OPEC which has been very difficult. Here we have to see how things develop. So far all OPEC members have had difficulties, not only now but also in the past, to find alignment on their policy over crude production. I think it is not as simple as this announcement is suggesting, and we need to see what will happen over the next few months. But I do not think that this represents a fundamental change in behavior of Saudi oil policy.
RT:Saudi Arabia reported record oil production in March. Does it look like the country's really prepared to help bring prices back up?
JD: Saudi Arabia, as any oil producing nation, has been very hard hit by the slump in oil prices. Those countries very heavily depend on oil. The Saudi budget by roughly 90 percent… depends on the oil income. So if prices go down they also need to try to compensate for that. I think if they find markets even with lower prices they will still try to keep their production at high levels. And they also said that they see that for the rest of 2015 to be around 10 million barrels per day.
RT:How long can the Saudis and their OPEC allies really afford to keep oil prices at the low level; do they have to go up?
JD: The question is a bit too simple in this context. As I said every oil producer would rather like to have higher oil prices than lower prices. But I think OPEC is not the only one of the players in the market. We have to look at the other trends which we see. On the demand side there has been some hope [of] recovery in the US as well as also in Europe, although it has been a bit slower than expected. Also, the US oil production is expected to increase less, maybe even potentially decrease which is also showing the first effects, and you see similar tendencies in other regions of the world like the North Sea.
But on the other hand, you still have significant risks for increasing production and pressure on oil prices. [That] is, for instance, as I said relatively slow recovery of the global economy, including also China which in addition to that tries to move away from a relatively energy intense economy towards a less energy intense economy...
Also on the supply side you have significant trends which could also support lower oil prices, oil prices at the current level which, is in particular case, the tendencies around Iran. If the sanctions [against] Iran are lifted, Iran is expected to export significantly more [oil], if they can. Also Iran needs to beef up its cash base as the country has really suffered during the sanctions over the past years. In addition to that there are huge stocks piles of oil in the global economy because everybody has been expecting higher oil prices. So I think US stocks reached record levels of more than 480 million barrels per day. Iran is supposed to have 30 million barrels per day in the market. There are some signs [that] oil price might increase but we also see that there is still significant downward risk. So probably they will stay around the current levels: sometimes a bit lower, sometimes a bit higher - depending on the current market environment.
The statements, views and opinions expressed in this column are solely those of the author and do not necessarily represent those of RT.