'Turkey needs European help in toughening border control'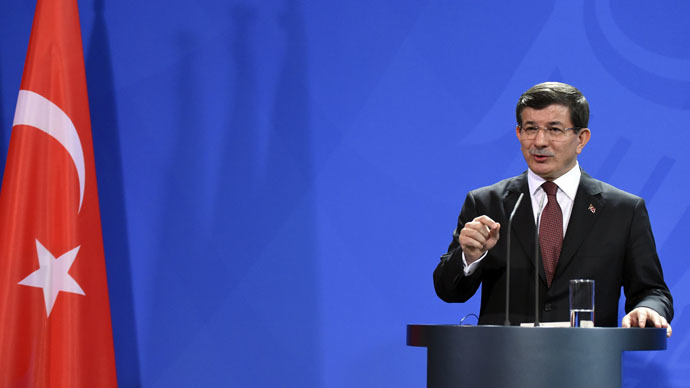 The Paris attacks are likely to prompt Turkey to introduce tougher controls over all passengers flying to the Middle East, says Husein Bagchi from Middle East Technical University. But it also needs EU assistance as Turkey's borders are European borders.
Husein Bagchi thinks the Turkish Prime Minister's Ahmet Davutoglu statements on the attacks in France got "great approval" in Turkey.
"He is right that the Muslim religion and terrorism should be not in the same line," Bagchi told RT.
He added that Turkey plays an important role in fighting international Islamic radicalism.
"Probably in the coming days Turkey is going to be the focus point, because Turkey is the only [Muslim] country having democracy and also a human rights connection with the EU," Bagchi said.
The professor believes that Turkey is "also an example for the entire Islamic world," of a country which guarantees freedom of speech, freedom of expression, and keeps "them within the democratic structure."
Commenting on how foreign policies will change following the Paris attacks, Bagchi suggested that Turkey will have to get more cooperation from Western countries, including the US and others that Ankara considers to be important players both regionally and, also, in fighting radicalism.
In his view, the tragic events in France became "a big lesson" for Turkey in dealing with Islamist movements. Turkey, the expert believes, is playing a big role in protecting the Middle East from radical Islamism coming from Europe and passing through Turkey.
"Probably Turkey will be much more careful in this respect than before."
European countries, particularly Spain, have to have tighter border controls to fight terrorism. For Turkey "it is one of the biggest problems" and has been the case for the past four to five years as the country has a frontier of about 1200 km which "is very difficult to control."
"Probably now, together with European countries the border control can be strengthened," Bagchi noted.
The professor thinks the Turkish government will inevitably introduce changes and get much stronger control over "all passengers who pass through Turkey and go to the Middle East."
In Bagchi's view, such measures are a big problem as they curb people's liberties. However, "either you somehow protect your own people and the European people" from terrorist attacks, or you 0let people move in and out.
"Turkey has to be much more careful than ever before and the Turkish Prime Minister probably today in Berlin is also talking with Chancellor Angela Merkel more about the security of Turkish borders together with the German contribution…to provide more security on the entire border of Turkey because the Turkish borders are European borders at the same time," the professor told RT.
The statements, views and opinions expressed in this column are solely those of the author and do not necessarily represent those of RT.