Turkey expects same reaction to Islamophobia as to Charlie Hebdo attacks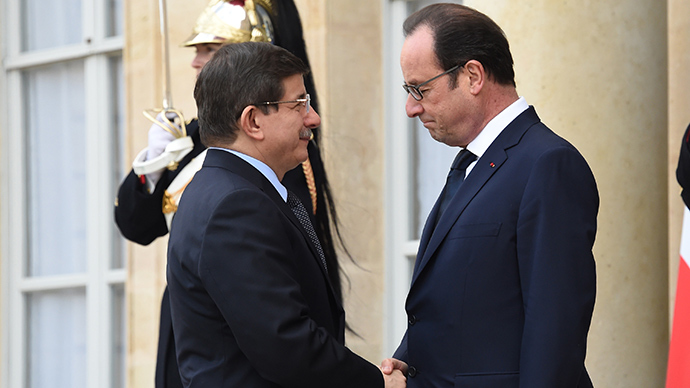 Turkish Prime Minister Ahmet Davutoglu condemned the attacks in France during the Paris march on Sunday, while adding there should be no double standards as to denouncing attacks on Muslim mosques and standing up against Islamophobia.
"It is a message to the whole world that everyone must confront the threat of terror," Davutoglu told reporters at the Turkish embassy in Paris on Sunday.
"We would expect the same sensitivities to be shown to attacks on mosques or Islamophobia," he said after participating in a march along with over 40 world leaders.
The march began at Place de la Republique and headed towards Place de la Nation, approximately three kilometers away.
More than 40 world leaders, among them German Chancellor Angela Merkel, Israeli Prime Minister Benjamin Netanyahu, and Russian Foreign Minister Sergey Lavrov passed in silence through one of the main streets in Paris.
READ MORE: March for Unity: Over 40 world leaders, 'up to 3mn' rally in Paris against extremism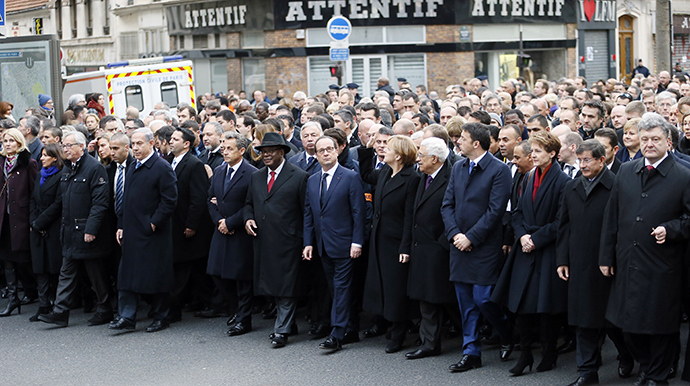 The march is believed to have attracted more than three million people, who came out to show their solidarity with the victims of the Charlie Hebdo attack and those two died during the three-day-long period of terror attacks that followed.
Turkey viewed Davutoglu's presence as significant as he represented a leader of a large Muslim-majority country at the rally, AFP reported.
"Turkey's stance is principled and we will keep up this attitude," he said. "Turkey has the same values around the world as far as terror is concerned. There can be no double standards."
Davutoglu stated that Turkey's view also includes speaking out against what he called "state terrorism" against the Palestinians as well as Syrians.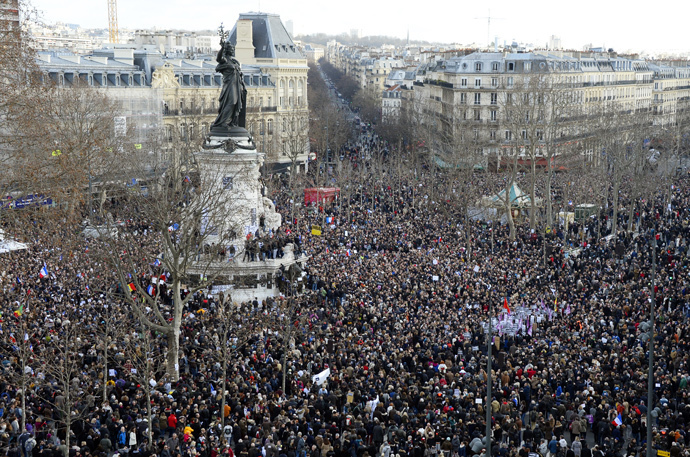 He supported French President Francois Hollande's comments that terrorists who carried out the horrendous acts in Paris have "nothing to do with the Muslim religion."
But, Davutoglu added that Paris society needs to be further examined in order to determine what drove the gunmen, who grew up in Paris, to commit such attacks.
Twelve people, including four notable cartoonists, were killed by Cherif and Said Kouachi in the first attack on Wednesday.
On Thursday, a policewoman was gunned down in the French capital by a terrorist named Amedy Coulibaly. The man later took hostages in a kosher store in northeast Paris, killing four people on January 9.
French police neutralized the Kouachi brothers and Coulibaly in two separate operations on Friday.
Western media has questioned Davutoglu's attendance, pointing to Turkey's record of dealing with press freedom. In 2012, Committee to Protect Journalists (CPJ) named Turkey as the world's leading jailer of journalists.
UN calls for tolerance towards Muslims
UN Secretary General Ban Ki-moon on Sunday urged for tolerance and called on the world not to retaliate against Muslims in the aftermath of the tragic Paris attacks.

"In the aftermath of this week's events in Paris, he [Ban Ki-moon] warns in particular against targeting Muslims for reprisals. Such unwarranted bias would only play into the hands of terrorists and contribute to the spiral of violence," the UN's statement said.

The secretary general also spoke in support of the Paris march, offering his condolences to the families of the victims of the attacks.

"The Secretary-General reiterates his condemnation of terrorism; no cause and no grievance can justify such acts. He calls on the international community to redouble its efforts to combat terrorism in all its forms."
You can share this story on social media: