Stop the presses: Turkey tops list of jailed journalists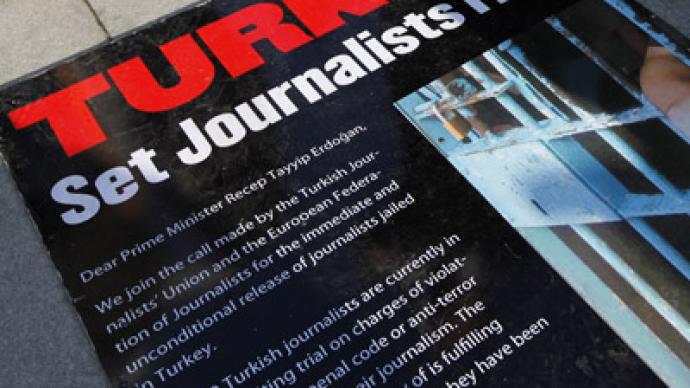 As the situation in Syria intensifies, its neighbor Turkey, which is at the frontline of the offensive against President Assad's government, is being dubbed as the world's leading jailer of journalists by a New York–based media watchdog.
The latest investigation says that 76 journalists were detained in Turkey as of August 1, 80 per cent of which were imprisoned as a direct result of their work. The remaining 20 per cent of the cases are still being investigated by the Committee to Protect Journalists (CPJ) workers. The report also claims that three-quarters of jailed journalists have not yet been convicted of any crime but are held while they await "resolution of their cases."The findings claim that "the Turkish government is engaging in a broad offensive to silence critical journalists through imprisonment, legal prosecution and official intimidation," as 70 per cent of those in jail were Kurdish and the rest being accused of participating in plots against the government, or membership of outlawed organizations.Press freedom in Turkey according to the 53 page report has suffered as "as tensions between Turkey and Syria escalate a choke on information and climate of fear could deter important, probing news coverage."The watchdog believes that "according to the government's theory, journalists were using news coverage to create the kind of societal chaos conducive to a coup." In fact most have been charged with aiding terrorism by covering activities of the outlawed Kurdistan Worker's Party (PKK) and the Kurdish Communities Union (KCK).CPJ's report also criticized the 2007 Internet law which allows website filtering by the Turkish authorities against opposition.Furthermore at least 5,000 criminal cases were pending against journalists by the end of 2011 the report says.According to the CPJ, the number of journalists in Turkish jails surpasses figures in Iran, China, or Eritrea, making Turkey the world's leading jailer of journalists."Turkey's current prison tally far surpasses that of the next most repressive nations, including Iran, which was imprisoning 42 journalists when CPJ conducted its December 2011 prison census; Eritrea, which was holding 28; and China, which was jailing 27," the report says. CPJ's analysis of imprisonments in Turkey also found that the crackdown has accelerated in the last two years as two-thirds of imprisoned journalists were detained in 2011 or 2012.JCP says that Ankara's relationship with Washington makes Turkey "promote itself as a regional leader in freedom… Yet such claims are contradicted by the persecution of journalists at levels that place Turkey alongside global outliers."The watchdog recommends Prime Minister Erdogan and his government to "exert the political will to abandon the systemic suppression of critical views and dismantle the country's vast system of media repression.
You can share this story on social media: