US cops could be in firing line 'if system doesn't change'
Published time: 8 Dec, 2014 19:02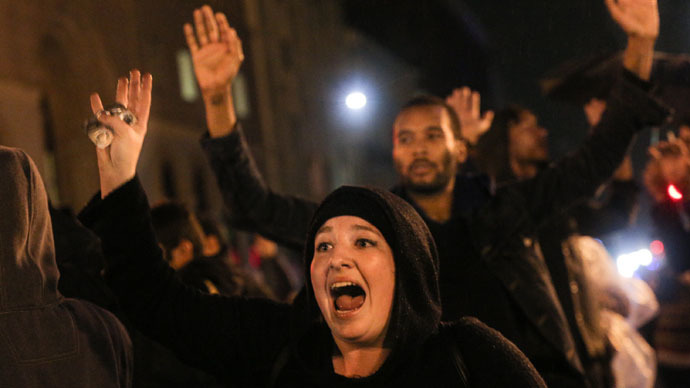 If American police officers keep pushing the limits of their powers and there are no changes in the police system, people who are strongly frustrated will take their anger out on the authorities, Erik Nation, an American pastor, told RT.
The US has been inflamed, coast-to-coast, by recent protests against police brutality. Erik Nation, pastor of Zion Tabernacle the House of Prayers, thinks some things the police did were uncalled for and there will be repercussions.
"Some of the stuff, I understand what they were doing, but at some point tempers began to flow."
"This new generation is really serious getting their point across in what they believe and what they stand for. I don't think this is just going to go away because it is happening all over the country," he told RT.
Nation argues the equally violent protesters are split into two groups: one is frustrated with the system and the other is just out to rob and loot. "There are two different groups out there. There are some who are just upset with the system and it turns them to violence and they are not even going to stores. And then you see another group that shows up and they are busy looting stores. It is two different groups," he said.
The American pastor believes there is still "that black and white issue" in the US. "That is probably the root of all of this. But then you also have the injustice and the things that are happening with the police system. I think that racial thing is probably the root of it," Nation told RT.
He thinks that to prevent future police brutality, there will need to be a process: "There is going to be some time to change," he said.
"This racial profile… You never see a white officer treating a white guy the way they treat the African-American guys or Hispanic guys. And that is not right," Nation added.
He thinks, "something is going to have to happen or it is almost like this thing is going to explode. They have to wake up and make some adjustments, make some changes. Even the guy in the Erick Garner case, he is standing there saying 'I'm not doing anything!' They caught him with some previous crimes… I clearly understand that. But at that point, the guy is just standing there, the guy is yelling 'I can't breathe!' and the guy's neck is under his [police officer's] knees.
It's got to change," he added.
Nation argues that if things don't change, it will start backfiring on police officers.
"Some people, so frustrated with the system, are going to take it out on officers. I believe that all police officers are not bad guys, but there are some who push the limit a little bit," he said.
The statements, views and opinions expressed in this column are solely those of the author and do not necessarily represent those of RT.