Guns, God and soccer practice: A 5-year-old kid's life in Trenton, Missouri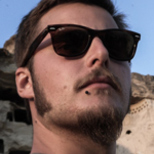 Tomaso Clavarino is an Italian freelance journalist and photographer. He has contributed to several newspapers, magazines and media outlets such as Der Spiegel, the New Republic, La Stampa, Vanity Fair, Corriere della Sera, La Repubblica and Sportweek, focusing his work on human rights issues, on the aftermaths of conflicts and on the African continent. He followed the 2012 coup d'etat in Guiné Bissau, from where he has reported also on the prison system of the country, the post-Arab Spring turmoil in Tunisia, and reported from India, North America and Europe. He was one of the finalists in the young reporter category for the 20th edition of the Prix Bayeux Calvados for War Correspondents, a 2014 grantee from the Pulitzer Center on Crisis Reporting in Washington, DC, and a Helge Hummelvoll Fellow at the 65th edition of the Missouri Photojournalism Workshop. His website is www.tomasoclavarino.com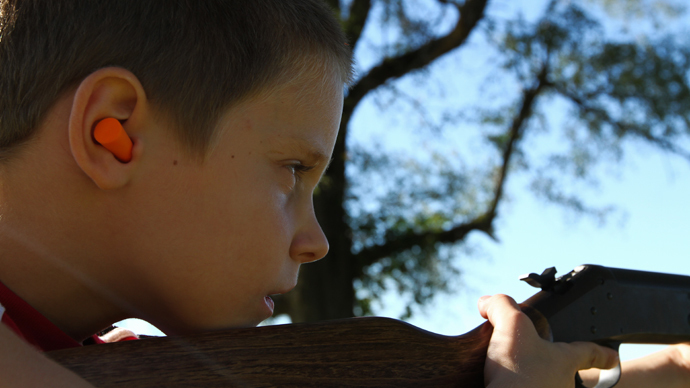 Five-year-old Matt holds his rifle as if it is the most normal thing in the world. The boy with blue eyes and a tiny body handles it like a pro.
He pulls the trigger with coldness and the can of Coca-Cola, resting on a log in a field in the countryside, explodes.
The recoil of the gun does not seem to give him any trouble, and his gaze remains impassive. He reloads the gun, takes aim, and this time it's a glass from a fast food restaurant that blows up.
Matt (not his real name) lives in Trenton, Missouri, deep in the Midwest Bible Belt, where the Republicans win 75 percent of the votes during elections without any special effort, where the percentage of whites is close to 99 percent and about 98 percent of homes have at least one firearm inside. Weapons here circulate without any problem and are kept side by side, next to children's games.
Children begin to shoot at four, and by six they already hunt. They fire at wild turkeys, first, and then they move on larger prey. They train in large fields surrounding these small towns, so similar to each other, with targets attached to trees, bottles of soft drinks resting on plastic strains and fake birds. They shoot in the same way that European children play football in the town park. They fire with an impressive coolness, like experienced hunters.
"I want my son to learn to shoot well, with precision," says Dustin Smith, a coachbuilder in Trenton. "So we can go hunting together, certainly, but also in such a way that he could be able to defend himself and defend his family."
The need for self-defense is, first and foremost, what drives these people to get armed. For them, the Second Amendment is sacred, untouchable. "We are ready to defend it to the hilt, without hesitation," three local residents, Brian, Hayden and Bill, say in unison sat at the counter of Snappy's, one of the two pubs in Trenton that offers billiards and karaoke. They see the idea of restricting the sale of weapons, even after the recent wave of school shootings, as an attack on the freedom of Americans.
Since the December 2012 shooting in Newtown, Connecticut, there have been at least 88 school shootings in the US.
The latest incident was in Washington State, where a youngster opened fire inside Marysville High School. Passionate about weapons, with which he was immortalized in photos on Instagram and Facebook, his parents had just bought him a new rifle.

"They will have been trained badly," says Brian, sipping a Budweiser as he watches TV, where the Kansas City Royals are playing the Arizona Diamondbacks. "We teach our children how to use their weapons. School shootings are the work of crazy people, so it's not fair to penalize everybody. Indeed, if our children could go to school armed they would be much safer."
Protecting their families is what matters most to Trenton residents. Fifteen seconds is the time required for Del Weyer, Matt's and Tom's father, to get out of bed, open the top drawer of the bedside table, hold his Colt and point it at an intruder. "Fifteen seconds, I need just 15 seconds to cool anyone who tries to come into my house and put the lives of my family in danger," he says. Weyer, 37, divides most of his time between home and the First Assembly Church of Trenton, where he is the pastor.
And it is perhaps this need for protection which means that children like Matt and his eight-year-old brother Tom, (also not his real name) after they return from school soccer practice, take their rifles and pistols to the shooting range for practice with their father.
Shooting ranges are now arguably the most popular places to hang out in smalltown Missouri. Here veterans shoot side by side with many young people, who have made this place their second home. Among the most regular attendees is Tommy Wright, the town's police chief, who says it's good so many people have guns, "because it makes the city safer."
Indeed, so enthusiastic is Wright that he organizes weekly laser shooting practice with officers for the townspeople at the police station.
Are such towns as Trenton, Chillicote, Cameron, Richmond and Marshall so dangerous as to justify the presence of some many weapons in the houses of their inhabitants? "Absolutely not, Trenton and most of Missouri towns have some of the lowest crime rates in America," says Wright. "Obviously having weapons in the houses is good for something, right?"
For Pastor Weyer, the justification for self-defense comes from a higher authority than temporal law, however.
"In the Old Testament it's written clearly: An eye for an eye, a tooth for a tooth, a hand for a hand, a foot for a foot, burning for burning, wound for wound, bruise for bruise... So no one will ever forbid me to have my guns and my firearms. No one."
The statements, views and opinions expressed in this column are solely those of the author and do not necessarily represent those of RT.