'Britons to join ISIS for psychological, not economic reasons'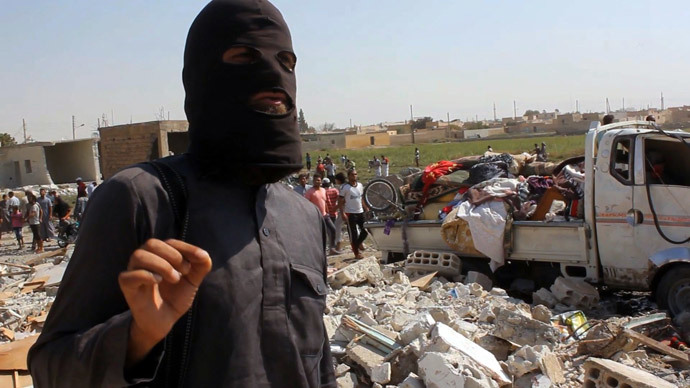 There isn't a single type of jihadist - there are people from both poor and rich backgrounds – so it is an issue to do with the individual's mindset, not personal circumstances, Deputy Director of RUSI Qatar Michael Stephens told RT's show In the Now.
According to the UK government, more than 500 British citizens have joined the Islamic State (IS, formerly ISIS). RT managed to talk to one of the ISrecruitswho used to be a London banker before becoming a terrorist. This is how he explained his decision to join the jihadi group: "I hate democracy and the self-indulgence of the rich…I hate inequality…I hate the corporations who destroy this world because of tyranny."
RT discussed the case of this recruit with Deputy Director of RUSI Qatar, Michael Stephens.
RT:Why would a London banker join the ranks of ISIS? How common is this?
Michael Stephens: That's a good question. Why would a London banker who is very well-off, seems to have a lot to lose, join an organization as extreme as ISIS and in the process throw away his British citizenship and commit a crime for which he will not be found innocent. What we know about these extremists from Britain that have joined ISIS is that there is no a single type of jihadist: there are people from poor backgrounds, there are people from rich backgrounds. It doesn't seem to be an economic factor, it seems to be very much a psychological factor – an issue to do with the individual's mindset rather than their sort of personal circumstances.
RT:What are foreign fighters used for? Why does ISIS need them?
MS: There are a couple of things. The first one, of course, is the most obvious - it is what we saw with Jihadi John, which is used for propaganda messaging to the West. But they also use them to fight, and we found that there have been a number of British jihadists fighting with ISIS who have been killed on the frontline. What we do know is that about 60 percent of those Britons who have joined ISIS have ended up being killed in fighting. They are clearly involved in combat operations but they don't seem to be in the higher ranks of the organization, partly because some of them don't speak very good Arabic and for that particular reason they are not able to contribute to the institutional life of ISIS.
RT:What can the EU and the US governments, the world do to fight recruiting trends that are obviously developing at a fast rate?
MS: What I would say is that the vast majority of those people from Britain who are going to join ISIS have already done so. Partly now because the legislation has been changed, it is obviously a lot more difficult now to simply take a tourist trip to Turkey than it was before. The monitoring procedures of these individuals and some of the areas where they have been recruited, for example from radical mosques, have been stepped up. So the British government in particular has been very strict about this particular process now that they realize the size of the problem. The problem as well was with the Turks because the Turks have obviously operated quite a selective border policy, when people have been able to cross quite freely in recent times, and unfortunately, the Turks have not signed up to this new coalition to defeat ISIS. So we are not sure if they are really serious about tackling this problem or not.
The statements, views and opinions expressed in this column are solely those of the author and do not necessarily represent those of RT.