'New Afghan govt will work both with Taliban and what the US left in place'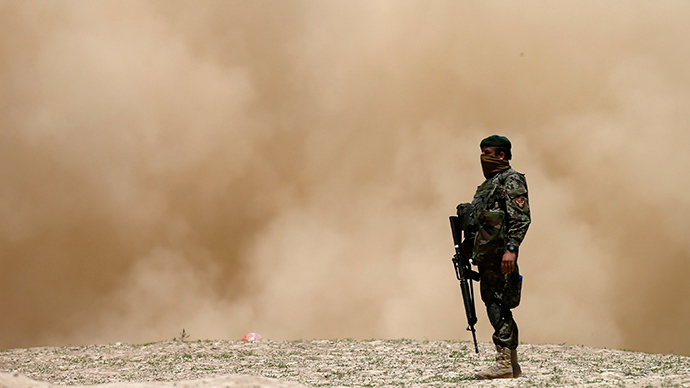 Even though both sides are terribly corrupt, there is probably going to be more general respect from the Afghan population for the Taliban, who have been fighting for Afghanistan for several decades, retired US Air Force officer Karen Kwiatkowski told RT.
RT:We've seen a surge in attacks, including one on the Kabul International Airport, as the Taliban has declared its annual summer offensive. How do you think Afghanistan will protect itself from the rising insurgency after NATO forces a pullout?
Karen Kwiatkowski: It is going to be difficult for them even though the national forces are somewhat strong and practiced. I think what you are going to see is a pretty rapid deceleration and initial acceleration of violence within a rapid deceleration when the strengths of the two parties are determined. The people themselves are tired of war, so you are going to see compromise. You are going to see some government that works with both parties, the Taliban, as well as what the US has left in place.
RT:How likely is it that the Taliban will seize power after the pullout?
KK: I can't read into the future, but I think it's pretty likely. The will to lead that country is not with the people the Americans put in place. The will to lead Afghanistan, to own it, is with people who have been fighting for that country for multiple decades and unfortunately, from the Western perspective, that's the Taliban. I think they are tougher and a little bit more dedicated. Even though both sides are terribly corrupt - financially corrupt and corrupt in many ways - there is probably going to be more general respect from the population for the Taliban. Some of that will be fear, but others of it will be respect.
RT:It's been over 12 years since the US-led invasion which was aimed at weakening the Taliban and Al-Qaeda. Has the war in any way succeeded?
KK: From an American prospective I can't see how it succeeded at all. It has cost us terrible amount of money, it has created an environment of a huge poppy production and export which affects our country as a consumer nation pretty directly in a negative way. We have ruined the relationship that we had with the Taliban in the 2000s and late 1990s. So our trade relationship potentially with Afghanistan once the Taliban takes over is going to have to be re-established. So we've gone backward from the American perspective, from the Western perspective. From an Afghan perspective I don't know how they cannot feel like victims of world events and they must be extremely tired of this.
RT:The US has pledged $4 billion to support Afghan forces after the pullout. What do you think US taxpayers will think of this, given that more than 100 billion dollars has already been spent since 2001?
KK: That is putting good money after bad of course. One thing, the way that we will give that money to Afghanistan will not worry the Americans as much as it might. We will give them broken, used, defective equipment, we will leave materials there and count that as a gift compared to the billions that we promised them. Most of the rest of it if it is given to the government will go into banks around the world, where it goes now when we give it to the government.
Most of the money given to the Afghan government today is not spent on Afghanistan, it is packed and secured around the world. Americans are not pleased and they are tired of it, aren't interested in it. We are suffering ourselves economically, so it will not be popular. But what will happen is that Afghans will not get the full value of that billion in any case. It will be old equipment, it will be past gifts and accounting tricks. They really cannot count on it.
RT:Votes are still being counted from Afghanistan's presidential election. Do you believe any of the candidates are capable of restoring security in the country?
KK: There are two sides and the Taliban did not run any candidates, it was not allowed to. This election is really deck chairs on the Titanic the way I see it. I am glad that they have been able to run an official election, this is a good practice, this is nice but it is not the solution to solving Afghanistan's governing problems. They are going to have to come together, force will be used and hopefully it will be short-lived. We wish them the best. That is all I can see for the future of Afghanistan.
The statements, views and opinions expressed in this column are solely those of the author and do not necessarily represent those of RT.