Thailand's political crisis: Showdown looms following 'judicial coup'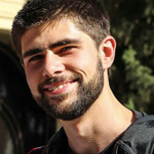 Nile Bowie is an independent writer and current affairs commentator based in Singapore. Originally from New York City, he has lived in the Asia-Pacific region for nearly a decade and was previously a columnist with the Malaysian Reserve newspaper, in addition to working actively in non-governmental organisations and creative industries. He can be reached at nilebowie@gmail.com.
Published time: 12 May, 2014 14:28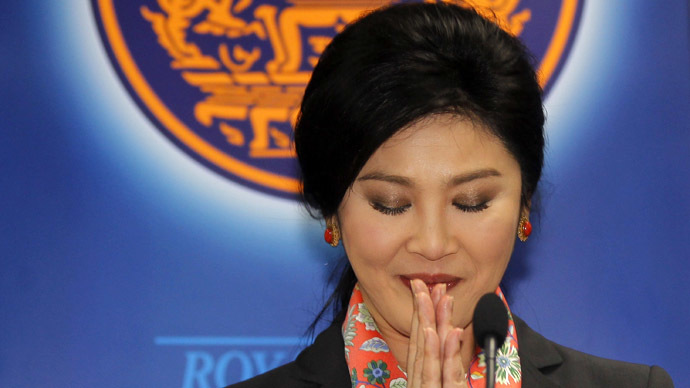 As a power struggle ensues between traditionalist and pro-Thaksin factions, mass demonstrations throughout Bangkok may spark violent clashes and prompt a response from the military.
Following months of polarizing mass protests and political violence, Thailand's highest court recently ruled to remove embattled caretaker Prime Minister Yingluck Shinawatra from office over various charges of corruption. The ongoing political crisis began in November when Yingluck attempted to push through a broad amnesty law that would have pardoned Thaksin Shinawatra, her brother and former prime minister who faces criminal charges for corruption. Since that time, opposing protest movements representing the country's two rival political factions that have clogged major roads in the country's capital, Bangkok and occupied various public spaces around the city.
Although the PM has been removed, Yingluck's Pheu Thai Party remains technically in power with Deputy PM Niwattumrong Boonsongpaisan becoming the acting leader of the beleaguered caretaker government set to govern the country ahead of elections scheduled to take place on July 20. Suthep Thaugsuban, leader of the opposition People's Democratic Reform Committee (PDRC), has rejected the appointment of Boonsongpaisan as caretaker prime minister, and has called on the country's Senate, the Election Commission, and the Supreme Court to appoint a new interim prime minister – otherwise he threatened that his movement would unilaterally "do the job itself." The PDRC further threatened to appoint an unelected "people's government" if the caretaker government fails to resign, prompting thousands of Yingluck supporters to rally against the opposition.
The two main rival political factions have led their campaigns over the last several years by building mass protest movements with different color affiliations. Protestors wearing yellow shirts represent the traditionalist faction aligned to the all-powerful Thai monarchy and the royal establishment that has historically wielded tremendous social, political, and economic power over the country.
Yellow shirt demonstrators typically come from the urban middle class and are aligned with the PDRC movement to purge Yingluck Shinawatra and her family's influence from Thai politics. Protesters wearing red shirts represent supporters of Yingluck Shinawatra and her brother, Thaksin Shinawatra, who was deposed as prime minister in a 2006 military coup.
Thaksin, a billionaire businessman and telecoms tycoon, lives in exile in Dubai to avoid facing criminal charges and arrest in Thailand for the deep-rooted corruption and nepotism that flourished during his tenure. Supporters of Thaksin are aligned with the United Front for Democracy Against Dictatorship (UDD) protest group and typically come from Thailand's rural north and northeast, where populist policies and virtually free healthcare schemes have ensured the victory of Thaksin-backed political parties in every election held since 2001.
Sweeping away the government
Yingluck Shinawatra, elected in 2011 as Thailand's first female prime minister, became the third Thaksin-aligned leader to be removed as head of the government by the judiciary, following a recent ruling of the country's Constitutional Court.
The court ruled that Yingluck acted illegally when she transferred national security chief Thawil Pliensri to another position in 2011 after he was openly critical of her administration; the national police chief was also transferred, clearing the way for her relative, Gen. Pliewphan Damapong, to be appointed to the post. The country's anti-corrupt commission also upheld charges against Yingluck over massive financial losses linked to her government's populist rice-buying scheme, under which the government paid farmers more than 50 percent above the market rate for their rice, and accumulated $21 billion in debt as a result.
Government supporters see the ruling against Yingluck Shinawatra and nine of her cabinet ministers who were also forced to step down as a transparently political "judicial coup" carried out by the country's courts on behalf of the royalist establishment. There is little doubt that Yingluck engaged in nepotism and corruption, but even the spokesperson of the national anti-corruption committee admitted to the New York Times that "the evidence is not clear that the accused took part in corruption or whether she allowed corruption or not," indicating that the court's decision was hastily pushed through and disproportionately harsh in the absence of evidence that definitively substantiated her guilt.
The opposition PDRC is now capitalizing on the court's ruling against Yingluck, but they remain disappointed because the ruling Pheu Thai Party still remains in power rather than the entire cabinet being thrown out to clear the way for an interim government.
Opposition leader Suthep Thaugsuban has called on the newly elected Senate Speaker, Surachai Liengboonlertchai, to invoke Section 7 of the Thai constitution to allow for an interim PM to be nominated and appointed. It remains to be seen whether the Senate, or other pillars of government in the Electoral Commission or Supreme Court will back Suthep's demands for an interim government.
Although the state bureaucracy has traditionally been known to side with the opposition, these forces appear hesitant to back the PDRC because doing so may involve getting the institution of the monarchy directly involved.
At a recent pro-government rally, UDD chairman Jatuporn Prompan denounced the PDRC's call for the Senate president and other prominent figures to choose a new interim leadership, warning that such a move could spark a civil war.
Thailand's two rival protest movements have accused each other of launching anonymous attacks on one another in the past, and both sides are equally capable of utilizing insurgent elements if tensions boil over, especially among the ranks of the pro-government red shirts. The military has mobilized some 15,000 soldiers around Bangkok to maintain order during the protests. Army Chief General Prayuth Chan-ocha previously refused to rule out staging a military coup if clashes erupt between the UDD and PDRC, but now appears to have changed course, saying that even a coup would not put an end to the crisis.
Deeping economic turbulence
Elections are scheduled to take place July 20, while the ruling Pheu Thai Party is vowing to fight against the formal impeachment of Yingluck Shinawatra, which would remove her from politics altogether.
Throughout the ongoing political impasse, the PDRC has pushed for an unelected "people's council" to replace the democratically-elected government for a period of up to two years, allowing it to usher in reforms intended to permanently nullify the power and influence of Thaksin-aligned parties.
Thaksin's family and political confidants have exerted much control over the economy and political life in recent times, which has emboldened powerful forces in Thai society to back Suthep's movement. Thailand's anti-corruption commission has warned that the proposed elections may be delayed, and even if they aren't, the PDRC and their allies in the Democrat Party (who haven't won an election in over two decades) will likely refuse to take part while attempting to disrupt the polls, much like the scenario that played out during elections in February of this year, which were later annulled. Factions that oppose successive Thaksin-affiliated governments call for strengthening the independence of state institutions such as the courts, the anti-corruption agency, and the electoral commission, and yet the traditionalists themselves are guilty of manipulating these institutions to permanently sideline an opponent that they cannot defeat at the ballot box.
The political crisis in Thailand is essentially a struggle between two business enterprises vying for political control over the lucrative national economy.
Thaksin-affiliated parties have been able to cling to power because they are the only political force in the country that has attempted to ease the burden on the rural poor through populist programs, including an increased minimum wage and the rice subsidy. Red shirt supporters of Thaksin generally acknowledge that governments aligned to him have clear vested interests, but feel that they at least benefit through limited social policies, handouts and subsidies, which the PDRC condemns as vote-buying and bribery.
Both factions are committed to pro-business policies, and are under pressure from international financial institutions to roll back subsidies and enact austerity measures to help the economy recover. Amidst the ongoing turmoil, the country's economic outlook has dramatically worsened, as estimates for first-quarter growth are negative, while foreign-investments, tourism and exports have slumped. The hubris and posturing of leaders within the UDD and PDRC will only fuel the toxic cycle of mass demonstrations, political violence and counter-demonstrations.
Thai society is also torn between those who feel that elections – rather than courts – should decide leaders, and the others who support the suspension of democratic formalities to uproot Thaksin's faction. The military has kept itself at a cautious distance throughout this phase of the power rivalry. If violence breaks out amid mass protests, many Thais who long for an end to political infighting will view the military as the only force that can provide an off-ramp.
There's been a warrant out for Suthep Thaugsuban's arrest for several months, but police have chosen not to take action. Though the situation is highly fluid, the latest reports indicate that the government-linked Center for the Administration of Peace and Order may be planning to send SWAT teams to arrest 14 core members of the PDRC, including protest leader Suthep Thaugsuban. Although this move may be intended to reduce tensions, it will almost certainly embolden the PDRC's rank and file and add more fuel to the fire.
The statements, views and opinions expressed in this column are solely those of the author and do not necessarily represent those of RT.