Political cleansing in Egypt is full speed ahead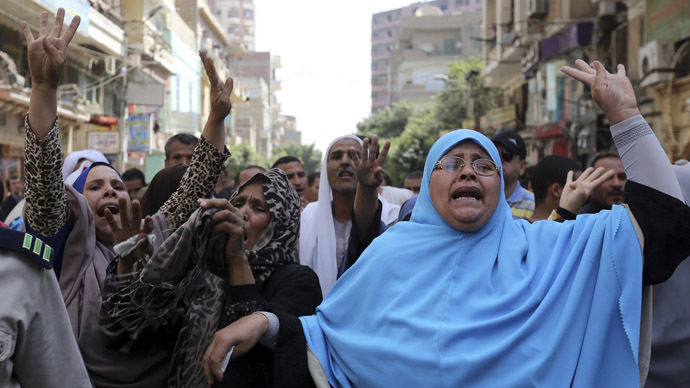 With the largest number of Egyptians sentenced to life imprisonment and death at one time, and no conclusive evidence of their guilt, fears for the future of Egypt are rising.
On April 28 an Egyptian court sentenced Muslim Brotherhood spiritual leader Mohamed Badie and 682 of its supporters to death. They faced charges of murder and attempted murder of several policemen during riots by Morsi supporters in the southern province of Minya on August 14 last year. Just a month ago, the same judge, Said Youssef, sentenced to death 529 supporters of ousted President Mohammed Morsi after just a two-day trial. All but 37 defendants had their sentences commuted to life. President Morsi was removed by the military last July and since then Egypt has seen large scale persecution and elimination of Muslim Brotherhood members.
The recent verdict turned out to be a real shock for the international community, with many voices calling for external involvement aimed at stopping bloodshed and cleansing. The news has stirred up social media. Just search for hash tags #muslimbrotherhood or #egypt on Twitter.
Egypt judge breaks own record, sentences 683 to death. #Egypthttp://t.co/KBRRQ2FuLM

— Sheera Frenkel (@sheeraf) April 28, 2014
Apparently, #Egypt sentences more people to death in a month than the rest of the world combined. Wrong world records

— Haizam Amirah Fdez. (@HaizamAmirah) April 28, 2014
so what happens when you send 638 people to execution after u had sent 529? oh nothing ..and they say this is not pinochet ..this is worst

— Gigi Ibrahim (@Gsquare86) April 28, 2014
As regards to Monday's hearings, security forces again surrounded the court building and blocked roads in order to prevent journalist and families from attending the proceedings.
According to Human Right Watch, the trials took just hours each, and the court prevented defense lawyers from presenting their case. Defense lawyer Ahmed Hefni told reporters outside the court that the death sentences now will be submitted to Egypt's Mufti for the approval, the highest religious authority, but his decision is mostly a formality and is not legally binding.
MB goes underground
The Muslim Brotherhood has been labeled an illegal organization, with over 16,000 members arrested or killed. After taking power for the first time in 2012, the Muslim Brotherhood now has to go underground. Moreover, as Egypt plunges into a new era of even more bloody dictatorship it presents the severest challenge to the state's stability since the time of Nasser. The Brothers are being forced to resort to violence and reorganize into a quasi-militia to protect their members. The possibility of a new wave of deadly attacks carried out by Brothers shouldn't be ruled out.
It's obvious that there is no room for justice in Egypt now. The UN and human rights activists have denounced the speedy character of the trials, though it seems to be ignored by Egypt's authorities. Many of those accused are believed not to have been present at the riots near police stations.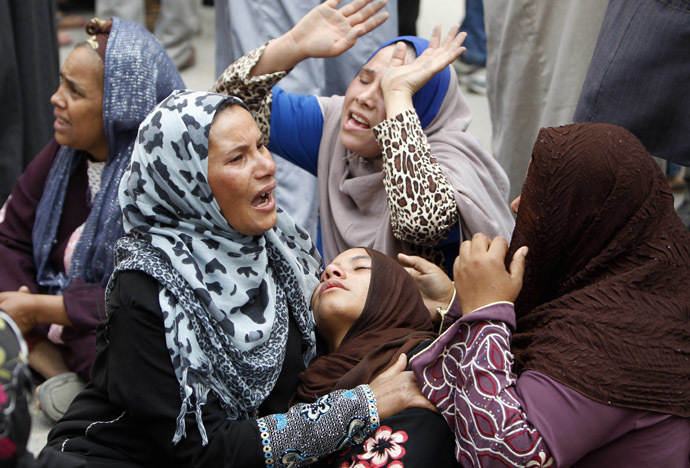 Lack of proof, extremely fast trials with no access by the families of the defendants, limited options of punishment, namely life sentence and death – all these speak for themselves. The ruling authorities are continuing a violent crackdown on the Muslim Brotherhood who represent a significant force in Egypt. In other words, it seems that the military, headed by al-Sisi who is expected to be the "winner" at the presidential polls, are pursuing a policy of political cleansing, paving the way for themselves, and getting rid of any strong rivals…or rivals in general.
Who is next?
On the same day, April 28, an Egyptian court banned all April 6 Movement activities inside Egypt and ordered the confiscation of its headquarters.
The April 6 Youth Movement is an opposition political movement founded in 2008 by a number of young people in support of a general strike held then by textile workers of Al-Mahalla, the largest city of the Gharbiya governorate, which is about 80 km north of Cairo. April 6 played a significant role in the January 25 uprising that toppled Hosni Mubarak in 2011. It also opposed Islamist President Mohamed Morsi, arguing he did not fulfill his presidential campaign promises, and protested against the military regime installed after Morsi's overthrow. The case against April 6 was filed by lawyer Ashraf Said who is accusing the movement of defaming the country's image and colluding with foreign parties. Its leader Ahmed Maher is already serving a three-year jail term for violating a law that bans all but police-sanctioned protests.
Hence, one more political player in Egypt is under attack. While nobody knows how the case against the April 6 movement would end up, and so it makes any adversaries of military rule think they could be next.
Irina Sukhoparova, RT
The statements, views and opinions expressed in this column are solely those of the author and do not necessarily represent those of RT.