Egypt sentences 683 supporters of ex-President Morsi to death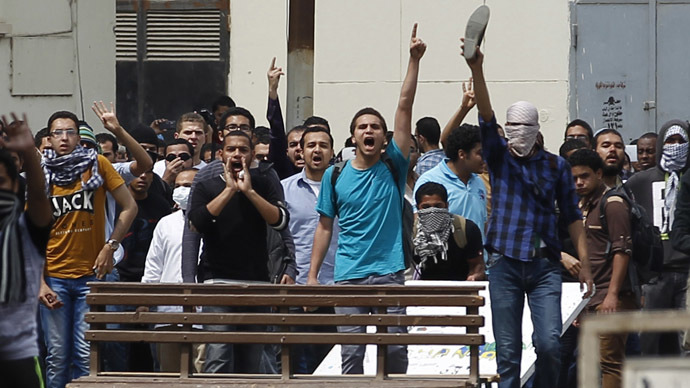 An Egyptian court has sentenced to death 683 supporters of ousted President Mohamed Morsi, including one of his Muslim Brotherhood movement leaders, Mohamed Badie.
The same court reversed 492 of the 529 death sentences it passed in March, replacing the capital punishment for most convicts to life in prison, Egyptian media reported.
The new sentences passed on Muslim Brotherhood members came over charges relating to an attack on a police station last year.
The deadly attack on August 14 in the city of Minya, where the trial was held, came on a day of violent clashes between Morsi supporters and Egyptian security troops.
Chaos here in Minya as families learn 37 sentenced to death the rest life in prison #Egyptpic.twitter.com/06HpSrRS9Q

— Bel Trew - بل ترو (@Beltrew) April 28, 2014
United Nations Secretary-General Ban Ki-moon expressed concern over the court's ruling.
"The Secretary-General is alarmed by the news that another preliminary mass death sentence has been handed down today in Egypt, the first of which was on 24 March," according to a statement from the Secretary-General's office.
"Verdicts that clearly appear not to meet basic fair trial standards, particularly those which impose the death penalty, are likely to undermine prospects for long-term stability."
The US, which recently cleared military aid to Egypt, said it was "deeply troubled" by the move and urged a reversal of the mass sentence that "defies even the most basic standards of international justice."
"While judicial independence is a vital part of democracy, this verdict cannot be reconciled with Egypt's obligations under international human rights law," the White House said in a statement.
"We urge the Egyptian government to end the use of mass trials, reverse this and previous mass sentences, and ensure that every citizen is afforded due process."
The Islamist movement Muslim Brotherhood, which remained in hideout in Egypt for decades, became a prominent political force following the public uprising against President Hosni Mubarak in 2011. It managed to win enough votes in 2012 election to bring its candidate Morsi to power.
His government however failed to address acute economic and security problems that Egypt was facing, with protests continuing. A year after Morsi took the presidential oath, the Egyptian military staged a coup d'état and deposed him. The Muslim Brotherhood was subsequently outlawed again.
Former Egyptian army chief Abdel Fattah al-Sisi is seeking presidency now in upcoming May election. Morsi supporters and members of Islamist political parties close to the Muslim Brotherhood are calling on a boycott of the poll.
Sisi, a strongman widely seen as the de facto ruler of Egypt, is trumpeted by his supporters as a figure that can stabilize the country in a time of crisis. There is little doubt that he will win the election, in which he has only one opponent: leftist Hamdeen Sabahi, who came third in the 2012 election.
World's Top 5 Executioners
There were 778 recorded executions in 2013 worldwide, a jump of almost 15 percent on the previous year, with China, Iraq, Iran, Saudi Arabia and the United States topping the list, according to Amnesty International's annual report for 2013.

1. China: (it's a secret, but believed to be in the thousands)

The People's Republic of China executed more people than any other country in 2013. Although the exact number is treated as classified state information, Amnesty International estimates that thousands are executed in the country of over 1 billion people every year, more than the rest of the world combined.

2. Iran: 369

Figures show an increase in executions of 18 percent on 2012. Amnesty said it had recorded "numerous cases" in which it appeared capital punishment had been used to counter protests by Iran's ethnic minorities.

3. Iraq: 169

Iraq's executions figure is an increase of more than 30 percent compared to the previous year – the highest since 2003. Most death sentences in recent years are thought to have resulted from convictions under an anti-terror bill that covers acts such as "provoking, planning, financing, committing or supporting others to commit terrorism."

4. Saudi Arabia: 79

Strict observance of Sharia law has seen Saudi Arabia carry out 79 executions in central Riyadh, instead of privately executing criminals in prisons. It is one of the last five countries that still performs public executions, the other four being Iran, Syria, North Korea and Yemen.

5. United States: 39

The only country in the Americas that carried out executions last year. Of the total US figure, the state of Texas accounted for more than 40 percent of all executions in the country.

In total, 22 countries enforced capital punishment last year, one more than in 2012. Four of those countries – Indonesia, Kuwait, Nigeria and Vietnam – resumed executions after a hiatus.

No executions were carried out in Europe, Russia and Central Asia. Belarus, the only country in Europe that still has capital punishment on its books, did not execute anyone in 2013.
You can share this story on social media: