'Egyptian courts used to settle political scores'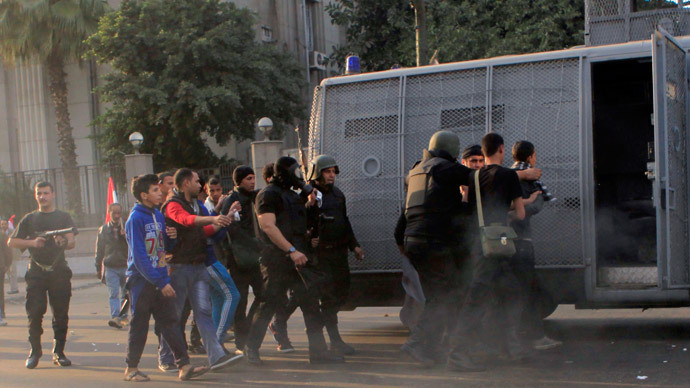 It's clear that charges against Muslim Brotherhood members are politically motivated since there is a vendetta between the military-backed authorities and the Muslim Brotherhood and it's playing out in courts, journalist Shahira Amin told RT.
RT:The trial against the Muslim Brotherhood head Mohammed Badie, has proved to be very difficult, with several judging panels refusing to carry on with the case. What do you expect of tomorrow's session?
Shahira Amin: I'm hoping that justice will prevail. We've seen justice is elusive in most of the trials since June 30. Just a few weeks ago we had the trial en masse, where more than 500 Muslim Brotherhood supporters were sentenced to death. Shocking. We really need to see justice prevail because it's obvious that the courts are politicized and the Muslim Brotherhood figures are not getting a fair trial.
RT:There are some serious charges brought against Badie and fellow Muslim Brotherhood members, including plots to seize power and kidnap the presidential candidate, General Sisi. Wouldn't they be prosecuted in any other country for that?
SA: It certainly appears that these charges are politically motivated, they are baseless and it's just very obvious that there is this vendetta between the military-backed authorities and the Muslim Brotherhood and it's playing out in courts. Courts are being used to settle the political scores, unfortunately.
RT:How much attention is the trial receiving in the local media?
SA: It is being covered but it's not headlines here because every other day we have a trial. There are thousands of Muslim Brotherhood figures behind bars and so it is not getting the attention it deserves.
RT:Egypt's been in disarray ever since the country came to 'democracy' in February 2011. Could it be that the system just can't work in your country?
SA: Democracy has been elusive. The January 25 revolution was a revolution for democratic reforms, for anticorruption, bread, social justice, freedom, but democracy has just been an elusive dream ever since. We have certainly seen a rolling back of constitutional freedoms, mass arrests of political dissidents and you have one segment of the population marginalized and excluded from politics and public life. This certainly does not go well for stability. But if you talk about Western-style democracy, I am afraid that we have seen the West apply double standards when it comes to the Arab Spring. They supported Mubarak for 30 years and were hesitant to lend their support to the revolutionaries in Tahrir Square. They also supported the military coup that toppled Egypt's first democratically elected president. So do not talk to me about Western democracy dictated by corporate interests.
I think the democracy that we hope to see here in Egypt will be a home-grown democracy, with the activists continuing to push for reforms and constitutional rule in this country.
RT:Under the current government the prosecution has not only been after Muslim Brotherhood members but also journalists including foreign reporters. Why are Western governments turning a blind eye to that?
SA: There has been a lot of international denunciation of the case of the detained Al-Jazeera journalists, but certainly not enough pressure has been applied for their release. They have been labeled 'terrorists' or accused of aiding a terrorist organization when they were simply doing their work. The trials have been a farce. I have attended all of them. Tomorrow there will be another trial session. We are hoping to see justice prevail in this case and we hope to see the four Al-Jazeera journalists walk free.
The statements, views and opinions expressed in this column are solely those of the author and do not necessarily represent those of RT.