Top Russian & US generals meet in Vienna for 'constructive' talks as Moscow suspends INF deal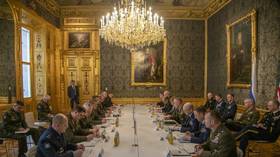 Russia's military top brass have met with their US counterparts, discussing issues of regional and strategic stability. The meeting came just as Moscow followed the US and suspended the landmark intermediate-range missile treaty.
Chairman of the US Joint Chiefs of Staff Joseph Dunford met with his Russian counterpart, Valery Gerasimov, in Vienna, Austria on Monday.
"The two military leaders discussed the deconfliction of Coalition and Russian operations in Syria, and exchanged views on the state of US-Russia military relations and the current international security situation in Europe and other key topics," the US Joint Chiefs of Staff said.
Gerasimov and Dunford have agreed to maintain "regular communication" in order to prevent "miscalculations" between the militaries of the two nations.
A statement from the Russian military was equally vague and lacked any actual details of the meeting. The two officials have discussed regional and strategic stability, as well as two disarmament agreements: the Strategic Arms Reduction Treaty (START) and Intermediate-Range Nuclear Forces Treaty (INF), it said. All in all, the Russian Defense Ministry described the talks as "constructive."
The meeting came just as Russian President Vladimir Putin suspended the country's participation in the INF treaty. The agreement might be reinvigorated if the US "eliminates its earlier violations of its obligations," the presidential decree, published Monday, reads. The move came in response to a similar move by the US in early February. The two countries have repeatedly accused each other of violating the landmark deal, signed back in 1987, while maintaining their own compliance with it.
Also on rt.com
Russia suspends INF Treaty with US - Kremlin
Think your friends would be interested? Share this story!