World War II veterans offered free burial for Victory Day
Published time: 4 May, 2013 14:36
Edited time: 9 May, 2014 16:30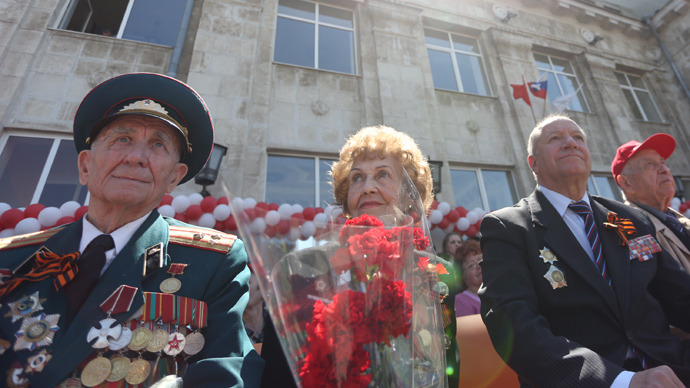 World War II veterans in the Russia's northern region of Murmansk have received most inappropriate congratulations for upcoming Victory Day as they discovered letters in their mailboxes informing them of their right to a free burial.
Veteran Nina Kuznetsova, who was recruited to the front in 1943, told TV-21 channel that she felt sick after opening the envelope.

"Our time has come, it's time to die. And on the eve of May 9 [Victory Day] we get such letters instead of congratulations," she said.

According to FlashNord news agency, the local branch of the Military Memorial Company has sent similar letters to all WWII participants who currently live in the region, situated above the Arctic Circle.

The company explained that they had no intention of offending the veterans' feelings, but only wanted to remind them of their burial benefits.

"It's information about funeral services. So what? Don't we have funerals in the country or what? Are veterans the only ones who are dying? This is ridiculous. I'm sorry, but I didn't write: 'I am waiting for you' in the letter. I just wrote about the existing benefits," Aleksandr Belikov, head of the Murmansk branch of the Military Memorial Company, said.

In his later interview, Belikov said that the letters were sent out in April and it's the tardiness of the Russia Post, which is to blame for the veterans getting them just before Victory Day.

He also pointed out that the decision to organize a mail out on the burial benefits was made in the company's headquarters in Moscow.
However, Belikov apologized for the letters to Nina Kuznetsova personally and to everyone who received the same letters and found them humiliating.

The governor of Murmansk Region, Marian Kovtun, also felt disturbed when she learned about the controversy and called for the resignations of those responsible.

"The director of the Murmansk branch of Military Memorial Company, Aleksandr Belikov, has to fall on his knees before the veterans and ask them for forgiveness. And then quit his job," she said in a statement on Saturday.

"Such actions are the apogee of cynicism on the part of the authors, only those who completely lost their conscience, shame and reason could be sending such 'graveyard' letters on the eve of Victory Day," the governor added.

Since 1994, the Military Memorial Company has been assigned by the Russian government to eternalize the memory of the country's men-at-arms and provide funeral services for them.

The Russian World War II participants have the right for a free funeral in accordance with the federal 'Veteran' law, which was signed by President Boris Yeltsin in 1995.

Russia and over 20 countries around the globe celebrate Victory Day on May 9 (May 8 in Europe, due to time difference between Berlin and Moscow), as the date marks the capitulation of Nazi Germany to the Soviet Union and Allies in World War II back in 1945.