Hundreds commemorate Waffen SS divisions in Latvia, anti-fascists outraged (PHOTOS)
Veterans of the Latvian Waffen SS and their supporters marched in the Latvian capital Riga to honor their comrades killed fighting for Nazi Germany during World War II. Several arrests were made after the march walked into an anti-fascist demonstration.
The annual event has stirred controversy, not for the first time, sparking outrage both in Latvia and abroad as many consider it a glorification of Nazism.

Authorities in Riga had banned the parade in previous years due to security concerns. This year, the Riga City Council's first Russian mayor, Nil Ushakov [Nils Ušakovs], also banned public gatherings on March 16, what many consider Legionnaires' Day, in order to prevent riots.

However, the council has allowed the demonstration this year, ruling that such gatherings pose no threat to public safety.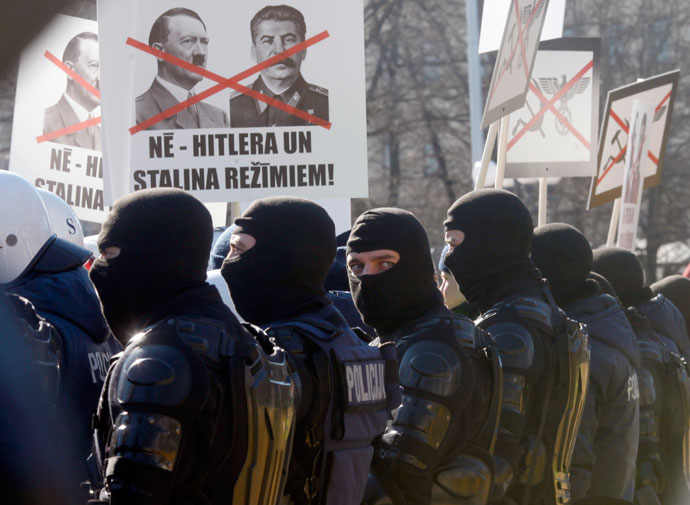 RT correspondent Aleksey Yaroshevsky, who is currently in Latvia, reported that Latvian SS veterans gathered at the freedom monument in Riga.

At the same time, a small group of mainly Russians protested behind barricades about 15 meters away. They blared war sirens and Soviet songs to disperse the crowd. Some chanted "Shame!" and "Nazism won't pass!"

A large number of police units have been deployed to keep the two sides apart.

Three deputies of the Latvian Seim (parliament) – who are also members of a far-right Latvian political party – Raivis Dzintars, Imants Parādnieks and Jānis Dombrava, managed to break through the police cordon and damage one of the installations. They tore apart pictures of Nazi concentration camp victims.
Jānis Dombrava sustained minor injuries in a scuffle which police managed to stop. 

At least five people were arrested at the Saturday procession, police said.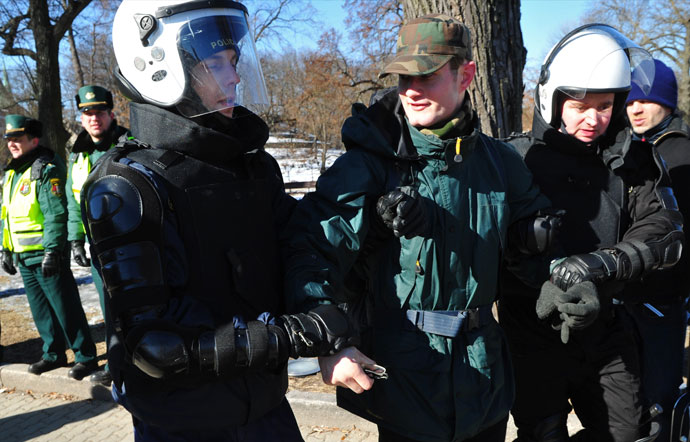 From 1998 to 2000, March 16 has been an official remembrance day in the country to pay tribute to the Latvian Legion.

The Legion was created in 1943 on orders from Adolf Hitler. In March of the same year, the Legion was already battling the Soviet Red Army near the town of Pskov. In total, about 150,000 soldiers served in its ranks.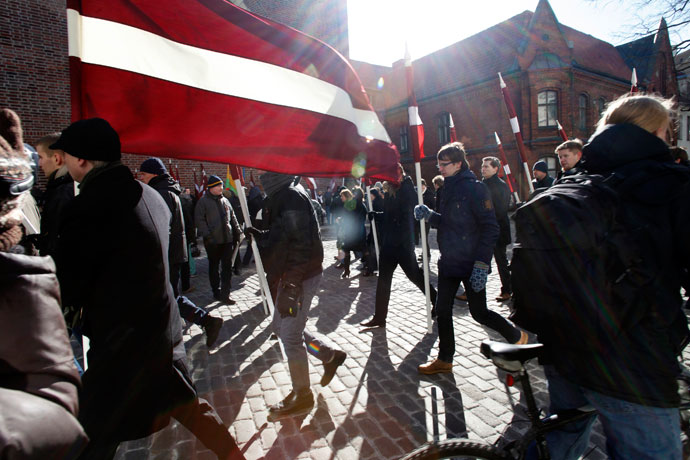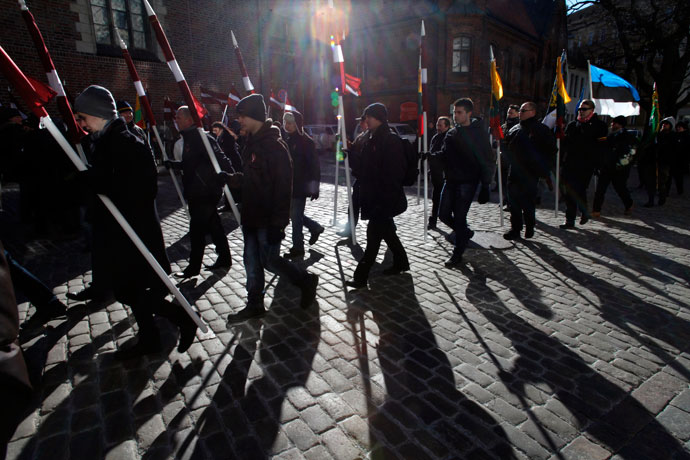 You can share this story on social media: