Europe's neo-Nazi revival worries Russia - Lavrov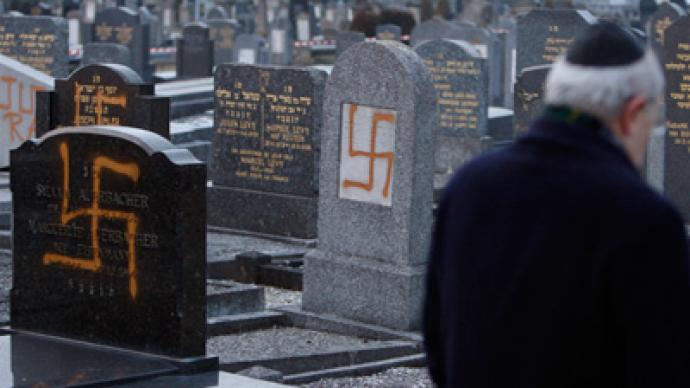 With economic turmoil and extreme-right political parties on the rise, Moscow has expressed its concern that factions inside of some European countries are attempting to revive and glorify the Nazi ideology.
Russia, which experienced tremendous pain and devastation during World War II, says it will not tolerate the "erosion of moral standards" when reflecting on the grim history of those six long years that shook the planet."Russia attaches great importance to preserving the memory of millions of victims of WWII, including the Holocaust," said Foreign Minister Sergey Lavrov, addressing an international conference in Moscow on Thursday entitled "Never again: the memory of the Holocaust and prevention of crimes against humanity." "The erosion of moral standards cannot be tolerated when it comes to assessing the outcomes of that war."Attempts to rewrite the history of World War II in a way that acknowledges the rights of the hangmen alongside those of the victims, placing the occupiers alongside the liberators, are deeply immoral, he added.Lavrov then mentioned the rise of "right-wing extremism" in some European states, where efforts are being made to transform "war criminals into heroes." This disturbing trend naturally causes "deep concerns" in Russia.The Foreign Minister also mentioned the curriculum in some European schools, where the history textbooks "allot more space to the deeds of the Nazis…than to the Nuremberg Trials."At the same time, "monuments to the victors over Nazism are being desecrated, while the invaders are being commemorated," he said.In April 2007, Estonian authorities made the decision to remove a World War II monument from the center of Tallinn. The statue, known as the Bronze Soldier, was also the grave site of Soviet soldiers who had sacrificed their lives in the fight against fascism. The decision sparked massive protests in the Estonian capital that killed one and wounded dozens.Meanwhile, neo-Nazis in Latvia, another Baltic State that shares a border with Russia, make annual efforts to hold parades on July 1, 1941 – the day when Hitler's German forces launched an invasion on Latvian territory.Speaking out against these alarming incidences in Europe remains one of Russia's foreign policy priorities, Lavrov stressed."We are calling for the resolute condemnation and prevention of any attempts to revive Nazism, as well as other extremist ideologies," Russia's Foreign Minister said. "The imperative of the present day should not be an appeal to phantoms of the past but, on the contrary, inspiring a…common response to the challenges of a rapidly changing world."Russia lost an estimated 27 million people in World War II.
You can share this story on social media: