Russia's biggest social network goes gay-friendly
Published time: 3 Aug, 2012 20:51
Edited time: 4 Aug, 2012 00:55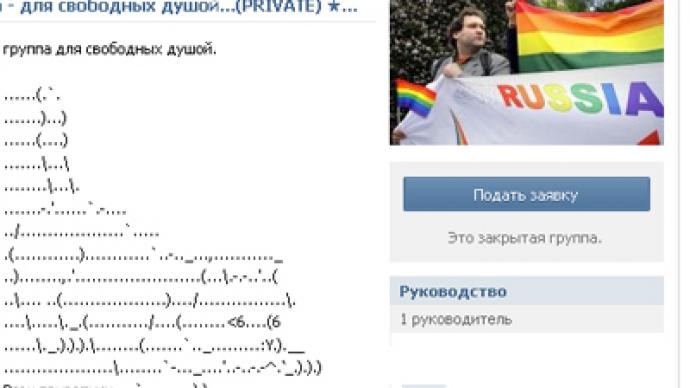 Vkontakte, a Russian social network similar to Facebook, has officially become gay-friendly. After being pushed by civil rights advocates, the network now allows same-sex couples to put their partners' names in the "In relations with" section.
­The change was the idea of the Rainbow Association human rights group, which promotes the idea that gay people should be treated equally. It recently asked Vkontakte's management to make this option available.

The Rainbow Association demanded Vkontakte allow the new option after a gay user named Oleg, whose orientation was secret neither on the Internet nor in real life, was unable to indicate his partner on his profile page.

He simply did not find the proper line, like "have a boyfriend" or "married" on the list of possible options (the Russian language has two different words for "married," for men and women).
To solve the problem, he appealed to social network's support team. However, he received a disappointing reply.

"In the Russian Federation same-sex marriages are prohibited. Thus they are prohibited on our website. If you want, you may change your sex. Have a good day!" the support's team answer was quoted by Izvestia newspaper.

Advocates of gay rights found the suggestion that he change sex to be humiliating.

"You either don't understand or don't want to understand that the status 'have a boyfriend/ girlfriend' does not mean matrimony and has nothing to do with Family Code," Oleg replied.

The scandal caused outrage in the gay community, which called Vkontakte homophobic. Oleg and other gays said they would delete their Vkontakte profiles and join Facebook instead.
The Rainbow Association says that the absence of such an option limits gays' rights. 

And though on Thursday Vkontakte's spokesperson was saying that there is no technical possibility to add same-sex partners to the "In relations with" line, and there were no plans to make it possible, now such an option is available. 
They also wanted to create special signs for their profiles, just like on Facebook; however this request has not been granted.