Orthodox activists urge Facebook ban over gay wedding icons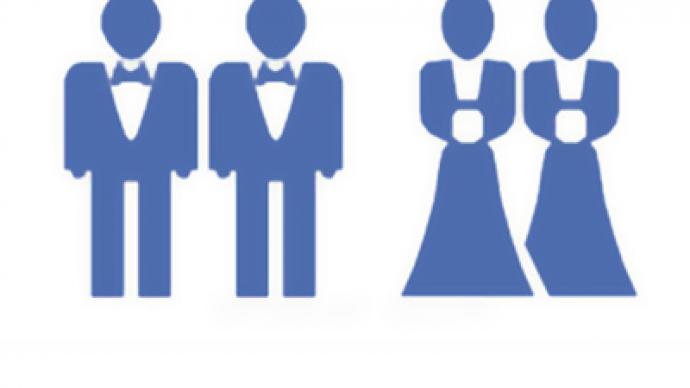 Russian religious activists have demanded Facebook be banned in the country over "gay propaganda" among minors and have launched a campaign to criminalize homosexuality.
The scandal erupted earlier this month after the popular social networking website introduced same-sex marriage status icons: one depicting two brides, the other two grooms.In response, an Orthodox community in the city of Saratov, southern Russia, issued an ultimatum demanding that Facebook stop "flirting with sodomites" and remove all content promoting homosexuality. The activists sent a fax to the international network's office in Russia and gave the company 24 hours to fulfill the demands. If Facebook does not comply, they threatened to sue internet service providers who give users access to Facebook content.Since the ultimatum was ignored, the Saratov's community began to collect signatures in support of returning a Soviet-era anti-gay article to the Penal Code, reports TemaSaratov news portal. The campaign was launched in Saratov and several other Russian regions – including St Petersburg, Novosibirsk and Arkhangelsk – where gay propaganda is banned by law. In just three days the activists managed to obtain 34,000 signatures, said the leader of the Orthodox public organization, Vladimir Roslyakovsky. The goal is to get the support of at least a million citizens, he stated, adding that Muslim, Catholic and Jewish communities are also participating in the campaign, since "Dealers who cash in on children have neither conscience nor religious beliefs.""We demand only one thing: Facebook should be blocked in the entire country because it openly popularizes homosexuality among minors," Roslyakovsky is quoted as saying. The organization's leader has already sent a request to the Prosecutor General's Office asking it to inspect the social network's activities in terms of gay, lesbian and pedophile propaganda. Once a million of signatures are collected, activists are also planning to submit an appeal to the State Duma. "The US goal is that Russians stop having children. [They want] the great nation to turn into likeness of Sodom and Gomorrah," Roslyakovsky told Saratov news portal.According to the public activist, Facebook has already affected a large number of inexperienced youngsters and it is not clear what they will be like when they grow up. "But I am confident that Russian laws and reasonable citizens will be able to protect their children from a fierce attack of sodomites," he stated.Male homosexuality was a criminal offence in the Soviet Union carrying jail sentence as a punishment. This article of the criminal code was canceled in 1993, but the LGBT community still reports discrimination since then. This year, legislatures of several Russian regions introduced amendments that list "gay propaganda to minors" as an administrative offence that is punished by hefty fines. Some politicians suggested a similar move on a nationwide level, but this has not happened yet.
You can share this story on social media: