Gay activist fine with St. Pete court verdict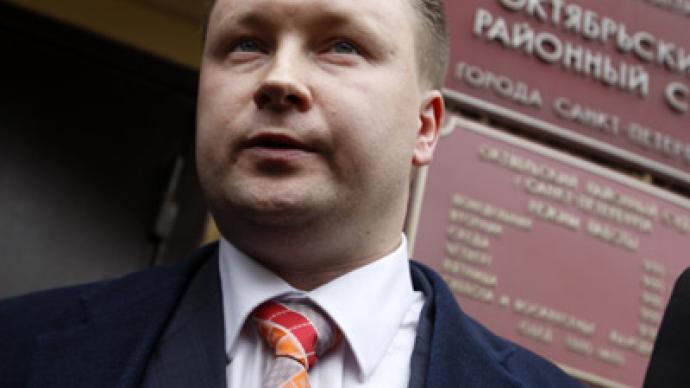 A court in St. Petersburg has fined a Russian gay activist 5,000 rubles under the recently-approved law banning gay propaganda. The accused said he was satisfied, as the sentence will now allow him to press for the cancellation of the law itself.
Nikolay Alekseyev, the founder and leader of the GayRussia.ru NGO that is fighting for the rights of sexual minorities, was fined over the incident that took place on April 12 when he appeared near the headquarters of the St. Petersburg city administration with a homemade poster reading "Homosexuality is not a perversion, grass hockey and ice ballet are perversions."The phrase is a slightly altered version of a saying by famous and honored Soviet-era actress Faina Ranevskaya. Apart from homosexuality, the actress also refused to consider sadism and masochism as perversions.Alekseyev was briefly detained soon after the start of his one-person picket (police filled out the forms and released him) and almost three weeks later he was summoned to court and fined.Upon his detention, Alekseyev told the press that he had held his protest so that he could get a court verdict ordering a punishment, and later take the document to higher courts and eventually to contest the existence of the law itself.Alekseyev's fine is the first-ever application of the law against the propaganda of homosexuality, transgender and pedophilia, which was approved and signed into force by St. Petersburg authorities at the end of February. The law establishes administrative responsibility in the form of fines for such propaganda. The fines are relatively small for private persons, but get bigger for state officials and legal entities. Two more people face charges in St. Petersburg for displaying a poster reading "being gay is normal" in a street near a kindergarten, but the court session over their case has been postponed several times.On March 11, Alekseyev sued the author and initiator of the bill, member of the city legislature Vitaliy Milonov, saying that the politician has inflicted damage to his honor and dignity, and demanding 1 million rubles (about US$30,000) in compensation. Other gay activists addressed the authorities of the United States, Canada and the European Union asking to slap an entry ban on Milonov and St. Petersburg Governor Georgy Poltavchenko, who signed the bill into law.
You can share this story on social media: