Bin Laden killing puts Pakistani peace at risk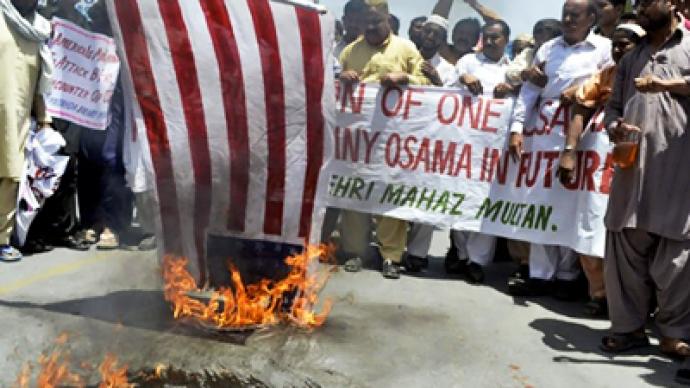 With US-Pakistani relations already quite strained over predator drones and private contractors, the operation that killed Bin Laden has not only given way to mutual accusations, but has also endangered peace in the region.
The US and Pakistan are at each other's throats over the operation that wiped out Osama Bin Laden. Washington is exasperated that Islamabad seemingly had no idea he had been there for so long, while Pakistan questions the legality of a secret Navy SEAL mission on sovereign soil.US and Pakistan relations were already not exactly serene.When a CIA agent shot two Pakistanis dead, in broad daylight, earlier this year, officials in Islamabad said it was the final straw and demanded all American operatives leave the country immediately. "We have to be sure whether their presence is in the interests of Pakistan or against them," said Yousaf Raza Gillani, Prime Minister of Pakistan. Just one week before Al-Qaeda's leader was killed, an anti-US drone demonstration in Northwestern Pakistan had united hundreds of protesters. They were furious that another 25 people had been killed in a drone strike, taking the total number of civilian deaths into the hundreds. Kareem Khan lost his son and a brother in a 2009 strike. The drone operator miles away from Pakistan pushed the button when in the Pakistani night while Kareem's whole family was sleeping."I will ask my own government to tell these people to leave Pakistan and go to other countries," says Kareem Khan. With many people sharing this opinion, Pakistani officials are warning the US is fueling insurgency rather than cooling it. "They harm more than they help, because of the collateral damage and the casualties among the civilians in the area," claims Athar Abbas, DG I.S.P.R. (Inter Services Public Relations) Major General.America's reaction has been varied. The White House first accused Pakistan of not doing enough to counter terrorism. Later, the US changed its tactics, finally addressing Pakistan's calls to access America's drone technology. But despite signs of a peace offering, anti-American sentiment continued rising. The US plans to extend its military presence in Pakistan and ensure its dominance in the region after its troops withdraw from Afghanistan seem to have collapsed.However, the operation that wiped out Osama Bin Laden came just in time. The news about Bin Laden's demise came out of the blue, delivering a direct hit on US critics.But many say America's victory will hardly change the life of ordinary people in Pakistan, a country that has been among the most affected by the "global War on Terror".The Swat region was among the first in Pakistan to be cleared off the Taliban in 2009. Since then one of the Pakistani army divisions has been stationed there to protect peace and stability for the population of 2 million. Today the place may look quite tranquil, with people going about their daily lives. But with the Afghan border less then a 100 kilometers away and mountains all around, the peace is definitely very fragile. Many fear that the death of Osama Bin Laden will spark a backlash and endanger the peace that has been achieved in Pakistan.
You can share this story on social media: