'Thousands' killed in South Sudan violence, UN boosts peacekeepers to 12,500
The UN Security Council has unanimously voted to nearly double the number of peacekeepers in South Sudan to protect civilians, as thousands are feared dead in the deteriorating conflict in the world's youngest state.
The top UN body voted Tuesday to authorize a request by UN Secretary-General Ban Ki-moon to boost the strength of the UN's mission in South Sudan to 12,500 troops and 1,323 police - up from its previous mandate of 7,000 troops and 900 police.
The request from Ban came after the discovery of mass graves, as the country slides into a bloody ethnic conflict. Thousands of people may have been killed in South Sudan in one week, UN officials fear.
While the official nationwide death toll from the South Sudanese violence has stood at 500 for days, top UN humanitarian chief Toby Lanzer said on Tuesday that there is "absolutely no doubt in my mind that we're into the thousands" of dead, AFP reported.
"I reiterate the calls for maximum restraint from all communities in South Sudan. There is no military solution to this conflict. This is a political crisis which requires a peaceful, political solution," the UN chief said after the Tuesday vote. He also stressed that "the displacement of civilians is growing and spreading, with some 45,000 people seeking protection at the bases of the United Nations Mission in South Sudan (UNMISS)."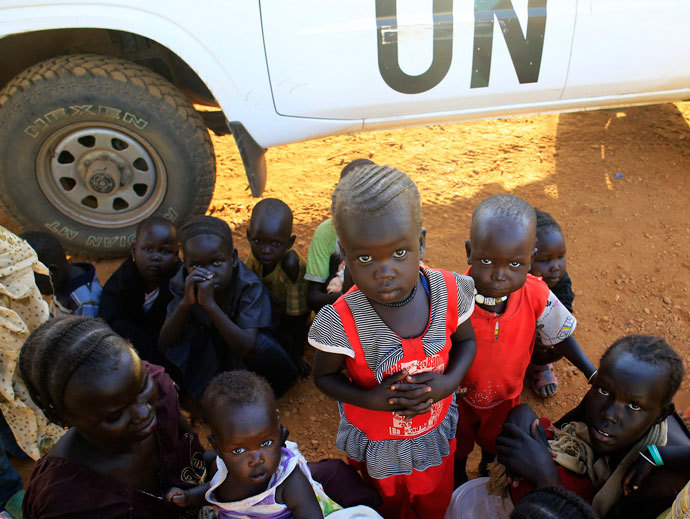 Hilde Johnson, the Head of the UN Mission in South Sudan, has confirmed at a press-conference on Thursday that the UN mission is providing humanitarian and "some limited medical assistance for those in need".
"There is no military solution to this conflict. The crisis is therefore not an ethnic conflict. I want to reiterate that it is a political struggle. There may be elements who seek to exploit the current crisis to pursue their own agendas, but this is fundamentally a power struggle," Hilde Johnson stressed.
Reports from the young country, which is suffering from political and military division, indicate that the standoff between South Sudan's President Salva Kiir and his rival, ex-Vice President Riek Machar, who was sacked in July, is threatening to turn into an all-out civil war.
A mass grave containing 75 bodies was found in an area controlled by rebelling troops who support Machar, UN High Commissioner for Human Rights Navi Pillay said on Tuesday.
"We have discovered a mass grave in Bentiu, in Unity State, and there are reportedly at least two other mass graves in Juba," Pillay said in a statement in Geneva.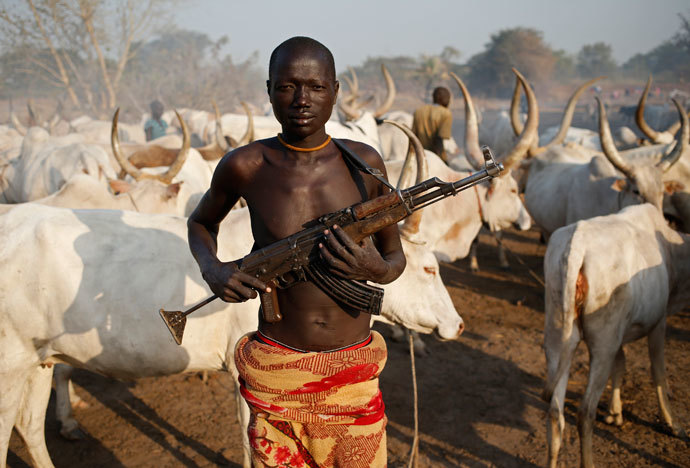 Preliminary conclusions indicate that all the victims were Dinka soldiers, an ethnic group to which President Kiir belongs. Machar and many of his supporters belong to the country's Nuer tribe.
The suspected ethnic killing comes amid the escalated battle between troops supporting the two rival factions. President Kiir has blamed Machar for attempting a military coup, while Machar has accused Kiir of being "dictatorial" and attempting to carry out purges.
Kiir said on Tuesday that government troops have retaken control of the key town of Bor, the capital of Jonglei state, which was seized by rebels last week. The takeover was followed by the storming of a UN compound by militia gunmen in the Jonglei outpost of Akobo, in which two Indian peacekeepers and some 20 of the 17,000 ethnic Dinka civilians sheltering there were killed.
Meanwhile, troops supporting Machar are reportedly still in control of some of the country's oil-producing regions bordering Sudan.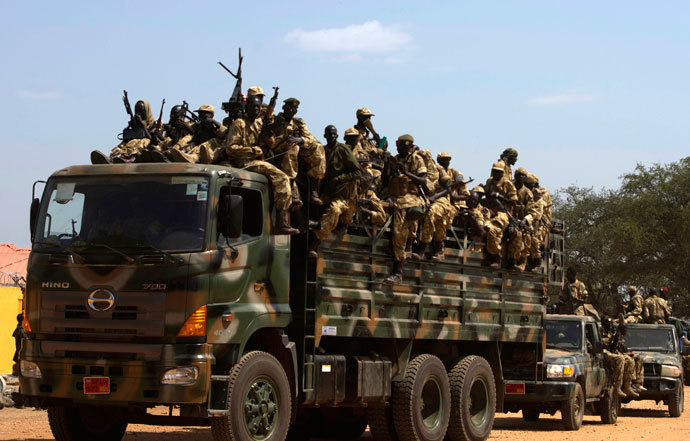 'Civil war that knows no bounds'
According to war correspondent Keith Harmon Snow, South Sudan's treasure trove of natural resources fueled its break from Sudan and antagonizes tensions in the fledgling state.
"South Sudan has mining reserves and it also has massive oil reserves. Those are the biggest interests. Land for oil mining and agricultural production. The agents of power that have put in place the government of Salva Kiir, the agents that supported the South Sudan People's Liberation Army, would be the government of Uganda and powerful factions from the United States, including corporate executives from the oil companies," Harmon Snow told RT in an interview.
"The interests of the oil companies have been served by bringing the SPLA [Sudan People's Liberation Army] into power, which they did, and they succeeded in creating a separate independent state called South Sudan," he said. "They have brought about this situation, and every day there is killing inside South Sudan; it benefits the oil companies because if you remove the people you have greater control of the land."
The fighting has already hit South Sudan's oil production, which, according to Reuters, provides the government with 98 percent of its revenue. The country's petroleum minister, Stephen Dhieu Dau, told Reuters on Tuesday that output has fallen from 245,000 to 200,000 barrels per day since oilfields in Unity state shut down due to clashes.
"I'm afraid [fighting in South Sudan] is going to affect each one of us worldwide," Ayo Johnson of Viewpoint Africa Media Organisation told RT. "You're going to see a curtail and a pullback in terms of production levels from South Sudan, which would impinge on global world prices of oil. And ultimately we will feel it at the pumps, irrespective of where you are in the world. Prices will go up. There will be panic in the market. And, of course, ultimately the biggest loser will be the South Sudanese people."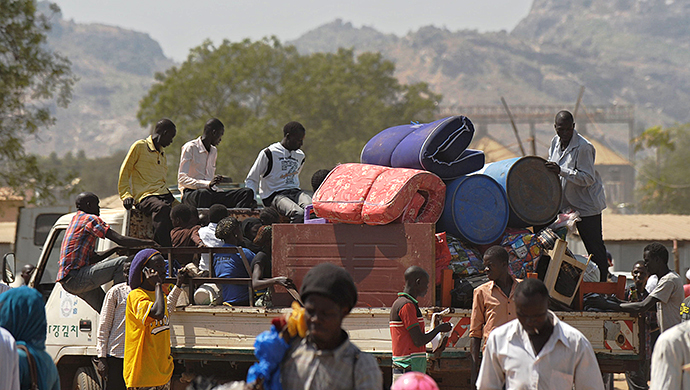 Foreign fuel firms are pulling staff out of South Sudan, according to RT's Paula Slier. Promises of the benefits reaped from energy production helped spur the country's push for independence. Now, experts say those riches are far from the people.
"South Sudan was never a country that had proper infrastructure," Galia Sabar of Tel Aviv University told RT. "The main complaint from the people is, 'Where is the money going? Why are most South Sudanese on the edge of survival?'"
But Ayo Johnson says the current infighting goes beyond disputes over oil.
"You're dealing with a civil war that knows no bounds in terms of how long that would last," he said.
Watch RT's report by Paula Slier:
You can share this story on social media: