Scuffles with police as thousands of Ukrainians protest shelving of EU trade deal
Tens of thousands of demonstrators took to the streets of several Ukrainian cities in protest at Kiev's decision to suspend the EU trade agreement. A major rally for Euro integration with sporadic clashes is taking place in Kiev.
The latest outburst of violence took place after midnight when Kiev police tried to storm the tent camp in the capital's central square. Protesters locked themselves in a chain preventing police from dismantling the camp. People were throwing rocks and balls of mud at the police and tearing off officers' helmets, Ria reports.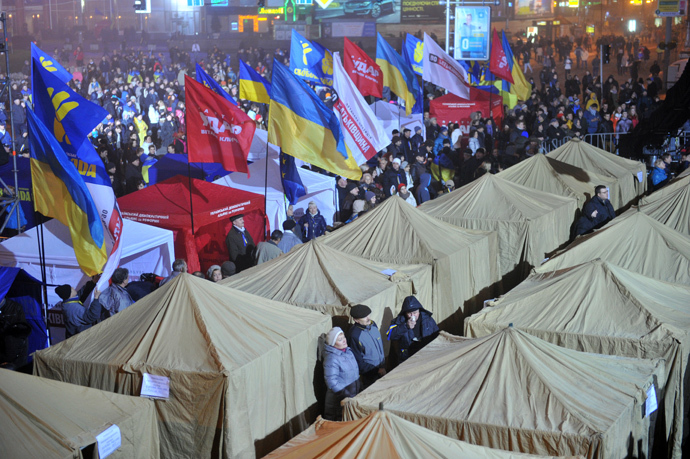 Earlier on Sunday, Ukrainian police had to use teargas after a group of protesters tried storming government buildings in Kiev. Flares and smoke pellets were thrown at the police officers, one of whom was injured by a hurled metal bar.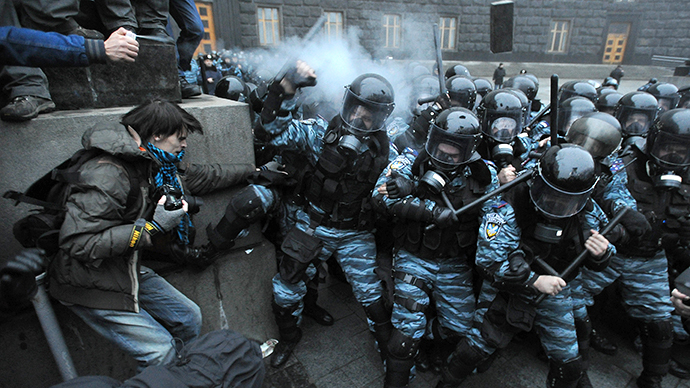 Most of the other protesters demonstrated peacefully, forming a 22,000-strong crowd on Kiev's Independence Square (Maidan Nezalezhnosti), according to police estimates. Ukrainian opposition stated more than 100,000 of people have gathered in the capital for protests.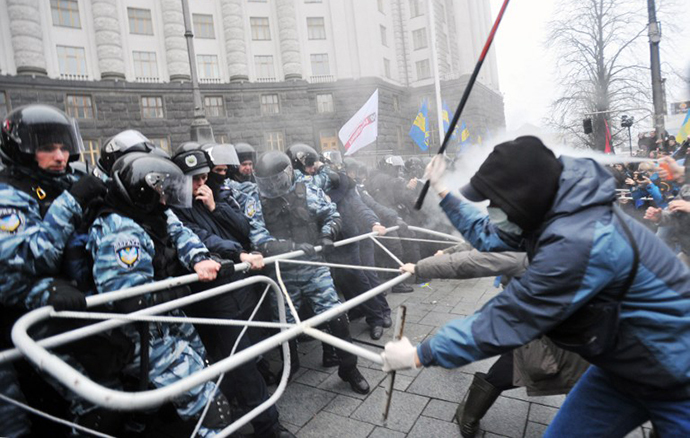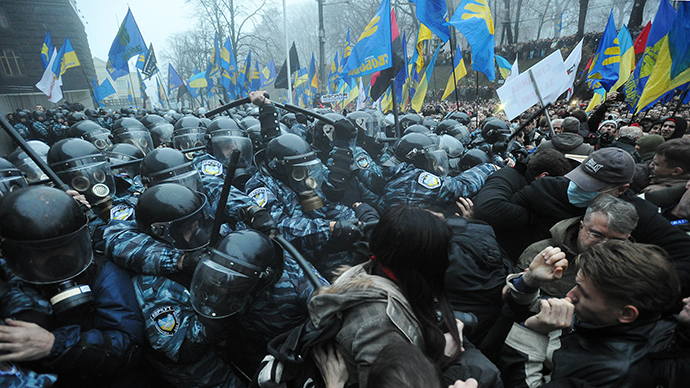 The Ukrainian opposition on Sunday announced it was starting an "indefinite" protest action on the capital's central square. Demanding that President Yanukovich sign a trade deal with the EU in Vilnius, the opposition accused the government of halting the integration of Ukraine into Europe.
Thousands marched through Kiev's central streets with flags and pro-EU banners, as opposition leaders, including the ex-boxing champion Vitaly Klitschko, started giving speeches on what has been dubbed "Euromaidan." A huge "line" of those willing to enter the square reportedly formed during the day.
President's office of Ukraine is besieged http://t.co/FwIS351rc5

— Alexey Yaroshevsky (@Yaro_RT) November 24, 2013
The rally's "resolution" was read out, in which the opposition also said the government must resign. Demands to free the former Ukrainian Prime Minister Yulia Tymoshenko and other "political prisoners" were also voiced.

Tymoshenko, who has been jailed on charges of abuse of power during gas negotiations with Russia's Gazprom, sent a message to the protesters, urging them not to leave the square at least until November 28-29, when the Third Eastern Partnership Summit will be held Vilnius.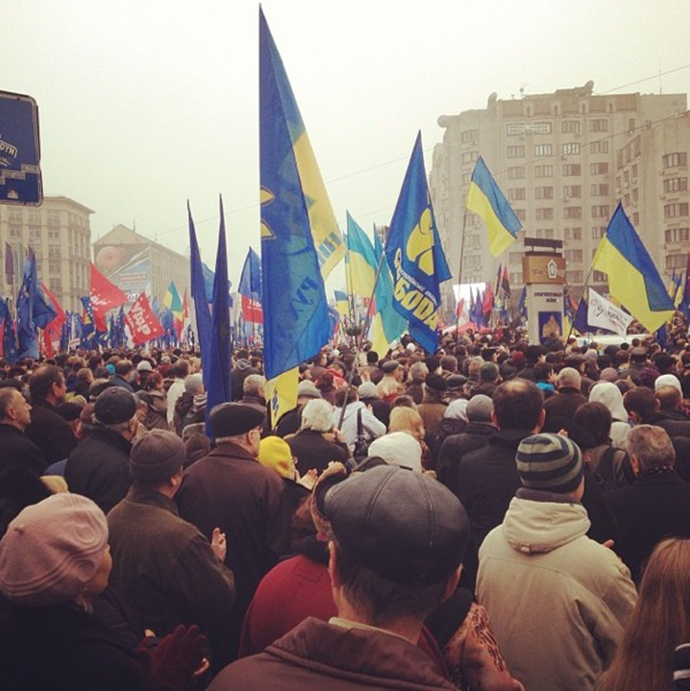 Meanwhile, the Ukrainian Prime Minister Nikolay Azarov said in an interview to local TV that Thursday's decision was not a last-minute thought, but was based on strong concerns of Ukrainian economists, industrialists and businessmen who believe breaking economic ties with Russia would be extremely harmful for the country's well-being.

Adapting local regulation to European standards would alone cost some 165 billion euro ($223.6 billion) in the next decade, Azarov said.
At the same time, the EU offered no promises of financial aid to Ukraine, with even the negotiated 1 billion euro starter aid being a "word-of-mouth promise," the Ukrainian Prime Minister said.
Azarov later told ICTV that the EU does not consider a pause in trade deal talks as a "tragedy," accusing the Ukrainian opposition of "trying to use every occasion to destabilize the socio-political situation" in the country. He said he does not rule out the deal could be signed in 2014.

The EU on Sunday said it remains just as determined to have the deal with Ukraine signed, with the EU's Commissioner for Enlargement and Neighbourhood Policy, Stefan Fule, saying that "the door remains open and we don't refuse the Ukrainian people realization of their Europe wish."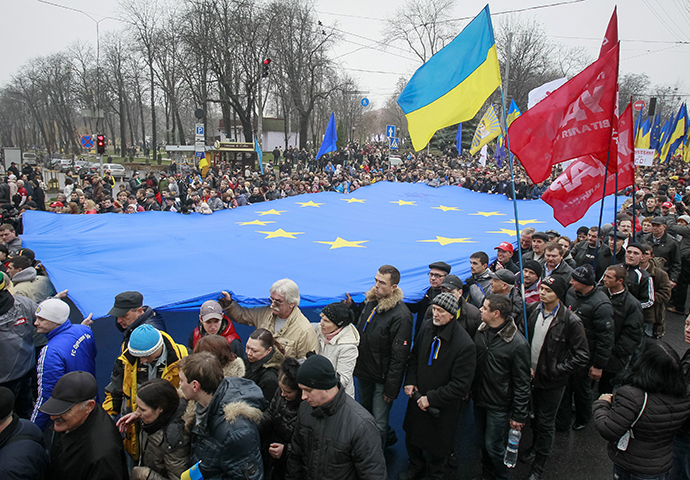 You can share this story on social media: