UK women facing 26-year-high unemployment spike – report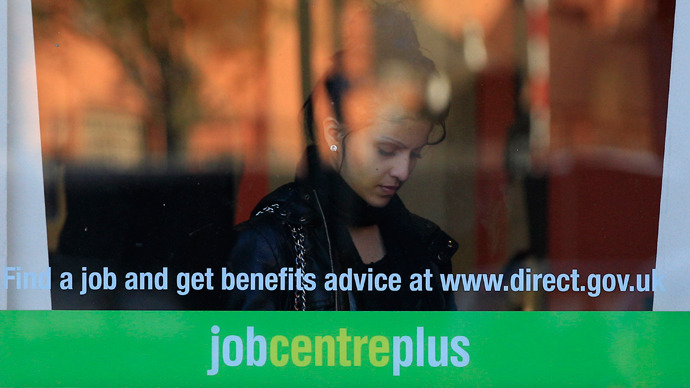 The total number of UK female jobless will hit a 26-year high of 1.5 million by 2018, according to a new report. Nearly three times as many women as men have lost their jobs since 2010, and more will lose out due to ever-increasing austerity.
Some 400,000 women are expected to be laid off over the course of the next five years, according to a report released on Wednesday by the UK's Fawcett Society, which campaigns for gender equality in pay, pensions and politics.

The last time female unemployment approached these heights was in 1984, when the number of jobless UK women stood at 1.34 million.
The Society has criticized the UK government for "leaving out women," citing the study's findings that 60 percent of 'new' jobs go to men rather than women.
Also, public-sector job cuts combined with the high proportion of women employed in its professions –some 65 percent of public sector workers are female – means that women will face the overwhelming brunt of the 699,000 layoffs expected in a period lasting until 2018.
"Almost a million jobs are being cut from the public sector but the government's various plans for growth continue to leave many women behind," Ceri Goddard, chief executive of the Fawcett Society said in a statement. The Society reported earlier in March that around three-quarters of the money cut from welfare spending has come out of women's pockets
The study's findings fly in the face of widely quoted government figures, which reported that UK unemployment has fallen and approximately 1 million private-sector jobs were recently created.
However, the gains have been predominantly among men: While jobless statistics have fallen for males since 2010, for women, unemployment has been rising, and in the last two-and-a-half years, 103,000 women have lost jobs compared to just 37,000 men.
Labour MP Dianne Abbot told the UK's Mirror earlier this month that female equality was
"sliding back a generation." The society went on to reiterate that inequality is still inherent to the job market even for women who do successfully find employment.
"Those women who do find work in this sector are likely to face lower wages and a wider gender pay gap," Goddard said.