'Climate of ethnic profiling': UN criticizes UK immigration bill
Planned immigration laws could lead to a climate of "ethnic profiling" in the UK, warns the UN. The new legislation could fine landlords for renting properties to illegal immigrants in a move that could result in their "marginalization from society".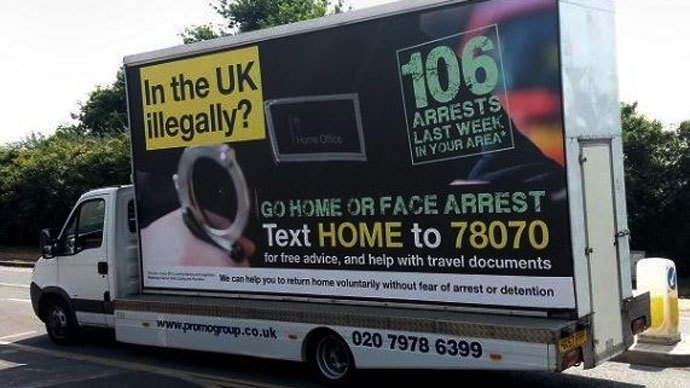 Antonio Guterres, the United Nations High Commissioner for Refugees (UNHCR), said the new measures proposed by Prime Minister David Cameron "could contribute toward a climate of misunderstanding and ethnic profiling, which in the long term could prove detrimental to social cohesion".
The High Commissioner outlined his concerns in a letter to British MPs, claiming the legislation will backfire on asylum seekers and refugees, who may be deprived of housing and other services because of misinterpretation of their legal status.
"The UN high commissioner for refugees is concerned that, if introduced, such measures could contribute towards a climate of misunderstanding and ethnic profiling that could undermine the longer-term prospects for integration of such persons and prove detrimental to social cohesion," said the letter.
The immigration laws will threaten landlords who rent properties to illegal immigrants with fines and will also impose financial penalties on banks that provide services to them. The measures would also oblige temporary migrants to pay for any public services they use.
The measures come as part of a wider crackdown on immigration in the UK, which has been heavily criticized as being discriminatory. Over the summer counter immigration initiatives were scrapped by the government after they triggered outrage.
In July the Home Office rolled out a fleet of vans in central London carrying billboards emblazoned with the slogan: "Go home or face arrest!" Two weeks after the initiative began it was canceled because of the torrent of complaints, accusing the government of outright "intimidation".
Similarly, a plan to force visitors from "high risk" countries to pay a security bond of £3,000 ($4,600) before coming to the UK had to be scrapped because of uproar in the countries targeted by the initiative.
"During this shambolic process the Home Office has managed to upset a number of foreign governments and confuse millions of potential visitors. This is not the way to fashion a strong and effective immigration policy," said Labour MP, Keith Vaz, chairman of the Commons Home Affairs committee in November.
In spite of uproar, both in the UK and abroad, the Conservative government is pushing ahead with the new legislation.
Immigration minister, Mark Harper, said in October that the Bill would "stop migrants abusing public services to which they are not entitled, reduce the pull factors which draw illegal immigrants to the UK and make it easier to remove people who should not be here".
Britain is preparing for an influx of Bulgarian and Romanian migrants this January. An investigation carried out by the North America based Democracy Institute predicts that an average of 44,000 Bulgarians and 33,000 Romanians will head to the UK annually over the next five years.
You can share this story on social media: