10yrs, $800mn down the road: UK e-borders system turns out ineffective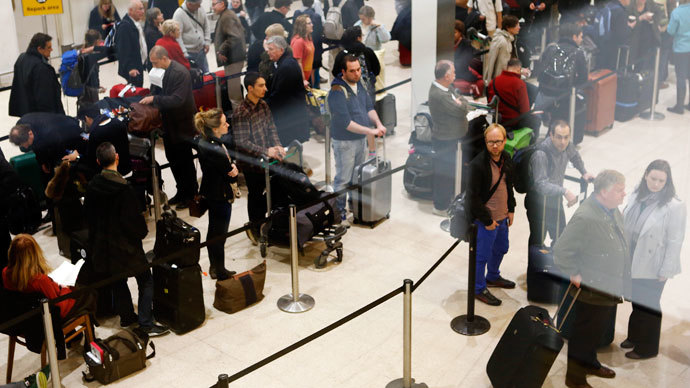 A massive-scale border control system, which is aimed at preventing terrorists and criminals from arriving in Britain, is still lacking in coverage and often ignored by officers after 10 years in development.
The e-borders program collects API, or advance passenger information, of passengers going to travel to or from Britain and checks them against databases of 'high-risk individuals' – suspected terrorists, criminals or those who had previously been deported from UK. The national border targeting center in Salford, which collects, stores and checks the details of 15 million to 20 million passengers a month.
But between April 2012 and January this year the center has discarded 649,331 alerts about potential drug and tobacco smugglers, or more than 2,100 alerts per day. They were wiped out due to "poor data quality and the prioritization of immigration over customs work," says a Wednesday report by John Vine, the independent chief inspector of borders and immigration.
"These deletions had a significant impact on the ability of staff at the border to seize prohibited and restricted goods and deal with those responsible," the report said.
Vine said the discarded alerts account for three-quarters of all the customs work generated by the center, calling the situation 'unacceptable'.
"I was surprised that the use of e-borders information to export the border, by preventing the arrival of a passenger because they had either been deported or excluded from the UK previously, was not happening," he said.
The system's coverage was targeted to reach 95 percent of passenger movement by 2010. But currently it covers just 65 percent, the report said. The excluded passengers are those traveling by private jets and boats, most train and ferry passengers and some scheduled flights within Europe. Vine said the poor coverage is due to European free travel laws and difficulties of collecting data from rail and sea operators.
The report mentions problems on the British ground as well. While staff at Heathrow Airport take action on high-profile alerts, this was not true for other airports. At Gatwick and Luton, border force officers were not even aware that they should deploy staff to meet passengers highlighted by the system at the arrival gates. At least one foreign national prisoner, who was subjected to deportation, managed to get back into Britain without being stopped.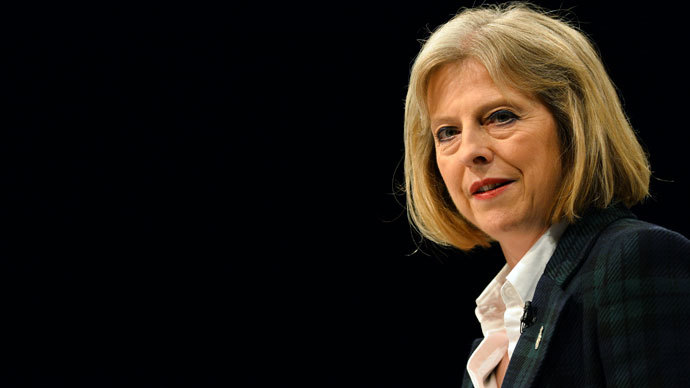 Vine adds that border force officers told him there was little added value in the majority of e-borders immigration alerts, since the information was already available through the Home Office warnings index.
"Despite being in development for over a decade, and costing over half a billion pounds, the e-borders program has yet to deliver many of the anticipated benefits originally set out in 2007," Vine said.
Some parts of the report have been redacted or deleted by Home Secretary Theresa May, who cited national security concerns. Those included two of top three main recommendations to the Home Office. Parliament's Home Affairs Committee requested a full copy of the document on Tuesday, but was told that the home secretary had decided it would only be shown to the prime minister-appointed Intelligence and Security Committee.
Shadow Home Secretary Yvette Cooper lashed at May following the publication of the report, saying she should deal with 'chaos at border control'.
"She needs to stop drug-smuggling information being deleted and get the proper border controls in place, rather than relying on divisive gimmicks like ad vans instead," Cooper said, referring to an ad campaign that the Home Office launched to discourage immigration. "It is an outrage that drug smugglers have been able to get away with it because basic information was never acted on."
Immigration Minister Mark Harper defended the system, saying it's the most advanced of its kind in Europe.
"A year ago, the Border Force had trouble with excessive queues at airports. Today, 99 percent of travelers are cleared within the service standards we've agreed," he said.
"We have the best coverage of any country in Europe, but we are working to improve our coverage further. We will take the findings of the independent inspector into account as we continue to develop our advance passenger information policies and coverage," he added.
The e-borders program is expected to cost almost $2 billion by the time it is complete. Development was initially awarded to the US firm Raytheon, but it was fired in 2010 due to delays and poor performance and replaced with IBM. Raytheon and the home office have sued each other over the sacking, with the dispute not expected to be resolved for many months to come.
You can share this story on social media: