'British extremists use Syria as training ground before returning home'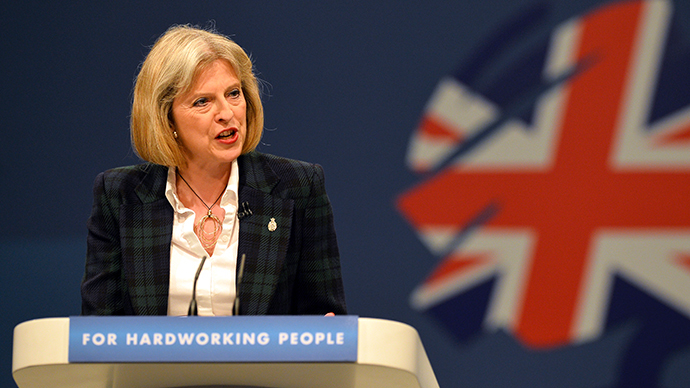 British Home Secretary Theresa May has warned that extremists "of a Jihadi mindset" are using the Syrian civil war "as a nursery" before returning to Britain as trained terrorists.
"What we have seen for some time now, is that a number of British people traveling out to Somalia, we're now seeing people travel out to Syria," May said on BBC 1's Andrew Marr Show on Sunday.
She said they are receiving live training in the Syrian civil war and then returning home to Britain. May added that many of them are already considered to be possible terrorists by UK security services.
While such members of the Syrian opposition have previously been called "foreign fighters," May said she viewed them as "potential terrorists, some of whom will be of a jihadi mindset." 
May's comments come just days after Syrian Foreign Minister Walid Muallem told the UN General Assembly that "terrorists from more than 83 countries" are operating in Syria, killing Syrian soldiers and civilians.
In March, the British Home Office's annual report titled 'The United Kingdom's Strategy for Countering Terrorism' highlighted a similar threat.
"There are now hundreds of foreign fighters from Europe in Syria. And when UK residents return here there is risk that they may carry out attacks using the skills that they have developed overseas," the report said.
As the civil war continues in Syria – more than two years after it first began - the Home Office still does not believe the country is safe from 'home-comers.'
In August, British Prime Minster David Cameron voiced his will to join a US-led strike on the Arab country to punish President Bashar Assad for the government's alleged use of chemical weapons outside Damascus, which took hundreds of lives. But the initiative was lost in the British Parliament, which opted to give more time for a political solution to be found.
This finally took shape in UN Security Council Resolution 2118 which was passed unanimously and calls for the scheduled destruction of Syria's chemical weapons, and for chemical weapons experts to be given unfettered access.
On Sunday, a team from the Organization for the Prohibition of Chemical Weapons (OPCW) was reported to have begun the lengthy and difficult task of destroying Syria's chemical weapons stockpile.
You can share this story on social media: