International disarmament inspectors start mission in Damascus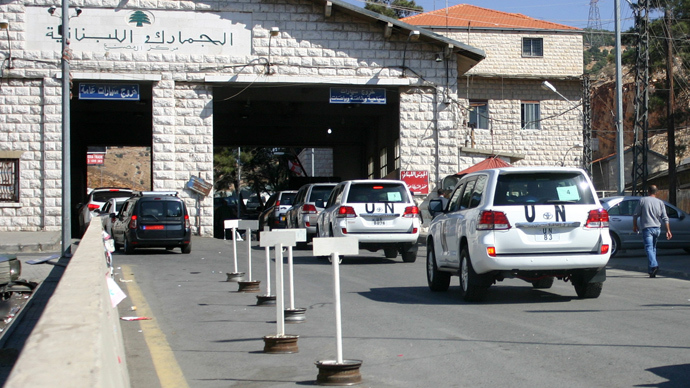 International disarmament inspectors, who arrived in Syria on Tuesday, have begun their mission to dismantle Assad's estimated 1,000-ton chemical weapons stockpile.
On Wednesday, the international inspectors from the Organization for the Prohibition of Chemical Weapons (OPCW) reportedly left their hotel in Damascus.

Disarmament experts started their mission by cataloguing Syria's vast arsenal of chemical weapons and checking a list of sites provided by Damascus.

They are also expected to meet with the Syrian Deputy Foreign Minister, Faisal Mekdad, to coordinate the upcoming inspections and the process of destroying chemical weapons, according to AFP.

"In the coming days, their efforts are expected to focus on verifying information provided by the Syrian authorities and the initial planning phase of helping the country destroy its chemical weapons production facilities," a UN statement said.

On arrival, the team set up a logistics base.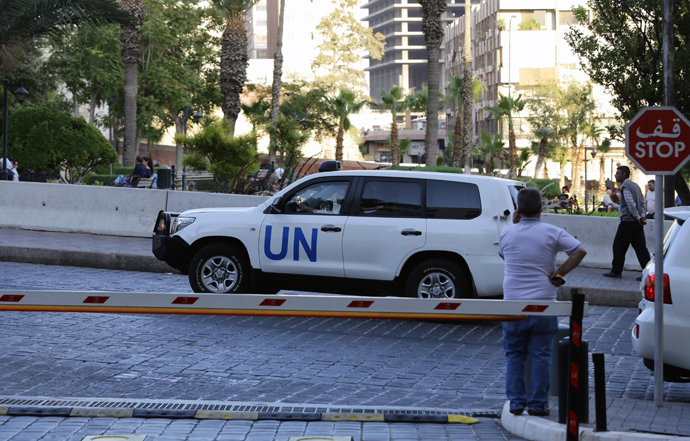 The first part of the mission is expected to last three to four weeks, though the exact deadline will be set at the meeting with Mekdad.

Russia's UN envoy, Vitaly Churkin, has told RT that OPCW experts will start conducting tests on October 7.

"They will begin their tests on October 7, and by the end of October they will most likely complete the first stage of their work. More specifically, they will ensure that the data on the production and storage of Syria chemical weapons provided by the Syrian government is reliable," Churkin said.

A second group of inspectors is scheduled to join the team of some 20 international inspectors within a week.
To complete the disarmament mission, which includes finding, dismantling and destroying Assad's estimated 1,000-ton chemical arsenal, OPCW may need around nine months.

Under an adopted UN resolution, which outlines details of taking Syria's chemical arsenal under international control and its ultimate destruction, experts are empowered to conduct 'surprise visits' to sites, which they suspect may contain undeclared weapons, and if so, must be granted immediate access.

In case of non-compliance the resolution calls for consequences, but it does not allow for any automatic enforcement through coercive measures.  

The US and its allies have been threatening Syria with military action in response to the August-21 attack in Damascus's eastern Ghouta suburbs, when UN experts say sarin gas was used "on a large scale."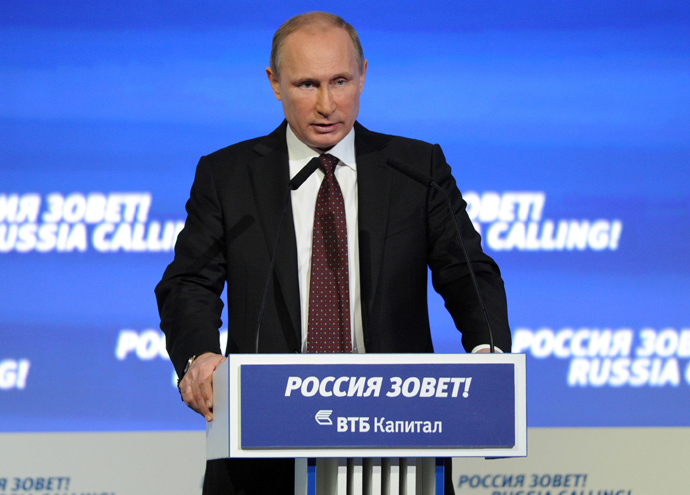 While the US blamed Assad's government, the Syrian regime accused the rebels of using chemical weapons.  
On Wednesday, Russian President Vladimir Putin praised "collective efforts", which averted a "military solution", saying global powers are "on the right track" in resolving Syrian crisis.

"It is our common achievement, the result of our collective efforts," the President said. "I am grateful to colleagues, who tended towards a military solution, but agreed with the need to apply all forces and means for a peaceful settlement," he said, speaking at an investment conference in Moscow on Wednesday.

Russia's president expressed hope that if "we continue to act in such a coordinated way", there will be no need to use force.

"Of course, there is still a lot to be done and we all need to work actively on this," Putin said, reiterating that there are only "two legitimate ways" to allow the use of force – a "UN Security Council resolution" and only in response to aggression.

Shortly after the August-21 attack, Moscow suggested that Damascus should put its chemical weapons arsenal under international control. The Syrian government accepted the proposal.

The republic also agreed to join the Chemical Weapons Convention which bans the production and the use of such arms.

You can share this story on social media: