Chemical weapons watchdog approves Syria action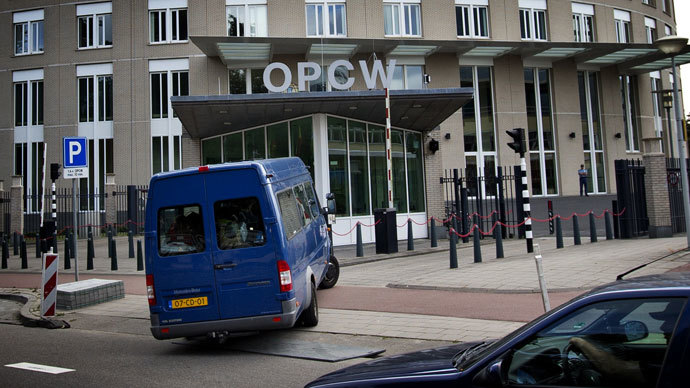 The Organisation for the Prohibition of Chemical Weapons (OPCW) has approved the details of an international plan to take under control and ultimately destroy Syria's chemical weapons arsenal.
The OPCW meeting had been delayed for several hours as one of the representatives reportedly did not get necessary instructions from their government on time. The organization had approved the action just one hour before the UN Security Council met to
unanimously adopt Syria resolution
.
OPCW Executive Council Adopts Historic Decision on Destruction of #Syria Chemical Weapons http://t.co/mFxRma9QZ9

— OPCW (@OPCW) September 27, 2013
'Immediate and unfettered' inspections
In line with the decision by the chemical weapons watchdog, Syria has until November 1 to "complete… the destruction of chemical weapons production and mixing/filling equipment" and must finish "the elimination of all chemical weapons material and equipment in the first half of 2014." 
Syria will be required to "cooperate fully… including by providing the OPCW personnel with the immediate and unfettered right to inspect any and all sites in the Syrian Arab Republic."
The OPCW in its turn would "initiate inspections" no later than October 1 and will have 30 days to inspect all chemical facilities listed by Syria as well as "any other site identified by a State Party [any Chemical Weapons Convention member state] as having been involved in the Syrian chemical weapons programme."
The watchdog would gather again within 24 hours in case a "delay by the Syrian Arab Republic in meeting the requirements" is reported or "a lack of cooperation in the Syrian Arab Republic or another problem" arises in implementation of the plan.
The decision paved the way for the UN Security Council's vote on the resolution. 

No 'military measures' in Syria
The five veto-wielding members had agreed upon the text on Thursday before presenting the draft to the full 15-member body during overnight discussions.

The draft resolution is fully in line with the Geneva framework on the destruction of chemical weapons in Syria, Sergey Lavrov told the press earlier on Thursday on the sidelines of the UN General Assembly's 68th session. 
"There will be no enforcement in line with Chapter 7," he emphasized.
The draft resolution backs the agreement reached in Geneva regarding Syria's commitment to place its chemical weapons stockpile under international control. If there is any violation by any party – as the resolution  also calls on the opposition to assist in the disarmament process – the Security Council will convene again and will be ready to take enforcement measures in line with Chapter 7, Lavrov said.
You can share this story on social media: