UK watchdog bans govt 'Go home' ads targeting immigrants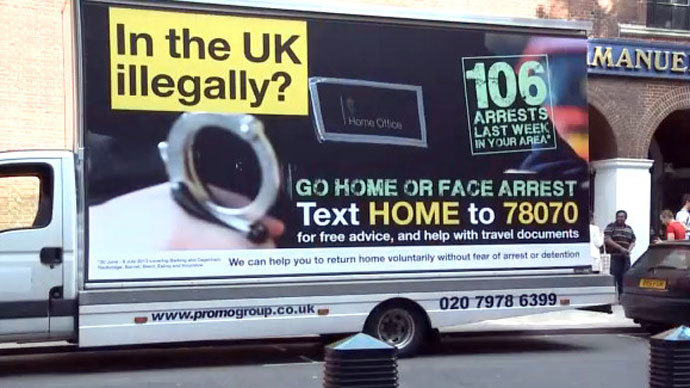 A UK advertising watchdog has banned a controversial Home Office advert suggesting that illegal immigrants in the UK to 'Go home or face arrest,' saying that it was misleading. However, the ad was not ruled to be 'offensive' or 'distressing.'
The Advertising Standards Authority (ASA) absolved the government campaign of either attribute, despite the widespread belief that it was offensive forming the basis for the majority of the 224 complaints filed against it. The vans bearing the controversial slogan were driven around six London boroughs with large immigrant populations as part of a Home Office pilot scheme in July.

The ASA took issue merely with "inaccurate statistics" on the vans, but complainants deemed the ads to be "racist." Out of the five categories of complaint made, a mere two general points were upheld, the first being that the writing on the ads was not legible, and the second being that the ad was not substantiated and misleading.

After instructing illegal immigrants to "go home," the ads cited a statistic that there had been "106 arrests last week in your area" across the six boroughs.  

The ASA said that the figure "related to arrests made throughout a significant part of London north of the Thames," and not necessarily relate to the specific areas where people would have seen the vans.

Additionally, the arrests had been made more than two weeks prior to the vans being sent out, not in the last week, and the ASA ruled that a breach had been committed under "misleading advertising" and "substantiation.""We…noted the posters were displayed during the week of 22 to 28 July," said the ASA, conceding that the data provided in support of the "106 arrests" statistic in fact "related to the week 30 June to 6 July."

However, the watchdog conceded that that "most" of the complaints had challenged whether "the poster, and in particular the phrase 'Go home', was offensive," because it was considered to be "reminiscent of slogans used by racist groups to attack immigrants in the past."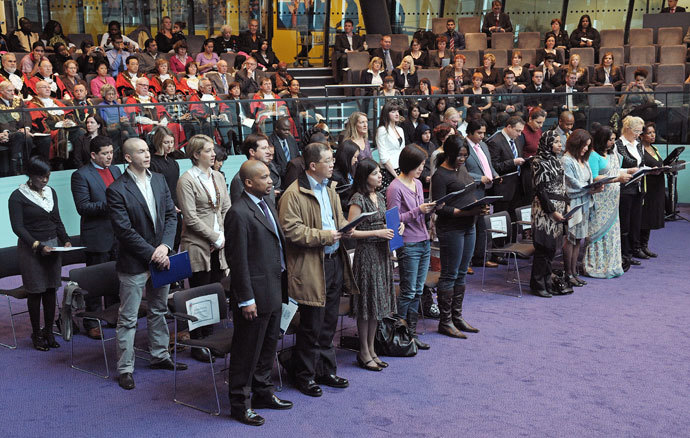 The slogan has echoes of the Neo-Nazi National Front rhetoric in the 1970s, with ASA chief executive Guy Parker telling BBC Radio 4's Today Programme that it "clearly carries baggage." However, he added that the campaign was unlikely to cause "widespread offence."

Shadow Home Secretary Yvette Cooper told the Labour Party Conference two weeks ago that: "Those ad vans were driving past the offices and homes of families whose parents and grandparents had to endure those same slogans scrawled high in graffiti 40 years ago."

The ASA highlighted that complaints had been made accusing the campaign of having the potential to exacerbate racial tensions, particularly within multicultural communities. Britain's business secretary, Vince Cable, himself termed the campaign 'stupid and offensive'. However, the ASA did not uphold the criticisms.

"We concluded that the poster was unlikely to incite or exacerbate racial hatred and tensions in multi-cultural communities," it said.
The Home Office responded, stating the advert would not appear again in its previous incarnation and welcoming their dismissal of complaints calling it 'offensive'. "We are pleased the ASA has concluded that our pilot was neither offensive nor irresponsible," said a Home Office spokesperson.

"This campaign was about encouraging illegal immigrants to leave the country voluntarily and was not targeted at particular racial or ethnic groups."

This means that the UK's government still remains at liberty to direct the 'Go Home' slogan at UK illegal immigrants, providing statistics are both relevant and accurate, and the writing is of a legible size – the second complaint which was upheld was made by a 'few' people who found the most questionable feature of the vans to be the fact that the smaller print was illegible on a moving vehicle.
"We considered… that small print should be clearly visible to a normally sighted person reading the marketing communication once from a reasonable distance and at a reasonable speed," said the ASA in its ruling.
"The ad must not appear again in its current form," the ASA report concluded.

You can share this story on social media: