N. Korea planning simultaneous nuclear tests – Seoul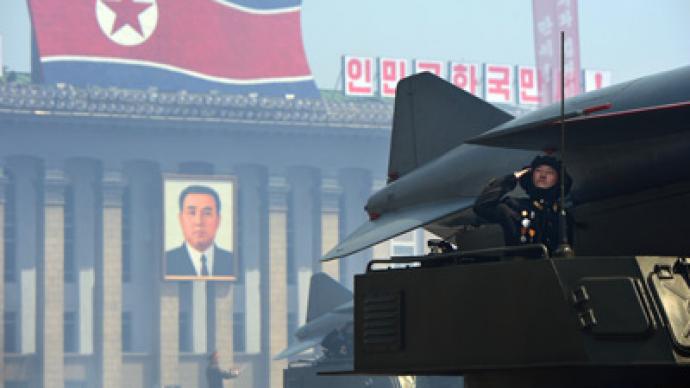 North Korea plans to conduct two nuclear tests at once, or in quick succession, South Korea said. The prediction is based on satellite data that allegedly uncovered an uptick in activity at two tunnels at the North's Punggye-ri nuclear test site.
"There is a chance that the southern tunnel is a decoy, but we aren't ruling out that the regime will conduct nuclear tests simultaneously at both tunnels," South Korean newspaper Chosun Ilbo quoted a military source as saying.Testing multiple devices at the same time could be part of an effort to produce smaller nuclear warheads that could be mounted on missiles, the source said.Earlier reports suggested the test will take place before February 10 – the start of the Lunar New Year. Other reports have claimed the test will fall on February 16, the birthday of late North Korean leader Kim Jong-il.The US and South Korea recently launched a joint naval drill in the Sea of Japan, east of the South Korean port city of Pohang, AFP reported. A US nuclear-powered submarine and other warships are taking part in the war games. The three-day military exercises are widely considered by observers to be a warning to Pyongyang."The exercise includes at-sea operating training, detecting and tracking a submarine, anti-air and anti-ship live fire training and anti-missile training," Yonhap news agency quoted a military official as saying.Seoul's chief nuclear envoy, Lim Sung-nam, left for Beijing on Sunday to meet his Chinese colleague as part of last-minute diplomatic efforts to dissuade Pyongyang from another atomic test.Over the past week, North Korea has issued a series of daily warnings threatening action over the UN sanctions imposed for its launch of a long-range rocket last December. Pyongyang has pledged the "toughest retaliation" if the sanctions are not lifted. North Korea conducted two previous nuclear tests in 2006 and 2009. In 2012, Pyongyang proclaimed itself a "nuclear state."The first test was believed to have had an explosive yield of about one kiloton, while the second was twice as powerful. The atomic bomb the US dropped on Hiroshima, Japan, in 1945 had a yield of about 15 kilotons. One kiloton is the equivalent of 1,000 kilograms of TNT explosives.
You can share this story on social media: