US claims N. Korea's satellite is 'out of control' security threat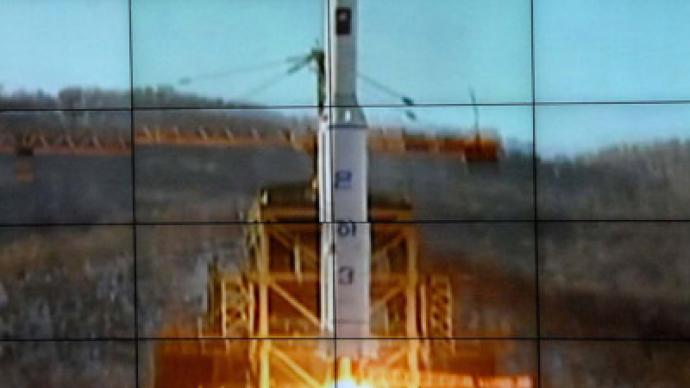 Despite the nature of North Korea's recently launched satellite being unknown Washington condemned it as an "out of control" threat to regional security. Pyongyang maintains it was a surveillance device, denying allegations of warmongering.
US officials, speaking on condition of anonymity voiced their concerns over the "out of control" satellite to US broadcaster NBC News. They said that the celestial object was a threat to regional security and could potentially collide with other satellites in orbit.Meanwhile, the South Korean Aerospace Research Institute said that Pyongyang's satellite was orbiting at between 494 and 588 kilometers above the earth as predicted. The typical orbiting altitude for an observation satellite is between 480 and 970 kilometers. The controversial launch was greeted with a wave of furious condemnation by the international community, who regard North Korea's rocket launches as thinly-veiled missile tests, paving the way for possible nuclear armament.The UN decried the launch as a violation of international law, while Washington said that Pyongyang would face "consequences" for what it branded as a "highly provocative act." The international community is now discussing a new set of sanctions to slam on Pyongyang following the contested launch.
A red rag to a bull?
South Korean officials argue that sanctions will do little to allay North Korean military ambitions, but will rather provoke the country's leadership.Baek Seung-joo from the Korea Institute of Defense Analyses told AFP that this launch proved Pyongyang's resolve "to complete a comprehensive nuclear weapons system under new leader Kim Jong-Un."Pyongyang praised the launch as a great success for the country following a failed test launch back in April that humiliated the country's newly-ordained ruler Kim Jong Un. In the face of international condemnation, a spokesperson for the North Korean Foreign Ministry said that Pyongyang will continue to exercise its "legitimate right to launch satellites." The West has continued to voice concerns that the rockets being launched by North Korea could be used to carry nuclear warheads. Recent satellite imagery released to the press showed that a road leading to a nuclear test site in the country's northeast had been rebuilt and that snow and dirt had been excavated away from one of the entrance tunnels.The Russian Foreign Ministry also condemned the launch in an official statement as "flaunting the opinion of the international community," but appealed to the international community to refrain from further escalating tensions.Two previous nuclear tests have depleted North Korea's limited plutonium supply, but the country sits on significant deposits of uranium minerals. Additionally, Pyongyang is pushing ahead with its civilian atomic energy program which it claims is necessary to provide electricity to its impoverished population.
You can share this story on social media: