Japan deploys Patriot missiles to combat North Korean rocket threat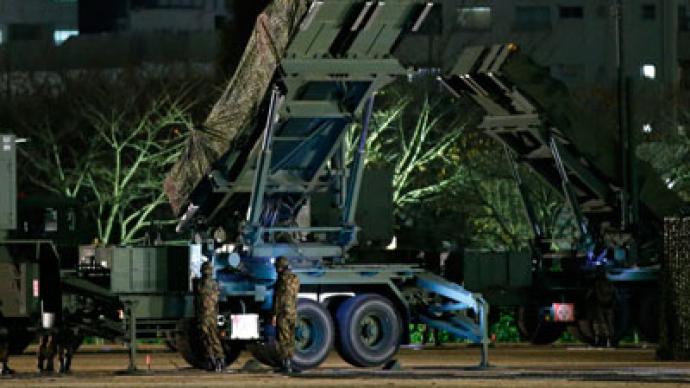 The Japanese Navy has delivered surface-to-air missile systems in order to battle a perceived threat arising from the planned North Korean rocket launch, Kyodo news announced.
Two Patriot Advanced Capability-3 batteries have arrived to the island of Ishigaki, some 400 kilometers southwest of Okinawa, on board the JDS Kunisaki. Patriots will also be deployed on Okinawa.Japan's armed forces have been placed on standby ahead of the planned North Korean missile launch. Japan's Ministry of Defense has issued an order to destroy the North Korean missile, if after the launch it appears to threaten the country's security, local media report.On Saturday, the country's defense ministry put troops on alert. "Our ground, marine, and air forces are now preparing to deploy troops in Okinawa," a ministry spokesman told AFP.Aegis warships are also being deployed in Japanese waters, a number of local news outlets reported this week.Tokyo maintains that its defense is being readied not to shoot down the Korean rocket, but to avoid any debris that might threaten Japanese territory if the rocket deviates from its planned trajectory.North Korea has reportedly notified its regional neighbors, including Japan, of the trajectory of the planned launch.The military buildup around Japan follows Pyongyang's announcement of plans to launch its second long-range rocket this year, between December 10 and 22, after a failed attempt in April.  The April launch failed when the rocket, carrying a Kwangmyongsong-3 satellite, crashed into the Yellow Sea moments after takeoff.North Korea claims that it plans to place satellites into orbit for peaceful purposes, while the international community suspects foul play and a coverup for the country's intercontinental ballistic missiles.UN Secretary-General Ban Ki-Moon strongly urged North Korea Tuesday to reconsider its decision to launch a rocket, which would be "a clear violation" of UN sanctions.