Breivik's Twitter account hacked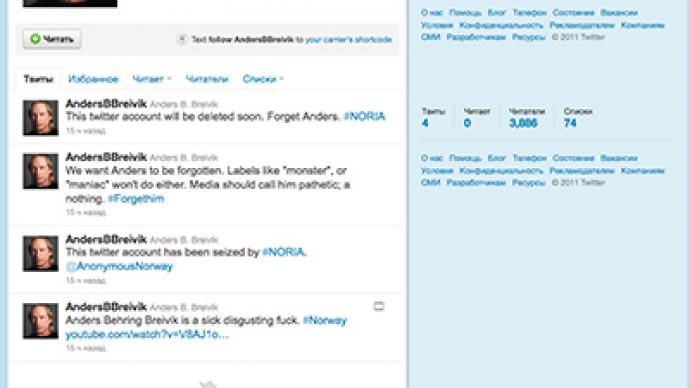 The hacker group Anonymous has hijacked a Twitter account belonging to the notorious Norwegian, Anders Behring Breivik, who admitted being behind last month's bloody attacks in Norway.
Fake tweets started to appear Sunday afternoon. At first they were made to look as if Breivik himself had been tweeting from prison. Later on, the hackers identified themselves as being part of the Anonymous hacker group. "This Twitter account has been seized by #NORIA. @AnonymousNorway," said the first 'honest' tweet. "We want Anders to be forgotten. Labels like 'monster' or 'maniac' won't do either," read another tweet. "Media should call him pathetic; a nothing. #Forgethim."Another tweet rapidly followed promising the account would be closed. However, Breivik's page on Twitter, which was created several days ahead of the attack, is still accessible. However, all the tweets have been deleted from the profile. The only tweet that remained visible was a quotation by philosopher John Stuart Mill: "One person with a belief is equal to the force of 100,000 who have only interests."Anonymous has recently launched a campaign called "Operation UnManifest" aimed at destroying Breivik's racist 1,500 page manifesto.The group originated in 2003 on the imageboard "4chan", representing the concept of many online community-users simultaneously existing as an anarchic, digitized global brain.
You can share this story on social media: