Anti-govt activists take control of TV tower in Donetsk region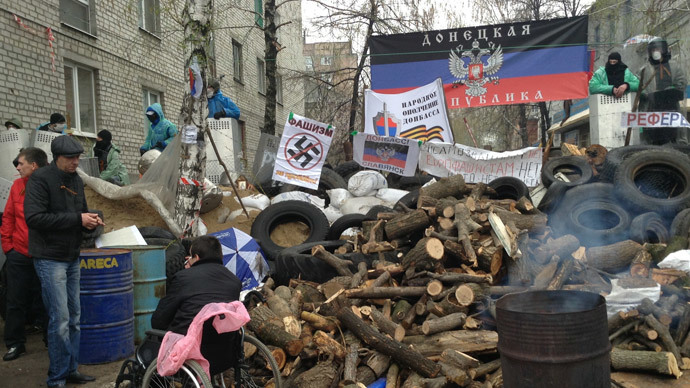 Anti-Maidan activists in south-eastern Ukraine have reportedly seized a TV tower broadcasting for the Donetsk region, cutting off some digital Ukrainian channels and replacing them with Russian ones.
According to Ukrainian media, several supporters of a federal Ukraine gained access to the territory of a radio-television center in the town of Slavyansk on Thursday afternoon.
The facility broadcasts to the towns of Slavyansk, Kramatorsk, Gorlovka and Makeyevka.
Several Ukrainian channels were then reportedly replaced with Russian ones: Rossiya-24, Rossiya-1 and LifeNews.
Slavyansk's local TV channel, S-Plus, confirmed to RT that currently there is no digital broadcasting, while analog broadcasting is carrying on.
"We got an official confirmation from Slavyansk Self-Defense that their people did seize the tower and have cut off digital broadcasting for now," the channel's representative said.
Meanwhile, a local resident told RT that "Ukrainian channels are working as usual." The resident added that the situation in the town is generally calm.
Slavyansk Self-Defense press-secretary Stella Khorosheva also confirmed to RT that they "took the tower under control." She said the move was aimed to "prevent sabotage and the elimination of the TV tower by those who are against us or who would want to use the current situation in the city." She underlined that the building had not been "seized."
Commenting on whether the activists were planning to disconnect analog broadcasting as well, she said that many channels will stay on.
"Maybe some Ukrainian channels will be replaced with Russian ones," Khorosheva said.
The press-secretary gave an assurance that even if some TV channels are not broadcast, it would only be a temporary situation. She added that the self-defense group was not planning any redundancies "because we need specialists."
"Our task is to provide stable life in the city," the spokesperson concluded.
There have also been reports of activists seizing a television center in Kramatorsk, another town in the Donetsk region. However, it was not immediately clear if that was a separate facility or the same TV tower reported about by Slavyansk media.
Following the February coup, the new Ukrainian authorities ordered all local cable operators to stop transmitting several Russian TV channels. The move was slammed as "repressive" by the Organization for Security and Co-operation in Europe (OSCE).
The decision also raised a wave of criticism among Russian speakers in Ukraine, many of whom criticize Ukrainian television as being biased and attempting to blame Moscow for the current crisis in the country.
In recent weeks, Ukrainian border guards have repeatedly denied entry to Russian journalists.
"These facts are blatant violations of democratic freedoms and the Ukrainian people's right for free information," Russian Senators said in a statement on Wednesday. "The Federation Council holds that any future violations of Russian journalists' rights and restrictions of the Russian mass media's activities in Ukraine are inadmissible and that the international community, in particular the representatives of the OSCE and international groups advocating press freedom, must at last adequately react to these violations."
On Thursday, Ukrainian authorities imposed severe restrictions on Russian men aged between 16 and 60 entering Ukraine without their families. They will only be allowed in if they have close relatives in the country or have an official invitation.
You can share this story on social media: