'Harmful for children': Turkish TV channels fined for live coverage of protests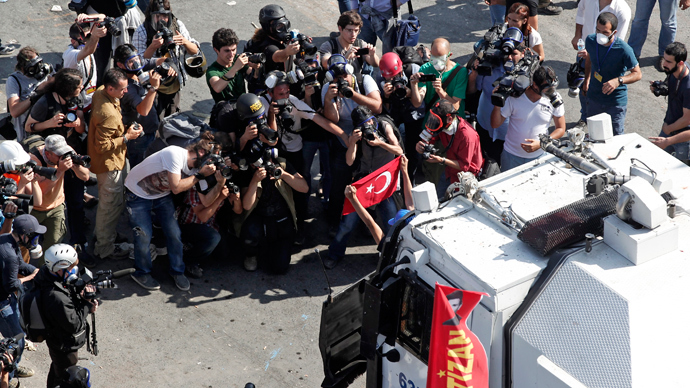 Turkey's TV watchdog fined four TV channels over their live coverage of the Gezi Park protests in Istanbul, citing that the broadcasts were "harming the physical, moral and mental development of children and young people."
The Radio and Television Supreme Council fined private channels including Halk TV, Ulusal TV, Cem TV and EM TV.
Halk TV has gained local popularity because of their 24-hour live coverage of protests in Turkey, as most of the mainstream media have been slammed for their lack of reporting on the protests in the country.
As the unrest unfolded almost two weeks ago, mainstream Turkish media did not cover the violent police clashes, but instead broadcast nature and history documentaries, and cooking shows.
Many of the other local networks briefly mentioned the protests, but failed to cover the violent clashes in which scores were injured.
Angered protesters had to turn to the internet, especially Twitter, to get the information out.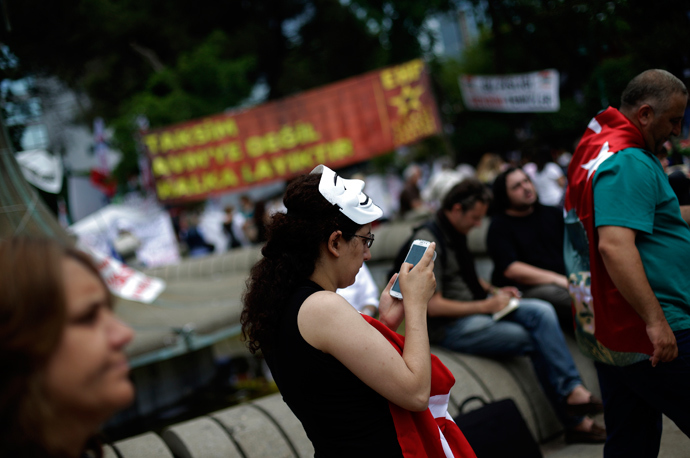 In response, Turkish Prime Minister Tayyip Erdogan condemned social media's role in the riots, singling out what he called the "scourge" of Twitter.
"There is now a menace which is called Twitter," Erdogan said in the beginning of June.
Most recently two Canadian journalists were arrested by police on Wednesday while covering the ongoing protests in Istanbul's Taksim Square. The two had been held all day and later released.
Arrested taking pics of city crew removing protestor barricade@ #Taksim for #CBC. Accused impeding road works & resisting arrest #OccupyGezi

— Saša Petricic (@sasapetricic) June 13, 2013
Turkey is known for its suppression of journalists. In 2012 it was dubbed as the world's leading jailer of reporters by a New York–based Committee to Protect Journalists (CPJ). The investigation revealed that 76 journalists were detained in Turkey as of August 1, 2012, 80 percent of which were imprisoned as a direct result of their work.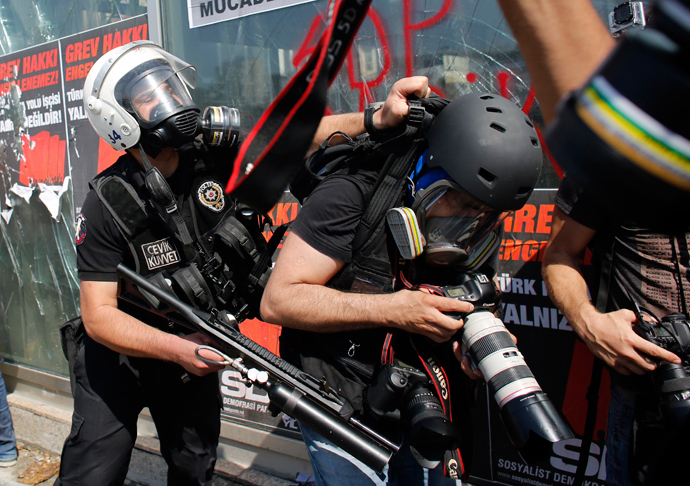 In response to the Radio and Television Supreme Council's fines, Hackers from the Anonymous collective hacked the website of the Turkish TV watchdog, calling the operation "Tango Down RTÜK" via the Twitter account of the collective's Turkish members.
TANGO DOWN | RTUK rtuk.gov.tr | Her Dogru Soyleni 9 Koyden Kovamayacaksiniz!#occupygezi#direngeziparki#opTurkey

— Anonymous Turkey (@AnonsTurkey) June 12, 2013
@anon_central It's not a real media agency , it is the place which regulates the censorship of all media in turkey! Try to undertstand this!

— Anonymous Turkey (@AnonsTurkey) June 12, 2013
Turkish protesters continue to mass while riot police use tear gas and water cannons to break up gatherings.
On Thursday Erdogan issued a final warning to protesters occupying Gezi Park.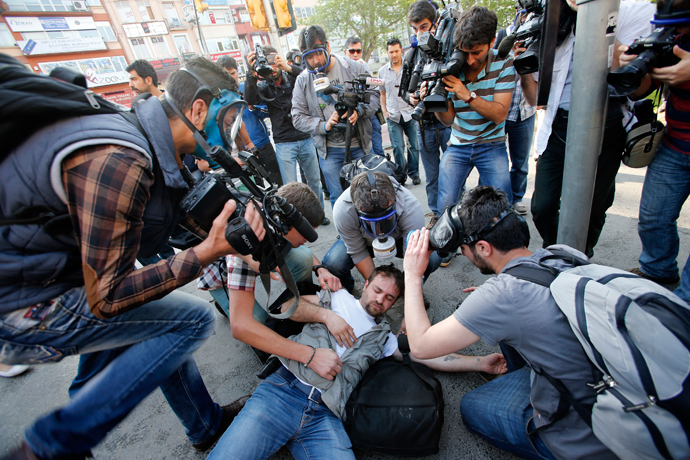 "Our patience is at an end," Erdogan said in a speech. "I am making my warning for the last time."
Protesters are demanding the government cancel plans to destroy Gezi Park, just meters away from the city's iconic Taksim Square; for police chiefs in cities with a particularly high rate of violence against protesters to be sacked; and for the release of those that have been detained during the protests.
In the 13 days of anti-government anger, four protesters and one policeman have lost their lives and the number of injured stands above 5,000, prompting Turkey's Human Rights Foundation to open an investigation into excessive use of force by police.
You can share this story on social media: