Turkish activists rail against media for ignoring protests, police brutality
Turkish media outlets have been slammed for their coverage of the ongoing protests in the country. As water cannons and tear gas were unleashed on thousands of protesters, injuring scores, local media chose to air a documentary on penguins.
As the unrest unfolded on Friday and Saturday, Turkish media did not cover the violent police clashes, instead broadcasting nature and history documentaries, and cooking shows.
"We are watching the news from CNN International: Protesters, tear gas, and police hitting people. Then we checked CNN Turkey and there was a penguin documentary. So, I can't comment!" TV talk show host and producer Ozgur Cakit told RT.
Other networks briefly mentioned the protests, but failed to cover the violent clashes in which scores were injured.
Angered and outraged locals turned to the Internet to share information and vent frustration – Twitter and Facebook were one of the few ways to read news on the latest developments. In response, Turkish Prime Minister Tayyip Erdogan condemned social media's role in the riots, singling out what he called the "scourge" of Twitter.
"There is now a menace which is called Twitter," Erdogan said on Sunday, dismissing the protests as organized by extreme elements. "The best examples of lies can be found there. To me, social media is the worst menace to society."
It was through Twitter that activists spread the word to gather in support of the demonstrations, until the issue could no longer be ignored. Local channels then had to play catch-up, trying to make up for lost airtime.
The media's initial inaction has angered many in Turkey, RT's Irina Galushko reported from Istanbul. Demonstrators lashed out against local media, gathering outside the offices of private TV stations NTV and HaberTurk on Sunday and Monday. In Istanbul's Taksim district, protesters smashed an NTV satellite van, destroyed its equipment and covered it with graffiti.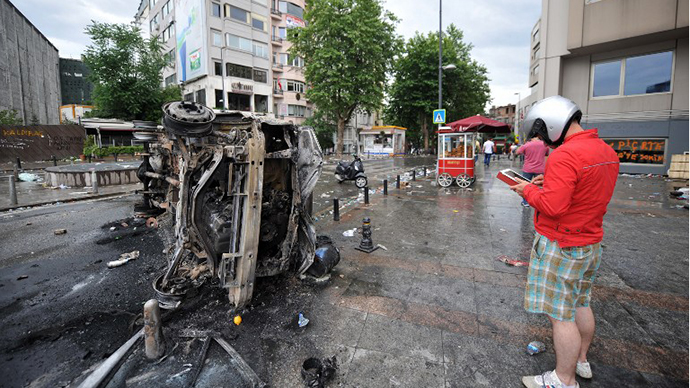 Many in Turkey believe strongly that there is a responsibility that comes with being a news provider, and that Turkish media have failed in that responsibility.
"We only have one channel that shows everything in this country, it's really sad, that we cannot see anything. For example, my mother – she lives in the village – if I don't call her, she won't know anything," fashion student Ata told RT.
Others said that local media likely shied away from coverage that would have angered Erdogan's government. "[Media] does not broadcast because of the pressure of the prime minister. It's unfair that we have to find out about it [protests] from the international TV channels," sociology student Alev shared with RT.
On Tuesday, Turkey arrested and charged 24 bloggers for using social media to "instigate public hatred and animosity," and issued 14 other warrants, Turkish media reported.
Turkish business conglomerate Dogus – which owns NTV, as well as other interests such as finance –apologized for its failure to cover the beginning of the protests: "Our audience feels like they were betrayed," NTV quoted Dogus CEO Cem Aydin as saying on Tuesday.
Aydin added that the public criticism of the station was "fair to a large extent… Our professional responsibility is to report everything as in the way it happens. The pursuit of balance within the imbalanced environment affected us as it did the other media outlets."
Customers of the conglomerate lashed out by targeting Dogus-owned banks, closing around 1,500 debit and credit card accounts in protest.
You can share this story on social media: