Up in arms: Turkey Patriots ready by weekend amid local protest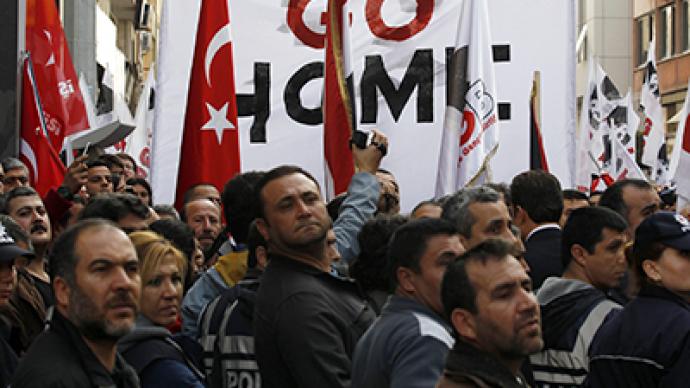 Patriot missile batteries sent to Turkey from NATO countries will start operating this weekend, despite continuing protests from local activists unhappy at their deployment. In the latest incident German troops were mobbed by protesters.
After Ankara asked for NATO help in December to beef up its air defenses against a possible Syrian attack, the United States, Germany and the Netherlands have sent Patriots to Turkey, along with a contingent of 1,200 soldiers to operate them. The Dutch army will be the first to have them operational, British Brigadier Gary Deakin, a senior NATO official told Reuters. "We expect to have an initial operating capability this weekend, that is what we are aiming at. The first units will arrive on station, they will plug in to the NATO command and control network and they will be then ready to defend the population. The full capability we are aiming to deliver at the end of this month," he said.
But many of the local population in the areas where the missiles will be based are against the deployment and angry at the presence of foreign soldiers on Turkish soil, "As Muslim Turks we are against foreign soldiers," said Mr Tutuen, the President of the Kanhranmaras division of the religious Felicity Party, in the south eastern region of Anatolia, it was reported Wednesday by the UAE English language newspaper, the National.Since NATO troops started to arrive in Turkey, there have been protests by Islamist and leftist groups. In the town of Kahramanmaras protesters burnt US, NATO and Israeli flags. About 400 German troops will man the Patriot batteries in Kahramanmaras and will live in a Turkish army barrack overlooking the town, which is about 100 kilometers north of the Syrian border. "Deterrence may help to diffuse tension a little," said Col Marc Ellermann, the commander of the German unit.
But the locals are skeptical at the nature of the mission and if the missiles will protect them at all. "If they put their missiles here, that means we will be the first place that will be attacked, doesn't it?" Alaatin Namli, a local shop owner, told the National. "Is there a war of Syria against Turkey? No, there isn't. These missiles are for Israel and against Iran," said Malik Ecder Kirecci, who runs a corner shop next to the barracks housing the German soldiers. Tuesday saw several hundred protesters gather in Iskenderun and outside the Incirlik NATO airbase in Adana against the deployment. Police broke up the demonstrations with tear gas, pepper spray and batons.Seven German soldiers have already been mobbed Tuesday in the port city of Iskenderun, in the southern Turkish province of Hatay.
While on their way to the market, they were attacked by a group of activists from the Turkey Youth Union who tried to throw sacks on their heads. The soldiers managed to escape with the help of locals and took shelter in a jewelry shop, before the activists were detained by riot police. The planned stunt was a reference to an incident when US soldiers arrested Turks during the 2003 invasion of Iraq and put sacks over their heads; judged as deeply insulting by many Turks. The fact that the soldiers in Iskenderun were German and not American did not seem to make any difference. "Whether it was German or American soldiers whose heads we put sacks on, it does not matter. All of them are NATO soldiers. We will not allow Turkey to be the centre for attacks in the Middle East," said the leader of the group, it was reported in the Turkish press.The German unit will travel from Iskenderun to Kahramanmaras over the next few days by road and authorities in Kahramanmaras are trying to work out the best way of doing this with minimal disruption. For the time being some residents are prepared to give the Germans the benefit of the doubt, as long as they behave themselves. While Cuma Tahiroglu, a parliamentary candidate for the Felicity Party in Kahramanmaras, warned that if the Germans flaunt their weapons around town they "will turn into Americans in our eyes."
You can share this story on social media: