US sending Patriot surface-to-air missiles to Turkey - reports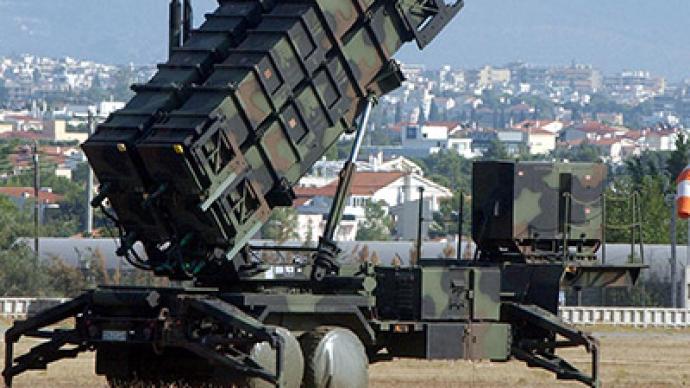 US Secretary of Defense Leon Panetta has signed an order to deploy two Patriot air-defense missile batteries to Turkey, he said in an exclusive interview with CBS News. The missiles are expected to bolster Turkish defenses against Syria.
Up to 400 American servicemen are being sent to Turkey to operate the batteries. On December 4 NATO foreign ministers approved the deployment of German and Dutch batteries of Patriot missiles on the Turkish-Syrian border.On December 14 Germany's Bundestag voted on deploying country's Patriot complexes to Turkey.The air defense shield on Turkish-Syrian border will not only protect Turkey. There are fears that Patriot batteries might create practicalno-fly zones inside the Syrian territory, as Patriot has a range of 160 kilometers.Germany and Netherlands are expected to dispatch Patriot batteries to Turkey in early 2013.The US Secretary of State Hillary Clinton said Patriots are defensive weapons and NATO's decision to deploy the surface-to-air missiles to Turkey is clear signal to Damascus that Turkey is backed by its NATO allies.NATO Secretary General Fogh Rasmussen told the media earlier this month that "Patriots are effective as interceptors against chemical weapons," following the news spread in the western media that Syria is getting its chemical weapons stock ready.The US fears that in case President Bashar Assad loses control of the situation the chemical weapons of Syria could fall into the hands of radical Islamists.Several cross border incidents between Syria and Turkey over the summer have stoked fears within Ankara that the ongoing civil war in its southern neighbor could spill over into Turkish territory.On Tuesday US President Barack Obama recognized Syria's main opposition group as the legitimate representative of the Syrian people, thus bringing the US in line with its allies Britain, France and the Gulf Arab states.The following day Conn Hallinan, a contributing editor at Foreign Policy in Focus, told RT US recognition of the Syrian opposition "opens the door for a much more direct intervention into the civil war in Syria.""It will mean that the heavy weapons will come in. Potentially you could end up with a no-fly zone. Really, it's pretty much an open declaration of war against the Assad regime," Hallinan said.On December 5 the USS Eisenhower, an American aircraft carrier that maintains eight fighter bomber squadrons and 8,000 men, reached the Syrian coast. The carrier joined the USS Iwo Jima Amphibious Ready Group, which arrived earlier and holds approximately 2,500 Marines. If Washington calls for a ground intervention into Syria, the US currently has 10,000 fighting men, 17 warships, 70 fighter-bombers, and 10 destroyers and frigates armed with guided military missiles in the waters close to Syrian shores.
Iran in their sights?The reason for positioning the Patriot missiles on Syria's border isn't connected to a possible attack by Syria, Jeremy Salt from the Bilkent University in Ankara, told RT."There's absolutely no likelihood that Syria is going to attack Turkey," Salt argued, adding that the speculation is whether it's the first step to direct NATO military intervention in Syria, or a strategic move with different implications.The increasing military pressure from the Jordanian side of Syria's border certainly "adds up to something being in the wind," the professor said.The Patriots might have nothing to do with Syria at all, instead being "part of the game planned against Iran", Jeremy Salt told RT, citing Middle East commentator Abdel Bari Atwan.
You can share this story on social media: