Turkey seeks NATO deployment of Patriot missiles on Syria border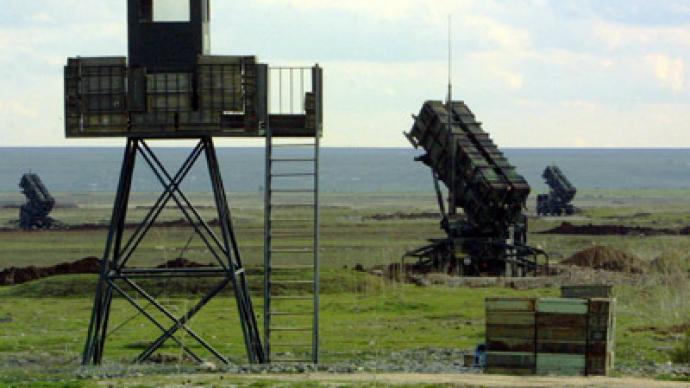 Turkey's foreign minister, Ahmet Davutoglu says NATO is preparing to deploy patriot missiles to bolster defenses on its border with Syria. The surface-to-air missiles will be able to shoot down aircraft up to 160 kilometers away.
Davutoglu's comments were reported on Al Jazeera television news. The foreign minister's comments appeared to be in direct contradiction to a statement from the Turkish Prime Minster Recip Tayyip Erdogan, who has denied that his country has made a request to NATO for the missiles."We do not have any thoughts of aquiring patriots by paying money," Erdogan said in a press statement quoted by the Turkish Anadolu Agency.  NATO also said that they hadn't received an official request from Turkey for the missiles. US State Department spokeswoman Victoria Nuland has also confirmed at the briefing that no request from Turkey has been received. "As of today we haven't had a formal request of NATO. But as you know in the past, we have reinforced Turkey with Patriots. So, we will await a formal request, and then NATO will deliver aid."Patriot is a long-range, all-weather, all-altitude system designed to counter tactical ballistic missiles, cruise missiles and advanced aircraft.The possibility of enforcing a no-fly zone in Syria, where rebel fighters would be protected from attacks by the government's air force, has been on the table for some time despite NATO's reluctance to intervene in the Syrian conflict without a mandate from the UN Security Council.The Patriot missile deployment is one of several scenarios currently being considered, the official said. Plans for the deployment were put on hold pending the results of the US election, the source explained, speaking on condition of anonymity because of ministry prohibitions on speaking with the media.The official said that any missile deployment might happen under a "NATO umbrella," although NATO maintains it will not intervene without a clear UN mandate. Linsday German of Stop the War Coalition told RT that despite the missile being a largely defensive weapon, it could in fact be used to intervene in Syria's internal conflict."Having the Patriot missiles is a prelude to using a no-fly zone. We've seen the effect of no-fly zones, for example in Libya, for example in Iraq, where they actually didn't bring peace to the region – they were the lead-up to if not war, then intensive bombing. I fear the developments in Turkey point in the same direction," she said.Tensions between Turkey and Syria escalated in October, when shells coming from Syria landed in the Turkish border town of Akcakale, killing five civilians.Turkey retaliated for several days. At least ten Syrian troops were reportedly killed by Turkish fire.Turkey previously requested the deployment of the Patriot system during the first and second Iraq wars. In both cases, deployments were carried out by the Netherlands – one of the few NATO members equipped with the system.
You can share this story on social media: