Thai police officer killed in clashes with anti-government protesters
Thai police say an officer has been killed during an anti-government rally in the country's capital, Bangkok. Police used tear gas, rubber bullets on protesters who attempted to halt planning for the February elections over the controversial security law.
The officer died after being airlifted to hospital, and it hasn't been confirmed yet how he lost his life. Earlier, police reported that he had been hit by a bullet during the clashes.
97 people were injured, 25 of them police officers.
The law that the crowds are protesting against allows security forces to ban rallies, block roads, impose curfews and conduct searches.
The protesters vented their anger at current Prime Minister Yingluck Shinawatra, who, they say, is a puppet of her self-exiled brother, ex-premier and telecommunications billionaire, Thaksin Shinawatra.
A snap election has been called for February 2, following mass protests that saw 200,000 people take to the streets of Bangkok.
On Thursday, a stone-throwing crowd gathered outside a Bangkok sports stadium where Thailand's Election Commission was working through the process of registering candidates from at least 27 parties for the February election.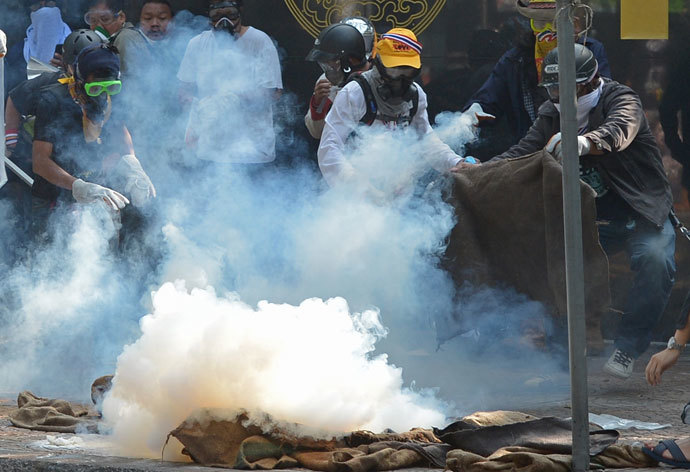 Police warned the demonstrators to refrain from entering the building, and then fired teargas and rubber bullets when the mob tried to break the fence.
The latest clashes that have seen 7 people injured have occurred in spite of the police's policies towards the protesters, security officials indicated.
"We have warned them and informed them every time before firing teargas," National Security Council head, Paradorn Pattanathabutr, told Reuters.
Protesters, in their turn, are prepared for the harsh response: they carry goggles and masks to cover their faces in case of a crackdown, as well as bottles of water to wash their eyes out.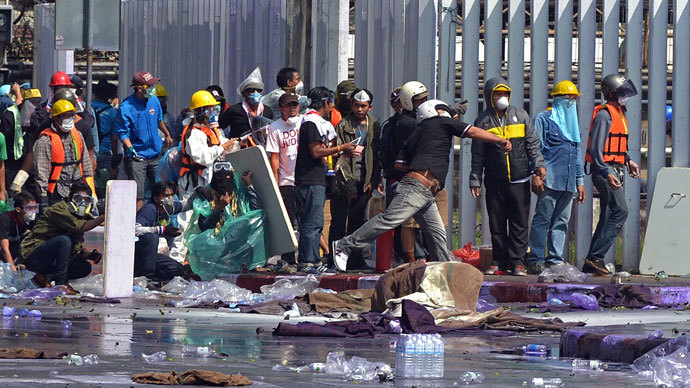 Thailand's government has rejected a call from the Election Commission to delay the February-2 poll "until mutual consent [is reached] between all related parties".
"The February-2 election will go ahead," Deputy Prime Minister Pongthep Thepkanchana said in a televised address. "There is no law allowing the government to delay the election."
The protesters pledged to disrupt the election and make Yingluck step down, demanding an unelected "people's council" to govern before the elections are called.
The country's main and quite strong opposition party is allied with the protesters. The opposition is boycotting the elections, complicating the situation for the current government.
Thaksin Shinawatra has been in self-imposed exile since 2008. Yingluck's first two years of rule were calm, until November when she attempted to lobby an amnesty bill that would see her brother return to Thailand as a free man.