Bangkok police use tear gas on protesters besieging govt buildings (PHOTOS)
Police dispersed activists with tear gas who were attempting to storm Bangkok's Government House amidst deadly clashes in the Thai capital. Opposition protesters are calling for the ouster of Prime Minister Yingluck Shinawtra.
The leader of anti-government protests, Suthep Thaugsuban, said later on Sunday that he had met with Prime Minister Yingluck Shinawatra. Thaugsuban told the PM that he would not accept anything but a resignation from the current government so that it could be replaced by an appointed council. 
In the meantime, demonstrators vowed not to give up and have planned more protests for this week.
Earlier on Sunday, anti-government activists, seeking to storm the Government House, ripped down barriers outside the official building, reporters told AFP. In response the Bangkok police fired tear gas canisters and used water cannons to push back the crowd of protesters. Prime Minister Yingluck has vacated the Government House and is overseeing the situation from an undisclosed location in the city. Hundreds of activists also took control of Thai state broadcaster PBS. 
The opposition protest movement has pledged to topple the government of Prime Minister Yingluck Shinawtra and install a "people's council." On Sunday protest leader, Suthep Thaugsuban, called on his supporters to push for the ouster of the Shinawatra government.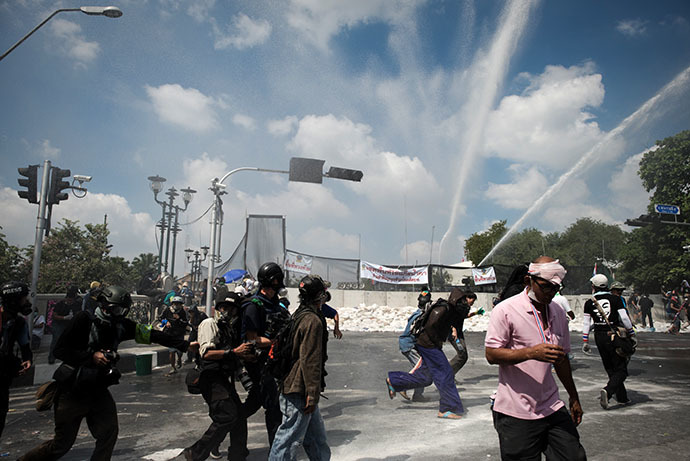 "Seizure of the PM's office, police headquarters and several ministries will paralyze this corrupted and illegitimate government," said Suthep, whose comments were broadcast by Bluesky Television network. "Without the works of these key ministries, the government will stop most of its functions and finally collapse." 
Opposition protesters also gave the government an ultimatum to pass over the power to People's Council within two days on Sunday. The announcement was made by ex-PM Thaugsuban after his meeting with Shinawtra.

"These are neither negotiations, nor a compromise," he added.

Under the proposal, the People's Council would develop a new constitution and work on preparations for a parliamentary vote.

Anti-government protests having been happening in the Thai capital for the past 7 days and had been relatively peaceful. On Saturday night demonstrations descended into violence as anti-government activists attacked a pro-government rally.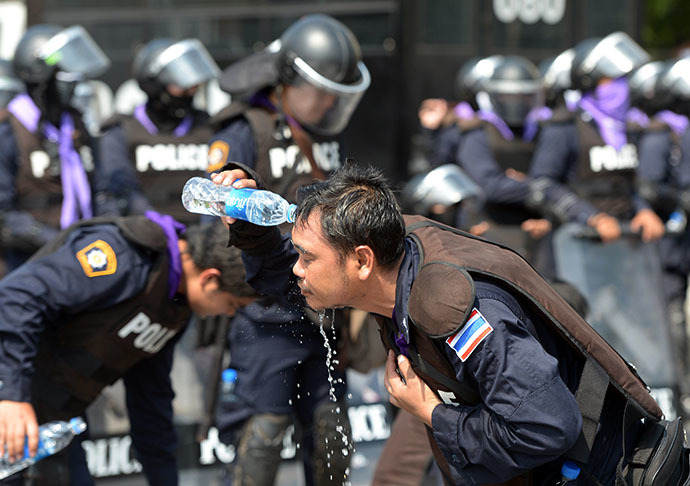 Around 70,000 government supporters, or "red coats," had gathered in Bangkok's Ramkamhaeng arena for a rally on Saturday. Later in the evening gunmen fired into the stadium killing at least three people and injuring dozens more.

"Students were inside the compound of the university when all of a sudden a gunman fired several shots through the fence of the university injuring many students," Attiwat Nakpao, deputy leader of a Ramkamhaeng University student group, told local media.

In spite of the violence during the night, firebrand opposition leader, Suthep Thaugsuban, called on his supporters for peaceful action. 
"Our operation today must be peaceful and non-violent... enter places with politeness," said Suthep Thaugsuban, a former MP. "You must obey your leaders when they say to move forward or to withdraw," he said, adding "if anything happens we must stand still and not fight or use weapons."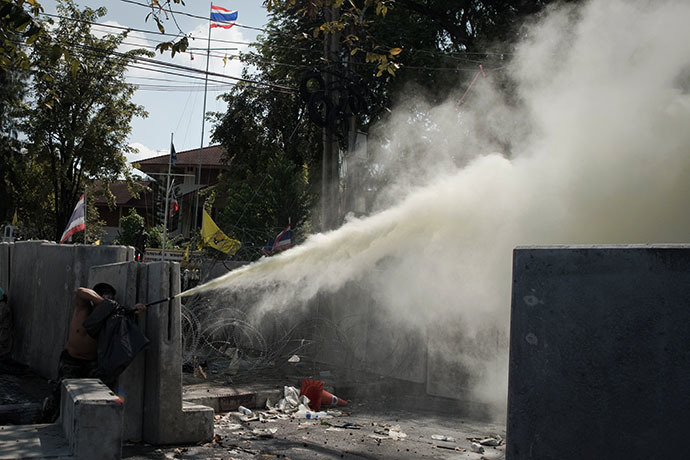 The Thai authorities deployed over 2,700 troops in Bangkok to bolster police forces on Sunday in a move to bring the protests to heel.

The unrest has seen Thai society divided, with Prime Minister Yingluck enjoying popularity with the rural Thai population, while the middle class and Bangkok's elite are calling for her government to be toppled.

Protest was sparked earlier this month when Yingluck attempted to pass an Amnesty Bill that would have allowed her older brother, Thaksin, to return to Thailand and dodge prison. Thaksin Shinawtra was deposed from government in 2006 by the military and has since been living in self-imposed exile. He was convicted two years later of abuse of power, a charge which he denies and claims is politically motivated.

The opposition has condemned him and alleges that he still controls the current government. Prime Minister Yingluck Shinawtra has refused calls for elections, but has proposed to open dialogue with the opposition, an offer which they have refused.