Thousands of Thai protesters burst into govt buildings in Bangkok
More than 1,000 anti-government protesters entered and occupied the compound of Thailand's Foreign Ministry, witnesses from the scene reported. The country's Finance Ministry building has also been besieged by rioters.
Thailand's Prime Minister Yingluck Shinawatra has invoked the Internal Security Act, extending it to Samut Prakarn Province, where Bangkok's main airport is located.

The Internal Security Act gives Thai security forces the power to impose curfews, block roads and stop vehicles, restrict movements of protesters, ban large gatherings and detain people without trial if rallies get out of hand.

Yingluck, however, vowed that she will not use force against the protesters occupying government buildings.

Witnesses told Reuters that protesters lifted the main gate of the Foreign Ministry on Monday evening and drove a car and a six-wheel truck into the compound to use as a temporary stage.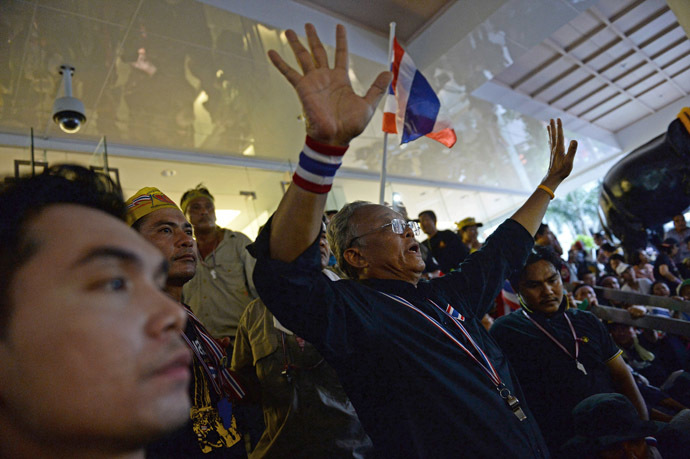 Leaders of the protest then announced they would occupy the compound and hold it overnight. 

While confirming that protesters forced their way into the ministry's premises, Foreign Ministry spokesman Sek Wannamethee said they "promised" not to enter any of its buildings, AP reported. 
"We are now asking them to provide ways for the officials who were still working to leave the offices and they will likely have to work from home tomorrow," the spokesman said.

คปท.ลงมติเิกฉันท์พักค้างแรมบ้านใหม่กระทรวงการต่างประเทศ แกนนำสั่งห้ามเข้าในอาคาร pic.twitter.com/BWhfwGDla3

— FM100.5 News Network (@news1005fm) November 25, 2013
The leader of the protest movement, aimed at overthrowing Prime Minister Yingluck Shinawatra, has urged the demonstrators to seize other government buildings.

"I invite protesters to stay here overnight at the Finance Ministry," protest leader Suthep Thaugsuban told a crowd gathered in front of the Finance Ministry. "I urge other protesters to do the same and seize other government buildings and offices around the country."

"Go up to every floor, go into every room, but do not destroy anything. Make them see this is people's power!" Suthep, a former deputy prime minister and opposition lawmaker, was quoted as saying by AP before he entered the ministry.

Shortly after the seizure of the Finance Ministry, power was cut in the building. 

RT @Pat_ThaiPBS ด่วน! ขบวนคปท. พังประตู ยึดพื้นที่ภายในกระทรวงต่างประเทศ เข้ามาข้างในแล้ว ตอนนี้ (18:20) pic.twitter.com/ivhIv8GtSE

— Chu_SpringNews (@Chu_SpringNews) November 25, 2013
Later on, hundreds of anti-government protesters gathered outside Thailand's Public Relations Department. 

Tensions ran high at the Monday protest, and reports said a German photojournalist was attacked after a speaker at one protest site identified him as a pro-government sympathizer.

The journalist, Nick Nostitz, told Reuters he was punched several times, but managed to escape behind nearby police lines.

The swiftly rising political tension came as more than 30,000 demonstrators marched to 13 areas across the city, raising the risk of a clash with police, a day after about 100,000 gathered in the city's historic quarter.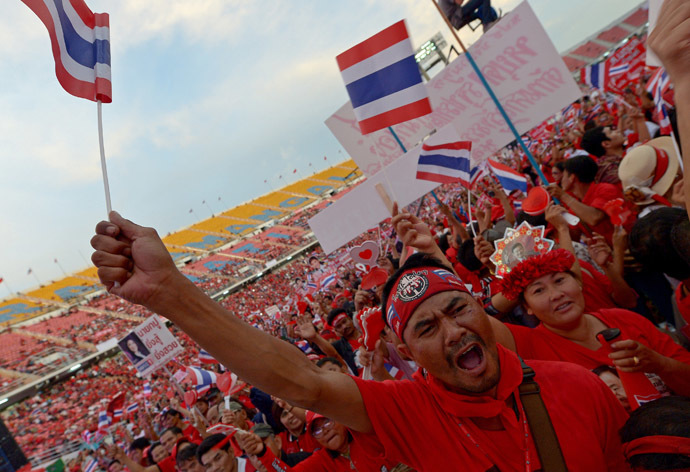 Meanwhile, the Prime Minister Yingluck, who faces a no-confidence debate on Tuesday and whom the outraged crowds of protesters want out of office, said she has "no intention of resigning or dissolving the House." 
The seizure of Thai government buildings follows weeks of protests against the amnesty bill that would allow the return of the ousted prime minister from exile and would pardon those responsible for an army intervention in bloody 2010 protests. Back then, more than 90 people were killed in violent clashes.

Although the bill was thwarted in parliament, protesters remained in the streets and called for the government's ouster, which they believe acts on behalf of the billionaire former PM Thaksin Shinawatra, who is current PM Yingluck's brother. Protesters say Thaksin rules through Yingluck, calling her merely a proxy.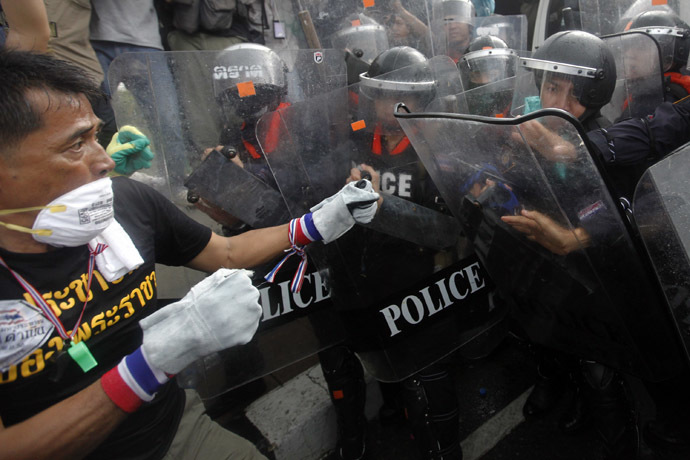 Yingluck's Pheu Thai party, which has a majority of seats in Thailand's parliament, openly supports Thaksin Shinawatra.

An anti-government rally on Sunday brought up to 180,000 demonstrators on to the streets of Bangkok, AFP reported.

However, the country remained divided as tens of thousands of loyalists also gathered in different locations in Bangkok to support Yingluck. Thousands of pro-government "Red Shirt" demonstrators flocked to a Bangkok stadium Sunday, waving national flags.

Thailand's current turmoil stems from the 2006 military coup, in which Thaksin Shinawatra was ousted. Since then, the country has seen massive protests by both his opponents and supporters.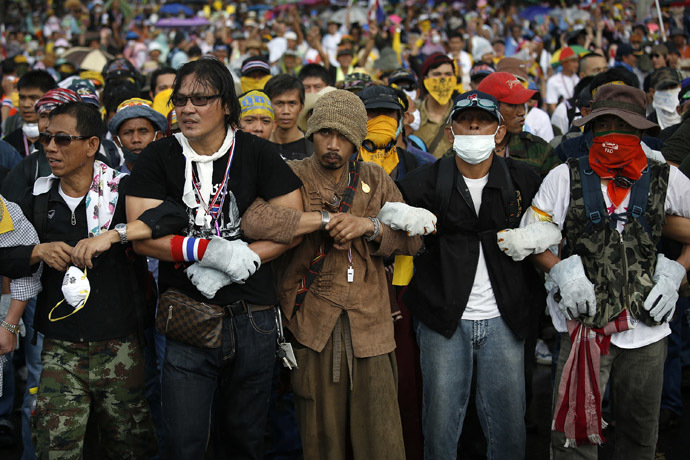 In 2008, a crowd of people protesting against the "Thaksin regime" occupied Bangkok's main airport, shutting it down. In 2010, a huge two-month sit-in held by Thaksin's supporters paralyzed the capital, ending in violent clashes and a military crackdown.

Despite Thaksin allies' landslide election victories in recent years, both the country's judiciary and the military are viewed as a possible counterweight to his power. Since the 2006 coup, court rulings have removed two prime ministers, disbanded four parties, jailed three election commissioners and banned 220 politicians from office, according to Reuters. Thailand's Army, which remains a major force in the country's politics, has staged 18 coups since 1932, and is also believed to have intervened in forming several coalition governments.

You can share this story on social media: