Only 'diplomatic support': UK Foreign Secretary says Syria military action ruled out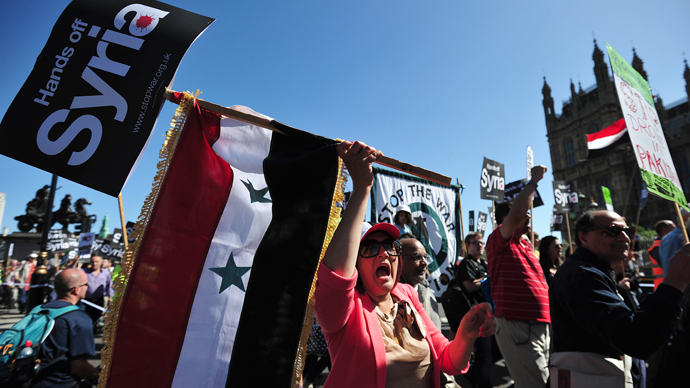 William Hague, the UK's foreign secretary, has ruled out military intervention in Syria stating Britain will only be offering diplomatic support in the light of PM Cameron's defeat on the parliament vote. The UK Chancellor slammed Labour "opportunists."
"Parliament has spoken. I don't think it is realistic to think that we can go back to parliament every week with the same question having received no for an answer," Hague said on the Murnaghan Show on Sky News on Sunday. It was his first major interview since the House of Commons defeat late on Thursday.

Hague said that Labour would need to be "less partisan" in order to reverse the Commons vote, and even in the event that more chemical strikes were alleged within Syria, UK intervention would still be unlikely.

"Anybody looking objectively at this would see that, in order for parliament in any circumstances to come to a different conclusion, people would have to be more persuaded by the evidence. There is a great deal of evidence there but I'm not sure that the extra evidence that the United States presented would have made a difference to those doubting the evidence in the House of Commons," said Hague.

"We will have another discussion with Russia to see if we can find a diplomatic and peaceful solution to the crisis in Syria," Hague also commented.  

UN inspectors are yet to publically provide the results of their analysis, after having departed Syria on Saturday.

US Secretary of State John Kerry stated on the same day that the US has its own evidence of sarin gas having been used in Syria, telling NBC that "hair samples and blood samples have tested positive" for the neurotoxic gas' signature. The UN stated that it would take some three weeks for the results of their investigation to be processed.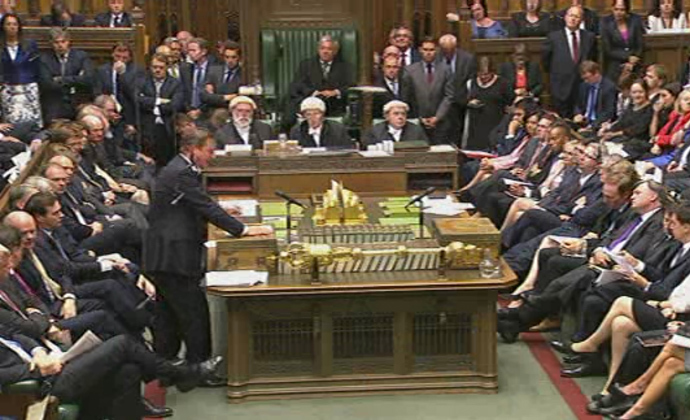 The UK's ruling Conservative party has been strongly in favor of military intervention, forcing its leader, UK Prime Minister David Cameron to concede "it is clear to me that the British parliament... does not want to see British military action."

Ongoing protests against UK military intervention Syria have been taking place, the most recent of which fell on Sunday. Thousands gathered in London's Trafalgar Square, marching under banners stating that "war solves nothing."

The vote was defeated by a 285 to 272 margin, constituting what was deemed a "major blow" to the party. The war vote was the first lost by a British prime minister since 1782.

The UK's Conservative Chancellor, George Osborne, confirmed that the UK would not seek a further vote on action in Syria.  He made comments along the same vein as Hague in an almost concurrent interview on the BBC's Andrew Marr Show. "Parliament has spoken," he declared with an air of finality on Sunday. "I don't think another UN report, or whatever, would make the difference."

Osborne went on to state continuing support for the move, despite full knowledge that it would be unlikely.

"Of course I wanted us to be part of a potential military response. Now that is just not going to be open to us," he said. Osborne added that his party's opposition rivals, Labour, played the vote opportunistically, in his opinion, saying that the move against the government's desire for military action by Labour made the party leader, Ed Miliband, look less like a future prime minister.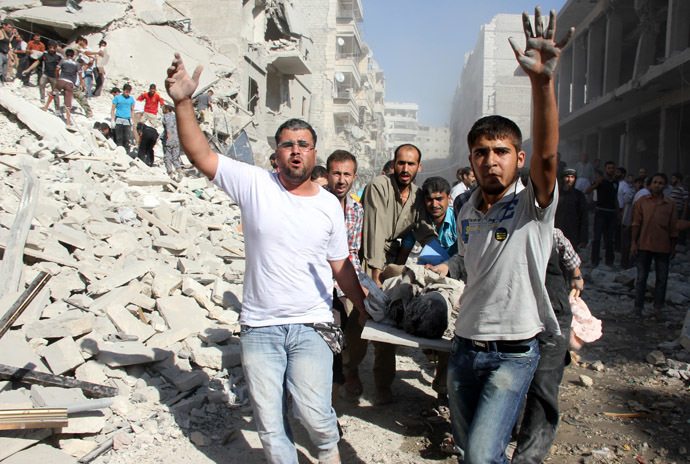 Former Prime Minister, Tony Blair, renowned for his unwavering support of the joint UK/US invasion of Iraq in 2003, labeled the outcome of the Commons vote "shocking" in a Sunday Times column.

Obama announced on Sunday that he would be seeking Congressional approval for a strike on Syria, adding that the strike was not "time-sensitive."

"In consultation with the President, we expect the House to consider a measure the week of September ninth," House Speaker John Boehner said in a statement released on the same day.

French President Francois Hollande also said on Sunday that he would wait for a parliamentary vote before committing France to a military attack on Syria.

Russia has warned that Washington's apparent plans for military intervention in Syria would only serve to increase the violence now gripping the country.

"Any unilateral use of force without the authorization of the UN Security Council, no matter how 'limited' it is, will be a clear violation of international law, will undermine prospects for a political and diplomatic resolution of the conflict in Syria and will lead to a new round of confrontation and new casualties," Russian Foreign Ministry spokesman Aleksandr Lukashevich said. There is currently a lack of proof that the Syrian government used chemical weapons, he added.

You can share this story on social media: